11 Things to Know About the Fallout 4 Far Harbor DLC
We continue our look at Fallout 4 DLC with a dive into what you should know about cheats, deals, easter eggs, Far Harbor problems, and a Far Harbor update that's now available for PlayStation 4 in North America.
Earlier this year, Bethesda finally went into detail about its upcoming Fallout 4 DLC, downloadable content that will add new adventures, quests, items, and more to a game that's already filled with a mind-boggling number of them.
The first Fallout 4 DLC, Automatron, arrived for Xbox One, PS4, and PC in the United States and countries around the world in March.
We've also taken a look at Wasteland Workshop, Contraptions Workshop and Vault-Tec Workshop and today we want to take a closer look at the Fallout 4 Far Harbor DLC for PS4, Xbox One, and Windows PC.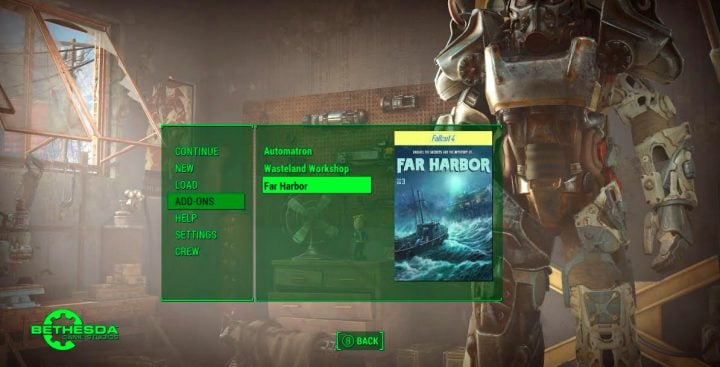 Far Harbor was the third of the initial set of Fallout 4 DLC add-ons and it's currently the largest piece of DLC available to Fallout 4 owners. Nuka World, the final Fallout 4 DLC add-on, should be pretty big as well.
This roundup focuses on the most important things to know about the Fallout 4 Far Harbor DLC post-release.
Keep these details in mind if you're looking into Bethesda's $50 Fallout 4 Season Pass or the standalone version of Far Harbor, or, if you've already jumped in with the new content.
Far Harbor Mods
Fallout 4 mods are now available for Xbox One and they should be heading to Sony's PlayStation 4 down the road.
There are a ton of interesting mods out there including some that are tailored to those playing the Far Harbor DLC.
Two of our favorites: Bridge to Far Harbor and Far Harbor Oil Rig Player Home. The first mod adds a bridge connecting Far Harbor to Old Longfellow's Cabin. It's a time saver. The other is an awesome looking oil rig that, surprise, serves as a player home.
This is just a taste. There are a number of other Far Harbor related mods on the marketplace and we expect plenty more to arrive for PC, Xbox One and PS4 in the future so keep an eye out.