FIFA 16 Release: 5 Things to Know About Playing Early
The FIFA 16 release date is just over a month away, but you don't need to wait until the end of September to play the new FIFA.
We've known about an option to play FIFA 16 early since E3 2015 in June, but EA finally took the time to share the important details about playing FIFA 16 early. As part of EA Access subscribers can play FIFA 16 five days early.
The FIFA 16 release date is September 22nd, but gamers on Xbox One don't need to wait that long to play. We still don't know when or if there is a FIFA 16 demo, but we can share the information you need to know about playing FIFA 16 early.
EA delivers important new FIFA 16 features that will revamp how you use the midfield, cross the ball and attack. When the early release arrives you will have time to learn how to use these before other gamers.
The FIFA 16 release comes to Xbox One, PS4, PC, Xbox 360 and PS3, but you can expect better graphics on the newer consoles and PC.
Early FIFA 16 Release Date
The early FIFA 16 release date comes five days before the official FIFA 16 release date on all platforms in the U.S. This is even earlier for users who are in other countries where the FIFA 16 release date is September 25th.
EA did not confirm a specific EA Access FIFA 16 start time, but it is 9 AM Pacific for Madden 16, so you can expect a similar start for FIFA 16. You should be able to remotely start the download from the web so you can be ready to play when you get home from work or school.
@Dan_Arsenal90 Thanks for your interest. The FIFA 16 trial starts on Sept. 17 for all members, including European FIFA fans.

— EA Access (@EAAccess) August 10, 2015
The early FIFA 16 release date of September 17th is the same for players in Europe, so there is even more incentive to subscribe to the service.
No Early FIFA 16 Release on PS4
There is no PS4 EA Access option so you cannot play FIFA 16 early on PS4. The service is also not available on PC or Xbox 360.
EA recently pointed the finger at Sony for the lack of a PS4 EA Access subscription option. Sony downplayed the value of the $5 a month subscription service when it launched and the company is pushing a PS Now subscription service that delivers more than EA titles.
Despite users asking Sony to add PlayStation 4 EA Access support, there is still no option for gamers.
10 Hour FIFA 16 Trial Confirmed
Like Madden 16, the FIFA 16 trial is 10 hours long. This is more generous than the six hours for FIFA 15 and it only counts when the game is running.
@NadirTekarli New games join The Vault regularly. You'll be able to play 10 hours of FIFA 16 starting September 17.

— EA Access (@EAAccess) August 8, 2015
Once you quit the game, the FIFA 16 timer stops so you can spread out the 10 hour trial across several days. When you are done playing make sure to go to the home screen and then quit the game so it is not accidentally left running in the background.
After the 10 hour FIFA 16 trial is over you must wait for the full FIFA 16 release date unless you plan on making a separate Xbox live profile with a second EA Access subscription.
Full FIFA 16 Trial
This is not a FIFA 16 demo. The EA Access early release is the full game, just limited to a 10 hour trial. This means you can try out all the features, teams and options before the game hits store shelves.
All your FIFA 16 progress from the trial carries over to the official release so there is no need to start over when you get your retail copy of the game.
Another benefit of this is that there is no need to install the game or download the game on the release day. If you buy digitally this isn't much of an issue since you can pre-load FIFA 16, but if you buy on a disk, this means you don't need to wait for it to install.
What is EA Access?
EA Access is a subscription service available on the Xbox One. The service lets gamers play EA games early and offers access to a vault of EA games that they can play at any time.
These are full versions of games like Dragon Age Inquisition, Titanfall, FIFA 15, Madden 15, Battlefield 4, NHL 15, UFC, Need for Speed Rivals, NBA Live 15, Peggle 2, Plants vs Zombies and others.
EA Access costs $4.99 a month or $29.99 a year and auto-renews. If you plan to play the free games it is much cheaper to buy a year of EA Access up front. If you only want to play FIFA 16 and Madden 16 early, a two month subscription will set you back $9.98.
There is a 10% discount on EA games and EA in-game purchases while you are a EA Access member. This allows you to buy FIFA 16 for $53.99 — so you'll still save $1 after you buy EA Access for a month.
FIFA 16 vs FIFA 15: 10 Key Differences
FIFA 16 Teaches You How to Play Better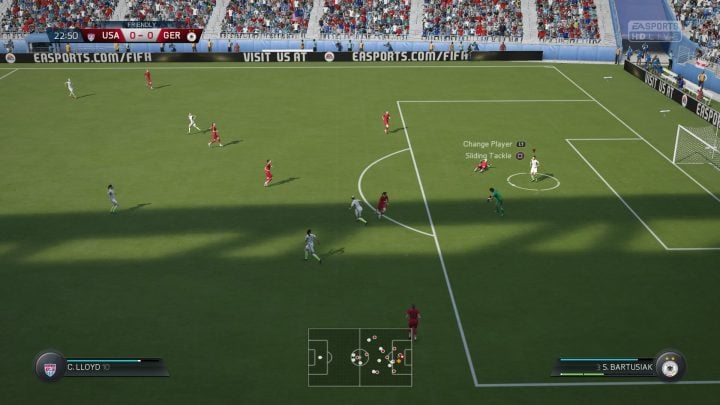 There are a lot of new FIFA 16 controls and features that you need to learn how to use. Additionally if you aren't a master of FIFA 15, you still have a lot to learn about playing FIFA 16 to your full potential.
On both PS4 and Xbox One I played with the new FIFA 16 trainer turned on. Instead of working through drills and trying to remember how to do something later in a real game, the trainer is always there.
While playing FIFA 16 on both systems a small set of commands sat over the top of my player to give me tips for using new FIFA 16 pass controls, becoming a better defender and more.
As you play the FIFA 16 trainer will start to tell you new features so that you now how to use the features. This is an essential upgrade that is making me a better FIFA 16 player. You can turn this off if you find it distracting.