FIFA 16 Release Date: 11 Things Buyers Need to Know
The FIFA 16 release date is so close that our feet are twitching with anticipation of kicking a game winning goal in stoppage time with new precision passing and shooting. Join us for a look at what you can expect from the FIFA 16 release date and what buyers need to know about the new game, the best deals and tips to make the most of the FIFA 16 release.
In a few days the FIFA 16 release date arrives on consoles and PC, and you can already play the full game on Xbox One, with a FIFA 16 demo on other platforms.
You don't need to pre-order FIFA 16 to make sure you can buy a copy of the game on release day, unless you plan to get the special edition with added FUT packs, which can be hard to find after the release.
This guide will walk you through what you need to know about the FIFA 16 release date, whats new in FIFA 16 and other essential information.
FIFA 16 Release Date
The FIFA 16 release date is September 22nd in the United States and September 25th in many other countries. Make sure you check your country before you wait up for the release.
FIFA 16 is available on Xbox One, Xbox 360, PS4, PS3 and PC. When you pre-order FIFA 16 from most retailers there is a bonus that includes celebrations and special FIFA Ultimate Team packs.
You can pre-order FIFA 16 at Amazon, Best Buy, GameStop and other retailers.
Play FIFA 16 Early
Anyone who owns the Xbox One can play FIFA 16 early. In earlier years there was a program that also included Xbox 360 and PS3 early access, but that is not the case this year.
If you subscribe to EA Access on the Xbox One for $4.99 a month or $29.99 a year you get to play FIFA 16 five days early, without the need to pre-order the game. This is the full game, with progress that carries over. The only limitation is a 10-hour play limit on the trial.
With EA Access you get a 10% discount on digital games and in app purchases. Here's what you need to know about the early FIFA 16 release date.
FIFA 16 Deluxe Edition
The standard version of FIFA 16 is $59.99, but there is also a Deluxe version that includes $50 worth of added value for users who plan to play FUT. Here's what you get with the $69.99 FIFA 16 Deluxe Edition.
Get up to 40 FUT Premium Gold Packs over 20 weeks ($50 Value!)
Start your Ultimate Team season with Lionel Messi on squad for 5 games
Be the first to use the new "KO" and "BAILANDO ROBOT" celebrations
TO take advantage of this you need to redeem the code before October 11th and you must log in each week to get your FUT packs.
FIFA 16 Deals
The most amazing FIFA 16 deal is at Best Buy where you get up to $30 for your FIFA 15 trade-in which cuts the price of FIFA 16 in half. You can even stack this with the $10 pre-order bonus and Gamers Club Unlocked to cut the price to as low as $8. If you prefer to order from other retailers, there are other FIFA 16 deals to check out.
FIFA 16 Deal for All
FIFA 16 $59.99

FIFA 15 Trade In – $20 Credit

FIFA 15 Trade In Coupon – $10 Coupon

FIFA 16 Pre-Order Bonus – $10 Rewards
Total Price of FIFA 16 Deal $19.99
FIFA 16 Deal for Gamers Club Unlocked Members
FIFA 16 $59.99

FIFA 15 Trade In Coupon – $10 Coupon

Gamer's Club Unlocked  – $10

FIFA 15 Trade In – $22 Credit

FIFA 16 Pre-Order Bonus – $10 Rewards
Total Price of FIFA 16 Deal $7.99
If you go to Amazon, you can save with Prime Savings if you are an Amazon Prime member. The Prime Savings is $4.89 on the normal edition of FIFA 16.
Dell offers a $15 eGift card promotion with a FIFA 16 pre-order. You can use this on a future purchase at Dell.
Midnight FIFA 16 Release Date Events
You can go to GameStop for a midnight FIFA 16 release date event. Not as many GameStop locations are open for the FIFA 16 release as for Madden 16 or other games, so double-check that your store is open.
The FIFA 16 release will start at 12:01 AM Eastern, and at the exact same time in other time-zones, so if you are further west you don't need to wait for midnight local time.
Eastern Time – 12:01 AM on 9/22
Central Time – 11:01 PM on 9/21
Mountain Time – 10:01 PM on 9/21
Pacific Time – 9:01 PM on 9/21
If you go to GameStop for the FIFA 16 release date events, you should arrive before the time listed above to complete your purchase, and then you can pickup your game and go home to play at the times above.
FIFA 16 Demo
There is a FIFA 16 demo that you can download and play on PS4, PS3, Xbox One, Xbox 360 and PC.
The FIFA 16 demo is completely free to play and it allows you to choose from 12 teams including two Women's National teams that will let you try the new addition to FIFA 16.
Download the FIFA 16 demo from the marketplace or store of your console or to your PC. There is no time limit and you can try many new features, but not all the modes or teams.
FIFA 16 Digital Downloads
When you buy FIFA 16 digitally you can pre-load the game, which means you can download it to your PC, PS4 or Xbox One early and then start playing right at 12:01 AM Eastern.
Like with the midnight release events, the digital FIFA 16 release time is the same across the U.S., so users on the West Coast can start playing at 9:01 PM on September 21st.
FIFA 16 Gameplay Videos
The pace of FIFA 16 changed from FIFA 15 and you can see some of this in the FIFA 16 gameplay videos, especially with midfielders opening up for passes and playing more aggressively on defense. Watch the two FIFA 16 gameplay videos above and below for a closer look at the game.
Best FIFA 16 Teams and Players
Over the last several weeks EA slowly revealed the best FIFA 16 players, leagues and clubs as well as the best players at specific skills like dribbling, free kick taking, strength, shooting, defense and more.
If you want to see the best FIFA 16 players to look for, figure out what team you need to play with to beat your opponents, this is where you need to look. Check out all you need to know about the FIFA 16 ratings.
FIFA 16 Brazil Teams Return
After an absence last year there are FIFA 16 Brazil teams this year. The Brazil teams are complete with crests and club names, to a count of 16 FIFA 16 Brazil teams. EA shares,
"All Brazilian teams in FIFA 16 are available in the Rest of the World team menu and will be playable in most game modes."
You can see the full list of FIFA 16 teams broken down by league on the EA Sports FIFA 16 page.
FIFA 16 vs FIFA 15: What's New
Should you upgrade from FIFA 15 to FIFA 16? After playing the demo and the early release on Xbox One, there are plenty of exciting new features and enough of a change in the pace of the game and actual gameplay to justify it for many users. Check out what's new in FIFA 16 in the slides below.
FIFA 16 vs FIFA 15: 10 Key Differences
FIFA 16 Teaches You How to Play Better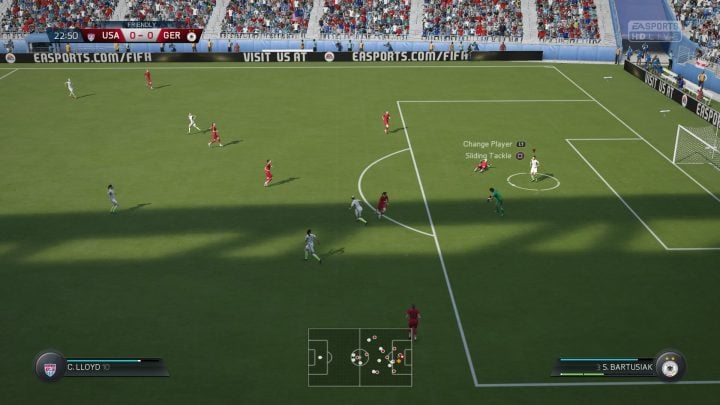 There are a lot of new FIFA 16 controls and features that you need to learn how to use. Additionally if you aren't a master of FIFA 15, you still have a lot to learn about playing FIFA 16 to your full potential.
On both PS4 and Xbox One I played with the new FIFA 16 trainer turned on. Instead of working through drills and trying to remember how to do something later in a real game, the trainer is always there.
While playing FIFA 16 on both systems a small set of commands sat over the top of my player to give me tips for using new FIFA 16 pass controls, becoming a better defender and more.
As you play the FIFA 16 trainer will start to tell you new features so that you now how to use the features. This is an essential upgrade that is making me a better FIFA 16 player. You can turn this off if you find it distracting.

As an Amazon Associate I earn from qualifying purchases.