Samsung Galaxy S20 Release Date, News, Specs & Leaks
This year instead of the Galaxy S11 Samsung will release three all-new phones known as the Galaxy S20. And now that the Galaxy S20 release date is confirmed and only a few weeks away, here's what you need to know and all the latest news or rumors. In fact, we've received a lot of details about a bigger and faster Galaxy S20, a huge Galaxy S20+ and then a crazy big Galaxy S20 Ultra.
Similar to prior years, the Galaxy S11/S20 will be available within a few weeks of the announcement on February 11th, and you can reserve yours right now. As a result, potential buyers are likely looking for more information.
So, if you're asking yourself, "when does the Galaxy S20 come out?" or "should I wait for and buy the Galaxy S20?" we have all the details, leaks, expected prices and news about Samsung's next Galaxy.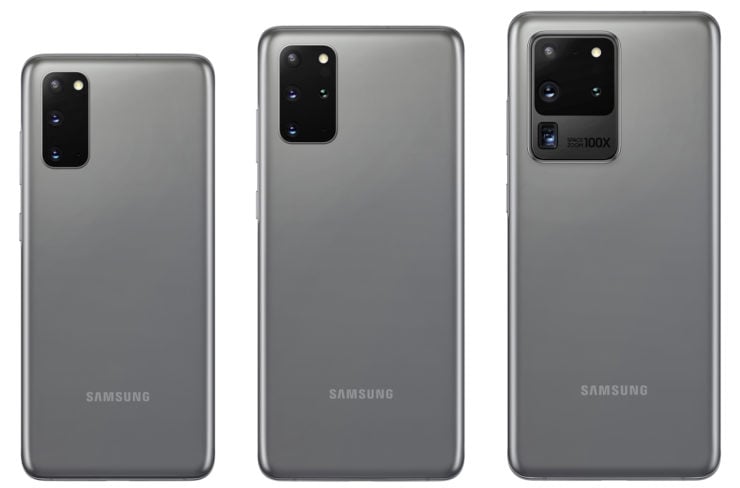 The Samsung Galaxy S11/Galaxy S20 release date is officially set for February 11th
Samsung will release 3 different models all bigger than the Galaxy 10 series
The Galaxy S20, Galaxy S20+ and Galaxy S20 Ultra 5G arrive March 6th
We're expecting 2020 to be a big year for Samsung and its Galaxy S phone. With popular devices like the OnePlus 7 Pro hot on their heels, and Apple stepping up its camera and battery life game on the iPhone 11 Pro, Samsung needs something special with this next phone — and we think they'll deliver.
So far, we're already hearing they'll release three models with one being affordable to take on the iPhone 11 and replace the Galaxy S10e. Then, two bigger and better models that are closer in size to the Galaxy Note 10, not the S10, and pack 5G speeds by default.
Basically the Galaxy S11 series will be bigger, better, faster, smarter, and pack even more cameras. Speaking of the cameras, they'll be a substantial upgrade over all previous years, and apparently is one of Samsung's biggest focuses for these phones. And while early rumors suggested a huge battery inside, those rumors are quickly turning to a very real possibility, which is the most exciting upgrade in my opinion.
Samsung Galaxy S20 Release Date
We know the Galaxy S20 and S20 Plus will be great, so your biggest question is likely "when can I buy the Galaxy S20?". Well, both the Galaxy S9 and S10 got announced near the end of February and released 2-3 weeks later. We believe the Galaxy S20 release date is March 6th. You heard it here first. That's roughly three weeks after the February 11th launch event.
As a comparison, the Galaxy S10 launch event was on February 20th, and the phone hit shelves around the globe and arrived on doorsteps on March 8th. The Galaxy S9 before it was unveiled on February 25th, so we have a trend to follow for our prediction.
Galaxy S20 February 11th launch event 
Galaxy S20 Pre-orders are open right now 
Expect a release date on March 3rd-6th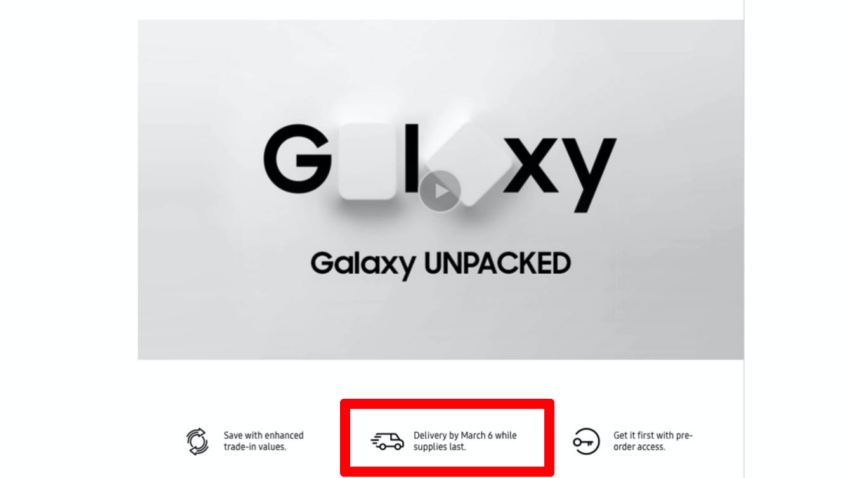 Samsung already opened a pre-order page for the Galaxy S20 that hints at an official release date of March 6th. They've since removed the date from that webpage, but we still believe that's when orders will arrive on doorsteps.
Samsung Galaxy S20 News & Rumors (February 2020)
According to leaker Ice Universe, the Galaxy S11/S20 is dubbed "Picasso" internally by Samsung. The Galaxy Note 10, Samsung's latest flagship, was called "Da Vinci." Hopefully that means Samsung plans on delivering a beautiful piece of art, with the Picasso-style Galaxy S11. Rumored model numbers include the SM-G981, SM-G986, and SM-G988. All three will reportedly include 5G connectivity.
In mid-January we received our first real photos of Samsung's next phone. This huge leak confirms the Galaxy S20 name, 5G support, the punch-hole camera in the middle, tons of cameras and a bigger screen. This is the Galaxy S20+ with a 6.7-inch display. A screen which, by the way, is apparently more flat than previous models. It looks amazing!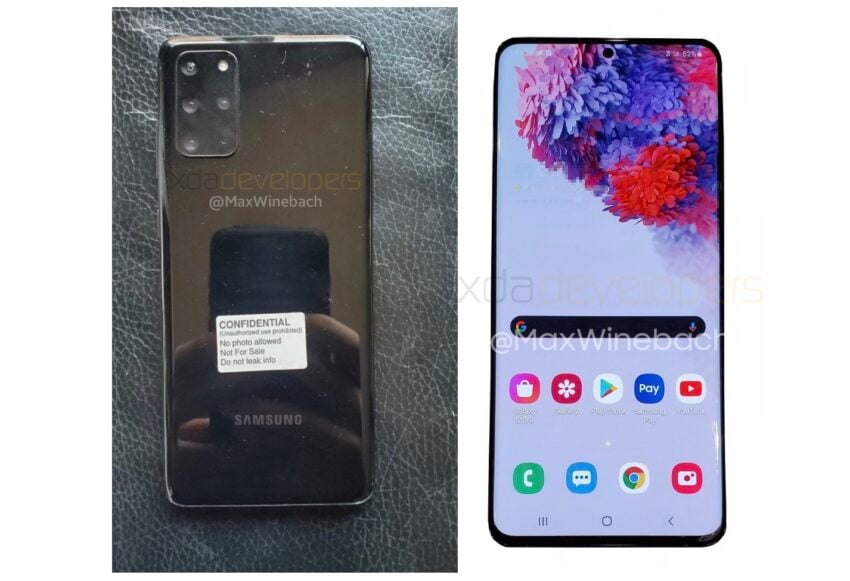 Then, the latest information we're seeing on the web is that sources have confirmed all three Galaxy S11/S20 models this year will have 120 Hz high refresh rate displays. That's higher than the 90Hz we've seen from OnePlus and Google. And now, we're hearing these will be expensive phones, but the Galaxy S20 Ultra 5G will be nuts, and close to $1,200.
First off, calling these devices the Galaxy S20 and Galaxy S20+ lines up with the year, 2020. And the following year they'd call it the Galaxy S21, which makes it easy for fans and buyers to follow along with each new model as it shares a name with the release year. Furthermore, a regular customer at an AT&T store might be more inclined to buy the Galaxy S20 over an iPhone 12, instead of a Galaxy S11. It sounds better and newer.
This could give Samsung a nice new naming scheme for the next decade, one that matches the calendar year for simplicity.

Keep in mind that all the leaks, photos and video you see here are "concept renders" based on accurate information sent to case manufacturers by Samsung, or similar situations. Essentially, the leakster gets a blueprint of the device and creates an image of it.
A few months back a report from MySmartPrice claimed Samsung will deliver at least three Galaxy S11/S20 models. And, if you add in 5G on the bigger two, technically five phones in total. Something we've heard from Evan Blass, known as @evleaks. Evan states the Galaxy S20 Ultra will actually have a massive 6.9-inch screen, up from the 6.4-inch display in the current Galaxy S10 Plus.
We've heard a lot of reports about a powerful new processor and Qualcomm even announced the new Snapdragon 865 in early December. This is the chipset that will likely power the Galaxy S11 in the US, which has integrated 5G and a new 17x bigger on-display fingerprint scanner area that can even detect two fingers at a time.
Other leaks mention a crazy camera, potentially a 108MP sensor, and way bigger battery packs inside. Thankfully, those "crazy" rumors of a 5,000 mAh battery were actually true, and these phones are packing some serious power along with 12GB of RAM.
Recent Samsung Android 10 builds are hinting at 8k video recording and apparently "reconfirmed" the 108MP camera rumors, too. That 108MP camera will only be in the Ultra, but capable of 100x superzoom features. The regular models still have vastly improved cameras, just not a 108MP sensor like the Ultra model.
Popular leaker Ice Universe also claims that the Galaxy S11/S20 design and configuration "has been basically determined," then stating it'll have a tiny circle cutout for the front-facing camera inside the screen, in the middle, like the Galaxy Note 10 but smaller. A few conflicting reports mention an under-display front camera, but that's yet to be determined. Either way, with the designs finalized and 2020 underway, we'll start seeing actual leaks or dummy units in the near future.
For now, we're still getting case renderings based on Blueprints, which are actually very telling. The always accurate @Onleaks shared the S11 photos above, and now we're getting a look at the budget Galaxy S20 below. (Previously known as the Galaxy S11e)
It looks like the cheaper Galaxy S model will have a big 6.2-inch curved screen and more cameras, while hopefully staying under $749 again. We're unsure if the screen will be curved or stay flat, but it will certainly be a big upgrade over the Galaxy S10e.
Rumored Galaxy S20, Galaxy S20+ and Galaxy S20 Ultra Specifications
6.7-inch and 6.9-inch Curved Quad-HD Infinity SAMOLED Display (Bezel-free) (all 120 Hz high refresh rates)
The smaller 6.25-inch budget model is still up for debate regarding the screen size.
8-core Qualcomm Snapdragon 865 Processor in the US and Samsung Exynos in select regions
12GB of RAM and 128/256/512GB storage with microSD expansion (16GB RAM option on Ultra)
Android 10 with Samsung One UI 2.0
Quad Rear Cameras: 12, 64, 12, 16, (variable aperture main lens), f/2.4 3-10x telephoto lens, wide-angle camera, DoF sensor, more) Dual OIS, 960 FPS slo-mo, 4K, laser focus, 10-scene optimizer, Night Sight (rumors)
Crazy 108 MP Camera and 48MP 10-100x periscope zoom on the Galaxy S20 Ultra
10MP Front Selfie Camera with a smaller centered cutout, Portrait mode, etc
Stereo Speaker tuned by AKG
3,900 mAh, 4,500 mAh and massive 5,000 mAh batteries with new 25w Faster Charging, Faster 45w on S20 Ultra, Wireless Charging 2.0 and Powershare Reverse Wireless Charging
IP68 Dust & Water-resistance
USB Type-C, Bixby 2.0, Bixby AI, etc
Heart-rate sensor, Better In-Display Fingerprint Sensor, potentially FaceID tech
No 3.5mm headphone jack and no Bixby button
Samsung has offered similar screen sizes for several years, only increasing them by a hair as bezels have shrunk on our devices. Personally, I'm hoping the small bezel makes these phones not as huge as they sound, as those are WAY bigger than the Galaxy S10, iPhone 11 Pro Max, and just about anything else. These are big phones.
The S20 Ultra 5G is going to keep the SD Card slot. Support for up to 1TB.

It will also be available in 128GB/256GB/512GB and have a 12GB and 16GB RAM option.

108MP main, 48MP 10x optical, 12MP ultra wide.

5000 mAh battery with 45W option fast charge. 0 to 100% in 74 min.

— Max Weinbach (@MaxWinebach) January 13, 2020
Aside from the screen size we know they'll have fast processors, lots of RAM, and run Android 10. However, with a bigger 120 Hz display, 8K video recording and a bunch of other stuff, it actually makes sense for Samsung to pack a big 5,000 mAh battery inside the biggest model. Here are more Galaxy S20+ specs and how it compares to something like the Galaxy S10+.
| | Galaxy S20+ | Galaxy S10+ |
| --- | --- | --- |
| Screen Size | 6.7-inch Dynamic AMOLED | 6.4-inch Dynamic AMOLED |
| Screen Resolution | 3200 x 1440 & 120Hz | 3040 x 1440 & Only 60Hz |
| Storage & RAM | 128/256GB & 12GB RAM | 128GB & 8GB RAM |
| Processor | Snapdragon 865 or Samsung Exynos 995 | Snapdragon 855 or Exynos 9820 |
| Cameras | 12MP main, 64MP telephoto, 12MP ultra-wide lens, ToF | 12MP main, 12MP telephoto, 16MP ultra wide-angle lens |
| Front Camera | 10 Megapixel | Dual 10 Megapixel |
| Software | Android 10 (One UI 2.0) | Updated to Android 10 |
| Battery Size | 4,500 mAh | 4,100 mAh |
| Charging & Wireless Charging | 25w Fast Charge & Fast Wireless Charging | 15w Fast Charging & Fast Wireless Charging |
| Fingerprint Sensor | Ultrasonic In-Display Sensor | Older Ultrasonic In-Display Sensor |
| MicroSD Expansion | Yes | Yes |
| Other Details | USB Type-C, WiFi 6, 5G, Stereo Sound, IP68 Water Resistant | USB Type-C, WiFi 6, Stereo Sound, IP68, 3.5mm headphone jack |
| Price | Starting at $1,199 | Launched at $999 |
Galaxy S20 Cameras (And cutouts)
All the leaks we've seen so far suggest the Galaxy S11/S20 will come with four rear cameras. Similar to what Samsung did with the bigger Galaxy Note 10. Either way, the cameras will be one of the absolute biggest areas of improvement over the Galaxy S10.
We have good news though. Samsung will likely ditch the huge dual camera setup from the front of the Galaxy S10 Plus and stick to a single front-facing camera, located in the middle top of the display.

Two front cameras are unnecessary, which is why Samsung only put one on the Note 10, and will likely do the same for the Galaxy S20. Personally, I hope they hide the camera UNDER the screen, which is a fancy technology they've been working on for several years. We're just unsure if it's ready for mainstream yet.
Galaxy S20/20+ will have 4 cameras: Expect 3-4 rear cameras with the main 12 Megapixel f/1.5 variable aperture camera, a 64MP f/2.4 telephoto (3-10X) zoom lens (or Periscope lens), and 16MP super-wide angle camera. Then, a 4th ToF depth sensor.
Will feature dual optical image stabilization, 960 FPS slo-mo, 8K/4K, etc. Then, a 10MP f/1.9 front-facing camera with 4K, portrait mode, face unlock & more.
Galaxy S20 Ultra 5G will be the only model with the new 108MP camera, and a different 16MP periscope telephoto lens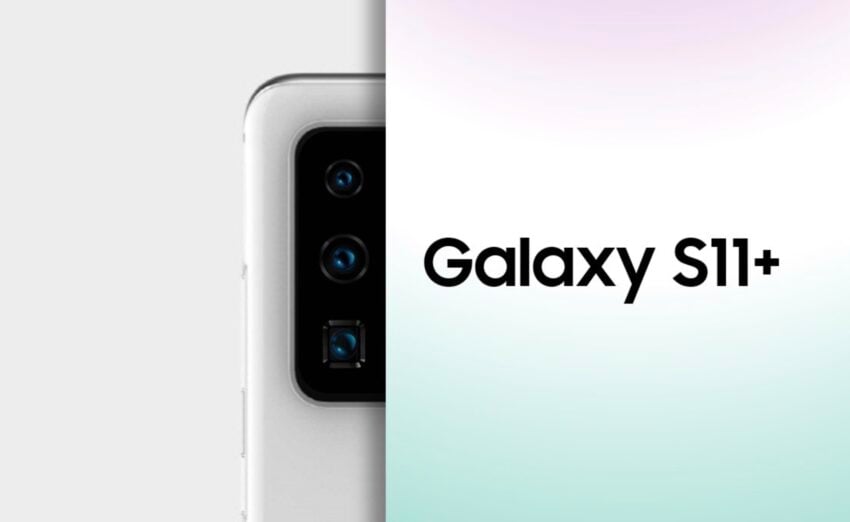 Digging through the latest Samsung Galaxy camera code XDA developers found mention of the 108M camera, not to mention a new 20:9 aspect ratio and 8k video recording. Keep in mind that the camera app is for all Samsung devices, not specifically the S11, so this could mean anything. We're not really sure, but we'll know more soon enough.
Either way, we expect Samsung to make some drastic changes to the camera location on the front and the back, the number of cameras, and the quality. Especially now that they're getting more competition from Samsung, Apple, and yes, even OnePlus. If I had to guess, here's what I think will complete the Galaxy S11/S20 series camera setup on the back.
108 MegaPixel Main Powerful Camera
64MP Telephoto Zoom Lens (periscope lens on Ultra)
16MP Wide-Angle Lens
12MP Depth of Field or ToF Sensor
Samsung Galaxy S20 Price
With three different Galaxy S10 phones in 2019, Samsung really shook up its pricing strategy. Mainly to compete with the budget iPhone XR and cheaper devices like the OnePlus 6T and 7T.
The Galaxy S10e was only $649 while the bigger Galaxy S10 came in around $799. That's cheaper than in previous years, which is a plus. However, then the Galaxy Note 10 came around and cost $999 and $1,199, which has us worried.
Galaxy S10e – $649
Regular Galaxy S10 – $799
Galaxy S10 Plus – $899
Galaxy Note 10e – $749
Galaxy Note 10 Plus – $999, $1,199, and more for 12GB RAM or 512/1TB storage
Here's what we're expecting in terms of pricing for all three Galaxy S20 models and we'll update this list once we can confirm prices.
Galaxy S20: $799 (or $850)
Galaxy S20+: $949
Galaxy S20 Ultra: $1,049 or $1,149
Those prices are just a guess, and at this point, who really knows what Samsung has planned. However, leaks suggest the phones will be similar in size or bigger than the Galaxy Note 10, which is why we're increasing our pricing estimates a bit. When you combine a bigger screen, several cameras, more storage, 5G and a fat battery, these could be expensive phones. Then again, you'll be able to get the Galaxy S20 and S20+ with or without 5G, if you wanna save some cash.
A Few More Galaxy S11/S20 Details or Leaks
In closing, we want to share a few other details, thoughts, or leaks as 2020 moves ahead. For one, at the end of May Samsung announced a crazy new 100w charging system they could employ in smartphones soon. Considering they didn't debut it on the Galaxy Note 10, the Galaxy S20 Ultra 5G could be perfect for that new technology.
Furthermore, in the past, Samsung's chief hinted at a name change but we're not sure they'll ever drop the "Galaxy" moniker. That said, now we know the change was to match the year, and it'll be the Galaxy S20 in 2020 and the Galaxy S21 next year. We're not sure if the Note series will see a change.
It looks like Samsung will stick to the curved screens, but they won't curve all the way off the sides like a few phones we saw in 2019, known as a waterfall display. Furthermore, the most recent leaks of the actual Galaxy 20+ claim the screen isn't very curved at all, using a 2.5D screen, and is closer to the curved sides of a Pixel phone than previous Galaxy devices.
Then, during the event on February 11th Samsung will unveil an all-new folding phone of some sort. It's not the Galaxy Fold 2, but instead, a Galaxy Z folding phone that closes like a clamshell, instead of a book. It opens up to offer a big 6.7-inch screen and has a glass display, instead of plastic. Basically a smaller phone that opens to a typical size, which is far more realistic for daily use. Don't be surprised if we also get a teaser for a Galaxy Fold 2, a new Galaxy Watch, Galaxy Buds+, and more at the event. However, the star of the show will 100% be the all-new Galaxy S smartphone lineup.
Then, Samsung will rock a few new colors this year, too, and potentially new colors to match the Galaxy Buds 2 which we could see launch alongside the Galaxy S20 series.
Exclusive: Guess what! New Galaxy Buds in development (SM-R175) coming in Blue, Pink, Black & White colors!
S11e: Blue, Grey, & Pink
S11: Blue, Grey, & Black (at least these 3)
S10 lite: Black, Blue & White
Note10 lite: Red, Silver (possibly Aura) & Blackhttps://t.co/Ehytkwaxlt

— Ishan Agarwal (@ishanagarwal24) November 11, 2019
Then, we've received a link to an unreleased Samsung video showing a new feature known as "Selfie Type" which is a virtual keyboard you can use anywhere simply thanks to the front-facing camera on your Galaxy device. While it sounds complicated, this video shows that it works quite well, and we could see this debut with the Galaxy S20.
Either way, expect at least three all-new and improved Galaxy S smartphones to arrive shortly after the February 11th launch event. They'll be awesome albeit expensive devices. Before you go, here's what we want to see from the Galaxy S20.
Then, stay tuned for the latest news, rumors, leaks, and confirmed information once they're officially announced. We'll update this post with all the details.