New Galaxy S8 Video & Photos Reveal All
A brand new set of leaks have revealed more details and further confirmed the Samsung Galaxy S8. This week a new Galaxy S8 video surfaced, along with what could be the first real photo of Samsung's upcoming smartphone in use. Here's everything we know so far along with three brand new leaks potential buyers need to see.
At this point we know nearly everything about the Galaxy S8. It has been in the news for months on end, and leaks continue to arrive at an alarming pace. However, nothing is official until Samsung confirms it themselves. That's why these new photos and video are exciting.
Read: Galaxy S8 Release: 5 Reasons to Wait For It
The company is expected to unveil its new phones sometime around the end of March, with a mid April release date. That's the latest rumor at least. In the meantime we've seen photos of it in the wild, cases, and much more. However, now we have a full video render to get excited about. In addition to the first photo of a Galaxy S8 turned on and being used, and official Samsung cases that confirm the design. Read on for more details.
As we all know, Samsung delayed the Galaxy S8 release date past the usual February event. Instead, the new Galaxy S8 and Galaxy S8 Plus will be announced in March and released in April. Far later than any year prior. As a result, we have more time to find information and leaks about what's in store.
That's exactly what we have for you today. Over the past month a lot has leaked, but we have three brand new leaks to share with potential buyers. These are the latest looks at the Galaxy S8 and Galaxy S8 Plus.
Galaxy S8 Video Render Teases Final Design
Over the past few years the popular leakster @Onleaks has shared smartphones before they're announced. Being dead accurate with the Google Pixel, Galaxy Note 7, and devices like the Nexus 6P. Well, he's back and has released the first Galaxy S8 video for buyers to drool over.
This is a CAD render of the Galaxy S8 and Galaxy S8 Plus from factory details, blueprints or schematics. In the past they've used leaked blueprints from case manufacturers, which is likely the case with this new Galaxy S8 video. Take a peek below.
In partnership with @Onleaks, MySmartPrice has a slew of photos revealing both phones from every angle. This fully shows everything we've heard so far. Going as far as to confirm the big screens, small bezels, rear fingerprint scanner, USB Type-C port and more. Here's another photo for good measure.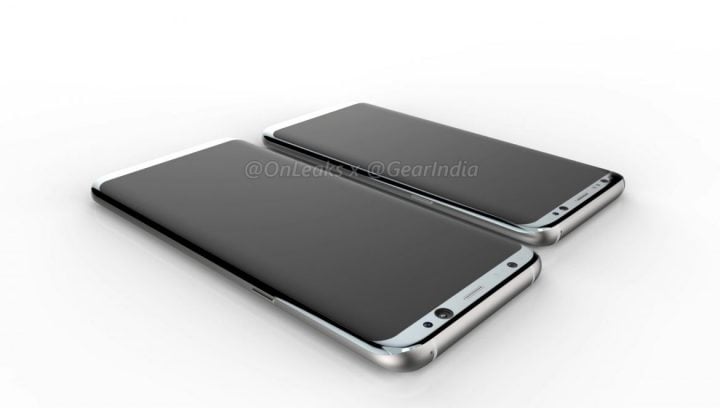 Real Photo of the Galaxy S8?
Is this a real photo of the Galaxy S8 turned on and being used? It certainly looks to be. We've seen countless photos and renders in the past, including one from famed leakster @evleaks. However, those were of the device turned off. If this is real, we're seeing the huge screen and rounded edges, nearly no bezel, and the entire bottom of the Galaxy S8.
This image was found floating around on the popular website Weibo, which has been the case for countless devices over the years. It's worth noting this matches other reports and leaks. Right down to the inclusion of the 3.5mm headphone jack, USB Type-C, small bezel and the rounded off corners. There's no Samsung logo on the bottom either, which is nice.
Our only concern is with no dedicated home button and the fingerprint scanner on the back, this should show the usual on-screen keys found in the Android operating system. They aren't visible here. Although Android hides the on-screen keys at times, to give users a fullscreen experience. That's likely the case here. Looks good, right?
Samsung Galaxy S8 Cases Confirm Design
Last but not least, we could have one more final piece to the puzzle. Everything we've seen so far comes from 3rd party sources, leaks, or rumors. Nothing concrete. Recently though, HDBlog received images of what looks to be official Samsung cases for the Galaxy S8 and Galaxy S8 Plus.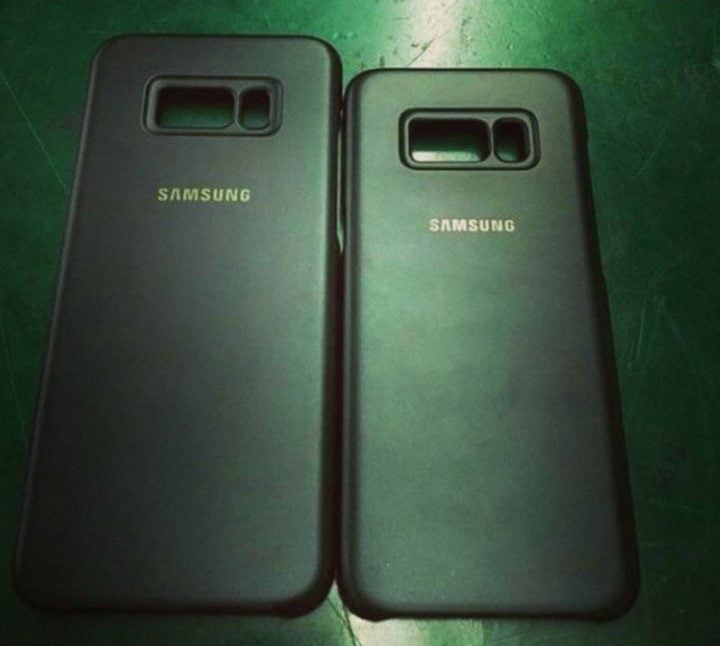 Showing the obviously bigger 5.8 and 6.2-inch Quad-HD displays, and a big cutout on back that houses not only the camera and flash — but the fingerprint scanner. All signs point to Samsung adding a huge screen with nearly no bezel, and no physical buttons on the front like we've enjoyed over the past seven years.
Instead, the fingerprint scanner is on the back like other Android makers, but oddly placed to the right of the camera. Rather than below it which would be a more realistic placement for ease of use. Either way, we'll have to wait and see. This could be our first official confirmation though, from Samsung themselves. We're expecting the company to have a slew of official cases and accessories at launch.
Galaxy S8 Specs
Now that we've shown you a Galaxy S8 video, a photo of the device being used and some official accessories, its time to talk about specs. This information isn't new, and has been floating around over the past few weeks. However, the new Galaxy S8 video render added to the spec sheet with more up-to-date information. Here's what we believe will complete these two phones.
Galaxy S8 & S8 Plus Specs (Rumored)
5.8 and 6.2-inch 2560 x 1440 Quad-HD AMOLED Display
Qualcomm Snapdragon 835 or Samsung Exynos Processor
4-6GB of RAM (Depending on region)
64GB of internal storage and a micro-SD slot for expansion
Android 7.1 Nougat with Samsung TouchWiz
12 DualPixel Rear Camera with OIS, phase detection auto-focus, f/1.7 aperture & more
8 Megapixel f/1.7 front camera
Fingerprint and Iris Scanners
IP68 dust & water resistance
3,250 and 3,750 mAh battery with Faster & Wireless Charging
Improved Always-On Display
Dual Stereo Speaker configuration (maybe)
Samsung Pay, 3.5mm headphone jack, more
Samsung is using a brand new technology to deliver huge screens in roughly the same size of a device as past years. We're expecting the Galaxy S8 to be a tiny bit smaller than the Galaxy S7, but sport a huge 5.8-inch Quad-HD display. Thanks to no physical buttons and a smaller bezel all around. The rounded edges on the screen are a nice tough too, something we'll also see on the upcoming LG G6.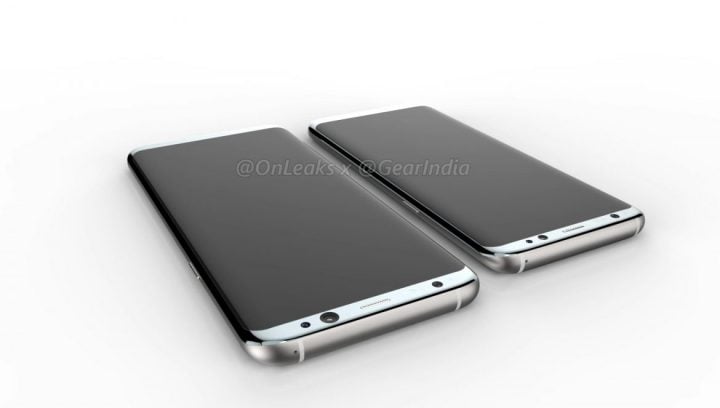 Then, the bigger Galaxy S8 Plus (name unknown) will have a massive 6.2-inch Quad-HD display. It will be slightly taller than the Galaxy S7 Edge, which only had a 5.5-inch display in 2016. Basically Samsung's managed to deliver huge screens and a stunning design, while keeping everything else owners love about their phones.
In closing, remember that nothing is official until Samsung says so up on stage. We're expecting the announcement to come around March 29th, with an April 21st release date. It's also been said that Samsung will give us our first teaser of the Galaxy S8 during their press conference on February 26th at Mobile World Congress. Stay tuned for more details.