Galaxy S9 Pre-Order Date, Time, & Early Shipping Info
Samsung's recently announced Galaxy S9 and Galaxy S9+ will be in stores starting March 16th. If you're looking to pre-order the Galaxy S9, or just want to get it early, this is what you need to know. We'll go over the S9 release date, pre-orders, pricing, and when they'll ship for buyers.
All of your favorite carriers or retail stores will carry both devices, and announcements have already been made. And while rumors suggested a huge price increase, that's not the case. The Galaxy S9 is nearly the same price as last years Galaxy S8 depending on where you buy one.
Read: 15 Best Galaxy S9 Cases
As expected, the S9 hits stores starting March 16th, but you can pre-order one right now and get it even earlier. These phones will be available around the globe and up for purchase or pre-order from all major carriers, regions carriers, retail stores and more.
Samsung's latest Galaxy has all the new fancy bells and whistles we've come to expect from high-end phones. And while it might not look like a big upgrade, it is. Some of those include huge 5.8 and 6.2-inch Quad-HD Infinity displays, a new powerful Snapdragon 845 processor with 4GB of RAM, and 6GB on the bigger Galaxy S9+ for improved performance and multitasking. You'll get 64GB of storage, a better fingerprint scanner, new facial unlock controls and a completely revamped camera. Yes, the camera is one of Samsung's biggest selling features, and we'll talk more about that below.
Galaxy S9 Pre-Order Date & Time
Both the Galaxy S9 and Galaxy S9+ went up for pre-order on Friday, March 2nd. Most likely you already pre-ordered, but if not, do it before it's too late. Additionally, Best Buy, Target, and many other retail locations will also accept orders, and have some good deals to go along with it. Most notably, Best Buy has a deal giving you $450 off, and T-Mobile is matching it.
Sadly Samsung isn't offering special pre-order deals, like the free Gear VR from previous years, but we'll update this post if anything emerges.
Where to Buy the Galaxy S9?
Of course, you'll be able to buy the S9 almost everywhere. All carriers and multiple big retail stores will be offering the next big thing. In an effort to help you pre-order your Galaxy S9, below are links to all major carriers, their announcements, pricing and more. We'll continuously update this list as carriers and stores release more information.
Samsung Themselves
The best place to buy the Galaxy S9 is directly from Samsung for $719 or $839. Carriers like Verizon or AT&T are asking more than Samsung, in some cases $100 more, which is ridiculous. That said, carriers have nice trade-in deals too. It's all a little confusing this year, but here's the breakdown.
The fastest Samsung demands the fastest network. Meet the @SamsungMobileUS #GalaxyS9, coming to T-Mobile. https://t.co/byw62XoHS1 pic.twitter.com/h6XmJ4SqwB

— T-Mobile (@TMobile) February 25, 2018
Verizon
Pricing will vary by carrier, and so far they are all over the map. Pricing is different for everyone, but T-Mobile is the cheapest carrier. Verizon does have some excellent trade-in deals where you can save upwards of $350, so consider that before paying full price. Almost any recent phone will get you between $200-$350 in trade-in credit.
Most carriers have the same trade-in deals or tiers, so keep that in mind. Verizon will give you an extra $150 if you port your number, on top of the $350 trade-in.
AT&T
Just like Verizon, AT&T is charging more than Samsung and more than most other carriers. For whatever reason, the Galaxy S9+ is almost $100 more if you want an AT&T version. That's what I need, so I bought it from Samsung.com as they had a better trade-in deal and early shipping.
T-Mobile
We can expect T-Mobile to have some special deals similar to the free year of Netflix like in 2016, not to mention they could ship earlier than the March 16th release date. Click here for more details, and to reserve one today. T-Mobile is cheaper than both Verizon and AT&T.
T-Mobile is doing its usual trade-in bill credit, offering up to $360 off the Galaxy S9 or S9+ with a  qualifying trade-in. Anything from the Galaxy S7, iPhone 7, to the LG V30 will get you $360 off. Older phones will get you around $200 off, like a Galaxy S5 or S6.
Others
Once we get more information from Sprint, US Cellular, MetroPCS, and others, we'll confirm all the details. Either way, almost every carrier or retail store will have both phones from March 16th.
Update: Sprint just confirmed they'll offer the phones with new unlimited plans priced around $792 for the Galaxy S9, and $912 for the Galaxy S9+. Why carriers want a lot more than Samsung.com remains to be seen.
Galaxy S9 Release Date
Once again, the Galaxy S9 and S9+ will both be available online and in stores starting March 16th. Pre-orders are still being accepted as we speak, but you can't walk in and buy it until the 16th.
One important aspect of the release date is when carriers will actually ship your phone. We'll talk about that more below, as it varies quite a bit.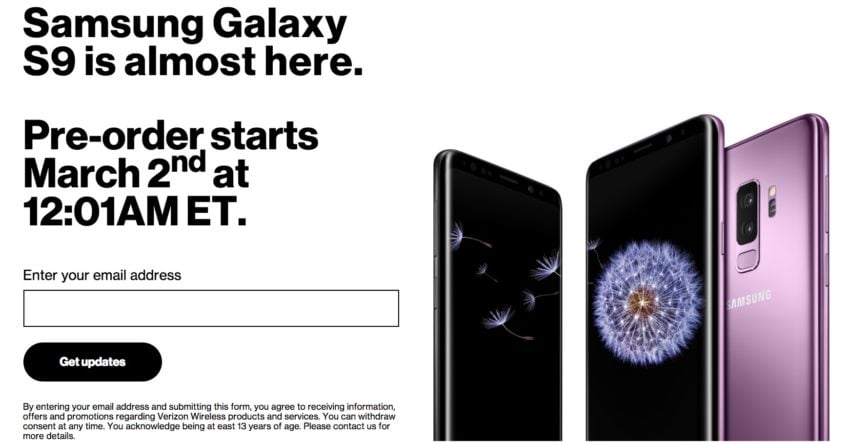 How to Get the Galaxy S9 Early
If you're excited about the dual cameras, dual stereo speakers, or just can't wait to get it you'll be happy to know there's a way to get the Galaxy S9 early. Basically, if you pre-order the Galaxy S9 from the right place, you can get it as soon as March 13th. That's three-five days earlier than anywhere else.
Buy the Galaxy S9 or Galaxy S9+ from Samsung.com and you'll get the phone on March 13th, or the 14th at the latest. That's what they're calling the "Samsung advantage". Don't forget to choose overnight 1-day shipping.

In previous years, carriers like T-Mobile shipped phones earlier than the official release date. It looks like T-Mobile is another solid choice this year. The estimated ship date for T-Mobile is March 13-15th, with free 2-day shipping. We're seeing a similar 13-15th shipment notification from AT&T. However, looking at Verizon's website it simply says "delivered by March 16th". Furthermore, that ship date is only an estimate.
Galaxy S9 Colors
Another question you'll surely have is about the color of the phone. Samsung is offering these phones in five colors around the globe. However, those in the United States will only have the choice of three colors to start. Those are Black, Blue, and Purple. A silver and gold option could arrive at a later date.
Remember that regardless of what color you choose the front is all black. This is because the bezels are so small, and filled with sensors. Not only does it make the screen blend in with the body, for an improved video experience, but it hides all the sensors and that impressive front-facing camera.
For more details about the Galaxy S9 release date click here. We've also gone over some helpful Galaxy S9 ore-order tips for those interested. In closing, here are a few reasons to buy one and a few reasons you might want to wait. Then, don't forget to buy a Galaxy S9 or S9+ screen protector. We'll recommend a few in the slideshow below.
10 Best Galaxy S9+ Screen Protectors
Caseology Tempered Glass (Easy Install Tray)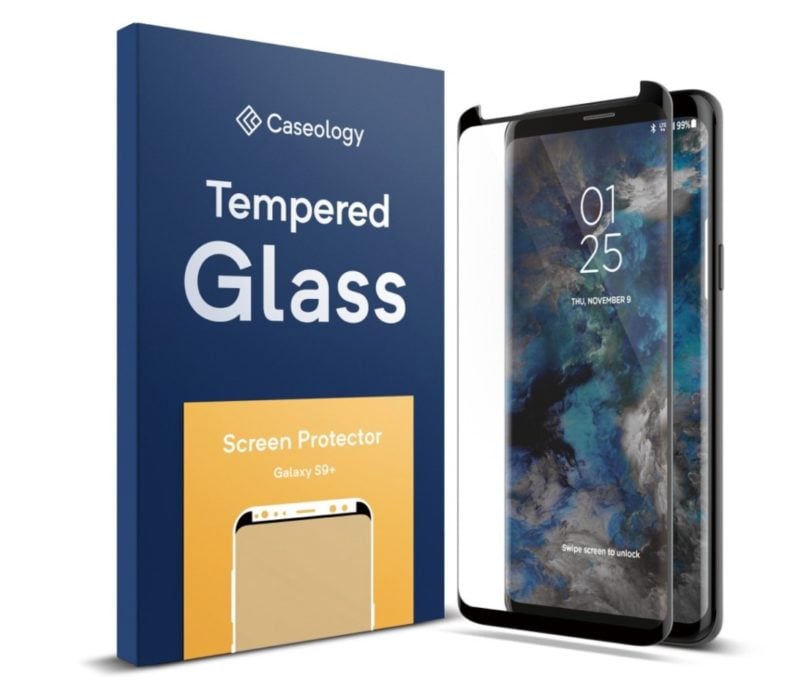 First off, we're recommending the Caseology Tempered Glass Screen protector kit for the Galaxy S9+. While they make great cases, the reason this made our list is because of the easy installation tray.
No one likes putting on screen protectors, and half the time we mess up anyways. This is especially true with the curved glass edge on Samsung phones. With Caseology, you'll get a super simple easy installation tray that perfectly aligns the glass protector for you. Pull off the protective film, line it up, and drop it in place. Then use the included squeegee to get rid of any bubbles.
Each Caseology glass works great with cases, which means the edges are just a tiny bit short so your case doesn't pull it up and ruin your screen protector. They're using 9H reinforced glass with anti-fingerprint coatings, rounded edges to prevent chipping, and it's pretty affordable too. Don't forget Samsung sells official accessories as well.