Best Samsung Galaxy S9 Deals
These are the best Galaxy S9 and Galaxy S9+ deals for those looking to get a new phone. Now that the Galaxy S9 has been available for a few months, you can save a lot of money if you buy it from the right place. With that in mind, below is our continuously updated list of the best Galaxy S9 deals. Including $300 off or buy one get one Galaxy S9 free.
The Galaxy S9 is available from all major carriers in the United States and around the globe. It's also for sale at Target, Best Buy, Wal-Mart and Sam's Club retail stores and more. Not to mention Samsung's own website with the lowest price around.
Read: What Galaxy S9 Color to Buy: Black, Blue, or Purple?
Before we begin, it's worth noting that Samsung is only offering one incentive like we've seen in previous years. That's a free Dex Pad if you buy from Samsung.com. There's no free Gear VR this year. However, we do have other big discounts worth sharing. Like savings up to $450 if you buy it from the right store, or trade-in an older phone. Pricing is different everywhere, so it's important that you know when and where to buy the Galaxy S9.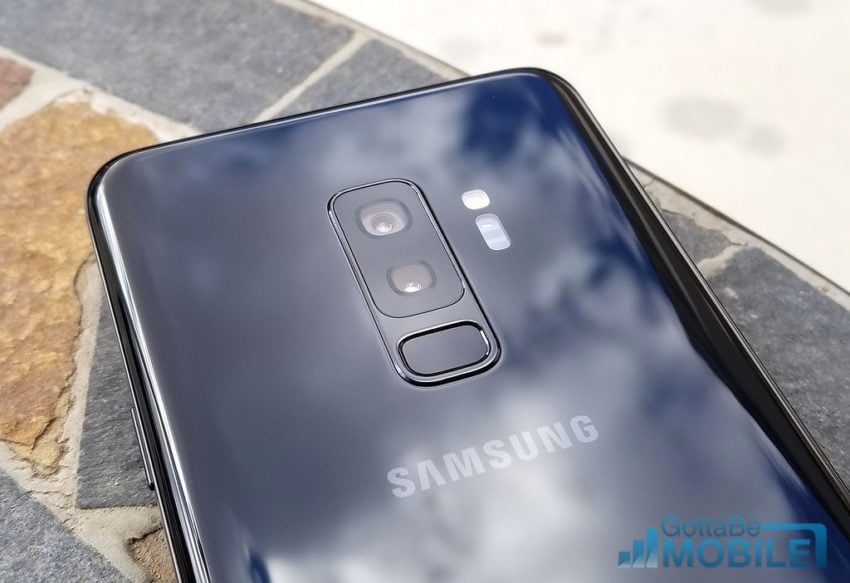 Best Samsung Galaxy S9 Deals
One of the best deals right now is still buying the Galaxy S9 from Wal-Mart. As crazy as it sounds, they're knocking $150 off the phone when you sign a new installment plan on Verizon, AT&T, or Sprint. Instead of spending over $900 on the Galaxy S9+, Wal-Mart will only charge you $764. This is available in-store only.
Seriously, but the phone from Wal-Mart, or from Samsung.com as they're the only two places that aren't price gouging. Additionally, you can save around $500 by switching to Verizon or AT&T. However, only a select few buyers will want to switch carriers. For everyone else, Best Buy or Wallyworld is your best bet. That said, we're seeing some good deals in mid-April from Verizon Wireless and T-Mobile.
Samsung's Store
Honestly, the best place to buy the Galaxy S9 is from Samsung themselves. That's because carriers are charging more for no reason. Jacking up the price by over $100 more than Samsung.com. Furthermore, Samsung will give you a better deal on trade-ins too, which you'll get instantly.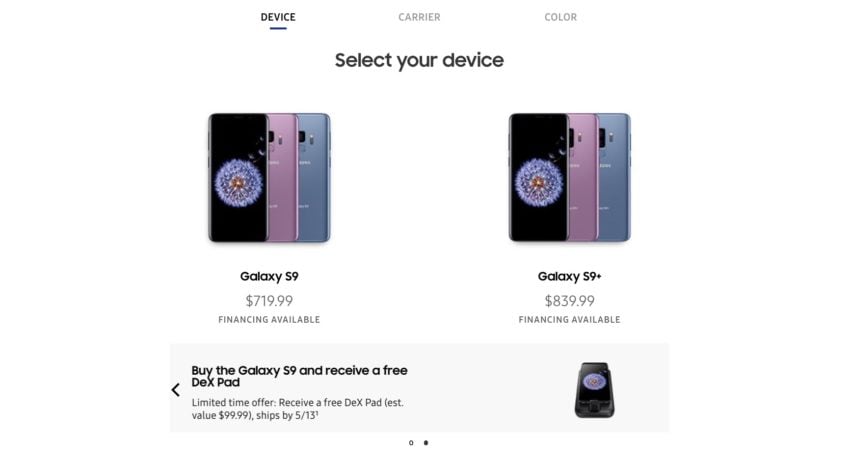 For starters, the Galaxy S9 is only $719 from Samsung, while carriers like AT&T want $799 or more. So you'll instantly save $80. That said, you can get the Galaxy S9 for as low as $370 with a qualifying trade-in on Samsung.com. They're asking $839 for the S9+, compared to $930 at Verizon and $940 at AT&T. That's ridiculous.
The current deal from Samsung's website gives you up to $350 for trading in a qualifying smartphone. Keep in mind you'll need to trade in a relatively new phone like a Galaxy S8 or new iPhone to get the maximum trade-in value. If you do though, you can get an S9 for $370 or an S9+ for $490. Trade-in a Pixel 2, LG V30, iPhone 7 or similar devices for $300 off.
You instantly get the $350 off, making your payment or financing easier to manage. Just send in your old phone within 15 days. Samsung is also giving everyone a free Dex Pad until May 13th, 2018.
Buy the Galaxy S9 from Samsung
Best Buy Galaxy S9 Deals
Another option is getting the Galaxy S9 from Best Buy instead. They're matching the pricing and promotions of every carrier (except T-Mobile) and they'll give you $100 just for buying the phone from them instead of your carrier.
Basically, they're offering the same deal as Verizon, AT&T, or Sprint. We do see mention of "up to $100 off" but they don't explain what will let you get that discount.
However, you can always get your phone with 24-month interest-free financing using your Best Buy credit card. Keep that in mind. Not to mention a free Samsung SmartThings Home Monitor kit when you get the S9 from BB.
Get your Galaxy S9 at Best Buy
T-Mobile Galaxy S9 Deals
The next best place to buy this phone is from T-Mobile. That's because they're matching Samsung's pricing, not increasing it, and are running a buy one get one free deal. Yes, there are a few strings attached, but that link goes over everything.
With T-Mobile, the Galaxy S9 is only $719 outright or $30 a month on an equipment installment plan. You'll pay $839 for the S9+ or the same $30 a month after putting $120 down up-front.
Then, the other T-Mobile deal is once you trade-in a qualifying phone you can get up to $360 off. Those savings aren't instant (like Samsung's website) and instead will come in the form of credit off your monthly bill over the life of the Galaxy S9 monthly payment plan. Basically, you'll pay less each month until you get $360 off.
AT&T Galaxy S9 Deals
We're seeing a pretty decent 50% off deal from AT&T for the Galaxy S9. However, this only applies to the smaller Galaxy S9, and not the Galaxy S9+. You can still get a decent discount through a few different avenues at AT&T. Most of them rely on getting DirecTV, but not all.
More information is available right here. As expected, it's not as exciting as it sounds. You must add a new line or be a new customer to qualify for the 50% off deal. This is available for a limited time only when you get the S9 on AT&T Next, set up auto-pay, and have paperless billing. Yes, you have to do all of that to qualify.
They're running a big DirecTV deal too. You can get HBO included for life, $15 off your cable bill, and a $100 visa card when you get an S9 and get a new cable subscription.
Verizon Galaxy S9 Deals
Verizon is offering a pretty similar $350 trade-in as everyone else. However, if you're a new customer they'll add a $150 Mastercard gift card, saving you $500 off the S9 or S9+. And at one point they had a buy one get one deal going on. Now though, you can straight up get $300 off the S9+ or $200 off the smaller Galaxy S9. You sign up for the full amount, but over the 24-month lease, you save $300.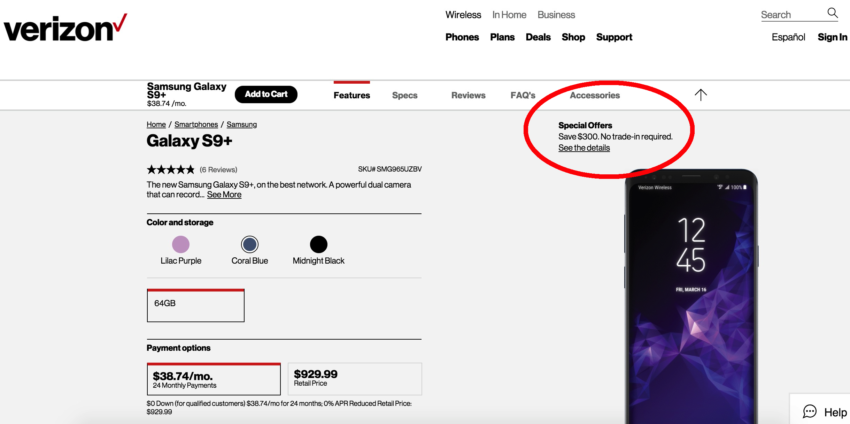 Verizon's Galaxy S9 is $33.33 a month for $24 months or $800 outright. The bigger S9+ is $38.74 a month for 24 months or $930 outright. Yes, that's $100 more than Samsung is asking for the unlocked model. However, as you can see above, they'll trim $300 from that price.
Then, with Verizon (and most carriers) here's how the trade-in deals work. Get $350 off if you trade in a Galaxy S8, S8+, S8 Active, iPhone X, iPhone 8, etc. Then, you'll get $300 for a Galaxy S7, LG G6, LG V30, Pixel 2, Pixel 2 XL and similar devices. Then, these drop to $200 for even older devices.
So, trade in your old Galaxy S7 and come from a different carrier, and you'll save $450. This makes the Galaxy S9 only $450. Or, if none of that applies to you just get the buy one get one.
Sprint Galaxy S9 Deals
Sprint recently ended its buy one get one deal, and now the phones are just available to buy or lease. They are offering slightly lower prices than most carriers, but that's all. We'll update once we know more, or if some deals change.
Then, just like Verizon and  AT&T, Sprint will give you a Galaxy for up to $500 off with a qualifying trade-in and when you switch from another carrier. Again, most people aren't jumping from a carrier to Sprint, but it's an option if you need it. Otherwise, you can simply trade-in your old phone even if you're a current Sprint customer.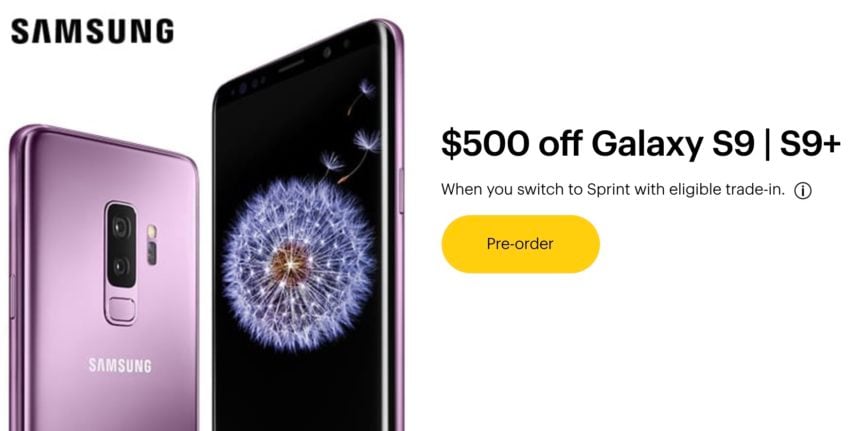 With Sprint, you'll get the Galaxy S9 for $33 a month with a Flex Lease, or pay $792 outright. So at least it's cheaper than Verizon or AT&T. The S9+ is $38 a month on lease or $912 full price. Take advantage of the buy one get one while it's still available.
Read: Best Galaxy S9 Screen Protectors
So far, Sprint doesn't have a full list of devices eligible for the full $350 trade-in, but we're assuming it's the same as everyone else. Then, new customers porting over a number will get an addition $150 VISA gift card, making the Galaxy S9 cost less than $500 all said and done.
Other Details
Right now the only real "Galaxy S9 deals" come from Walmart, Verizon, or Samsung themselves. However, we're expecting some lucrative deals in the coming weeks, more discounts at Best Buy, and further savings in late April and early May.
Another option is to buy the Galaxy S8 or S8+ at heavily discounted prices. We'll continuously monitor the best Galaxy S8 and Galaxy S9 deals, and update this list with anything worth considering. Once you get your phone, snag a case from the slideshow below.
20 Best Samsung Galaxy S9+ Cases
Spigen Liquid Armor ($11)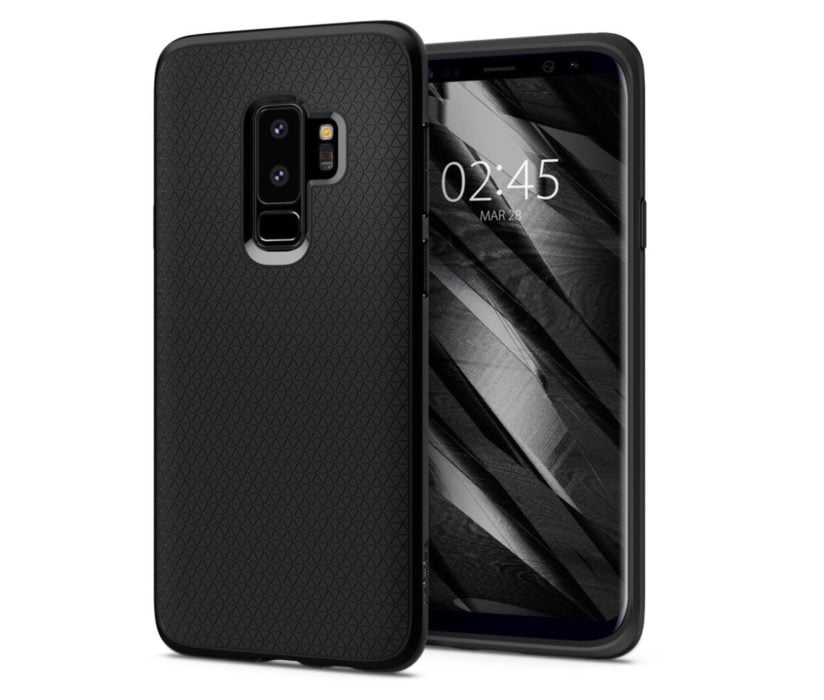 Our first recommendation is usually a Spigen case, as they have some of the best options available in a slew of different styles.
The Spigen Liquid Air Armor is my personal favorite. It's a TPU case which means it's lightweight, flexible, yet very durable at the same time. TPU is like silicone and flexible plastic combined, and what almost every case maker uses these days. Then, Spigen adds air cushion technology to the corners to absorb any impacts from drops or accidents. It's a light but durable case with an anti-slip geometric pattern on the back making it easy to hold. Our video above explains why it's my favorite.
Basically, this case isn't too thin, not too thick, comfortable and easy to use, and just an all-around great choice. It's also a perfect middle ground in terms of the price.