How to Add Your Xbox One Pins Back to Home
You need to know how to add your Xbox One pins back to your console's home screen. Without them, accessing your favorite games and apps on Microsoft's Xbox One, Xbox One S and Xbox One X can get confusing. Use this tutorial to learn how.
Accessing your favorite games can get confusing because Microsoft's Fall 2017 Xbox One Update focuses on customization instead of Xbox One Pins. You add small hubs for each of your favorite games to it, then scroll down to see the latest video clips, news and who is playing at that moment. If the game or app you want to open isn't in one of the hubs you've added to Home, you need to dive into the My Games & Apps area to find it. That's very inconvenient.
Read: 12 Xbox One Problems & Fixes
Here's how to add your Xbox One Pins back to your console and easily access your favorite stuff.
First, turn on your Xbox One. Because Xbox One Pins are tied to your account, you must log into your account to add them back. Every gamer who has an account on your Xbox One needs to do this because it's not a universal setting, like turning on the Xbox One's Light Theme.
Press the glowing Xbox logo on your Xbox One Controller to open the Xbox Guide. This Guide will slide out from the left edge of your display.
Once the Guide is visible, use the left joystick on your controller to select the Pin icon at the top of the Guide. It's just below Home and to the right of the shopping bag icon for the Windows Store. Press A on your controller once you've highlighted the Pin button.
This is the Guide's Pin area. If you don't want to add Xbox One Pins back to your console's home area, you can always come here to access the apps and games that you often open. At the bottom of your list of pins is Add Pins to Home. Use the left joystick on your Xbox controller to highlight this text, then press the A button.
Press the Xbox button on your controller again to close the Xbox Guide. Your Xbox One Pins are the first section you come to once you move the joystick down on your controller once. Press Y for editing options.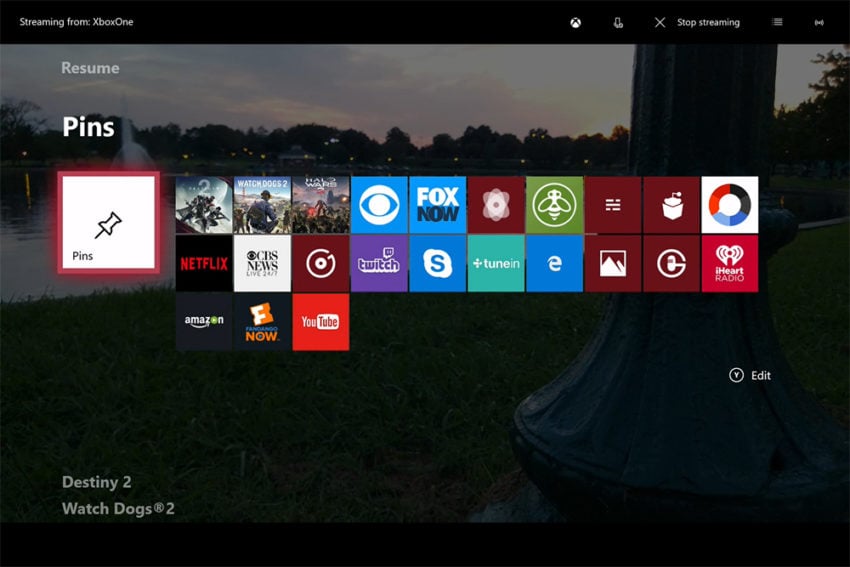 From this screen, you can move the entire Xbox One Pins section around. For convenience, it's a good idea to leave it above any other hubs that you've added to Home. This way, you can start your console and almost immediately access them. However, moving it past the rest of your hubs to make sure you see what's in them is also a good idea. Choose whichever position works best for you. If you press Y, you can remove all your hubs and only have your Xbox One Pins surface on Home.
To customize what apps are pinned, press the Menu button down on your controller for more options. You can Unpin any app or game that you want and move a Pin so that it's higher or lower on your list of apps, depending on how often you use it. Unfortunately, you can't pin settings from the Settings app as you can with Windows 10. Microsoft adds all the settings it thinks you will use often to the Xbox Guide.
8 Best Free Xbox Games: January 2018
Warframe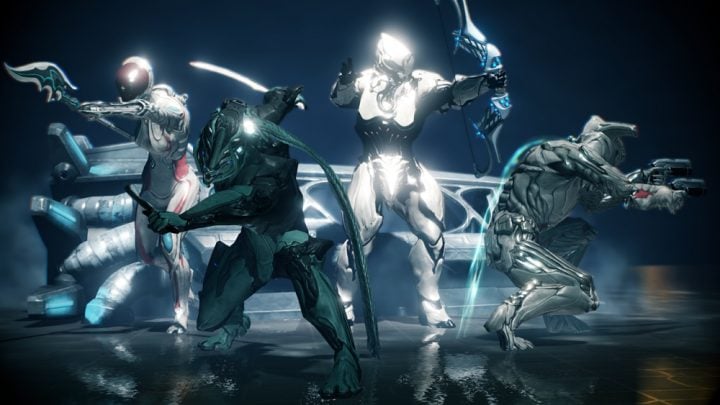 Many free-to-play games revolve around strategy or civilization building. Warframe is one of the free Xbox games that you can download now that doesn't. It's a third-person shooter.
The Tenno have just awoken after centuries of sleeping in stasis. Warframe takes its name from the suits that the Tenno use to do battle with the game's other races. There's the Greiner, who are clones of humans. The Corpus belong to a technology company with lots of robotic innovation at their disposal. Sentients consist of an alien race that's back to do battle.
Warframe features both player-vs-player combat and a single player experience.


As an Amazon Associate I earn from qualifying purchases.