How to Change the Galaxy S8 Keyboard
In this quick beginners guide we'll show you how to change the keyboard on the Galaxy S8. This is something millions of people do to their phone. Whether that's to fix keyboard problems or add some customization. Either way, we're here to help.
There are a few different reasons you might want to change your keyboard. It could be to get the latest emoji characters or to fix any autocorrect problems. Not to mention replacement keyboards are typically better, faster, and have more features or customization.
Read: How to Disable the Galaxy S8 Always-On Display
With that said, changing the keyboard on the Galaxy S8 is actually really simple. It only takes a few taps from the settings menu and you're all set. Then, you can customize just about everything. From the size of the keys, add a background image, send GIFs, or even do Google searches right from the keyboard with Google's Gboard app.
How to Change the Galaxy S8 Keyboard
To start, check out our video above which shows you exactly what to do and where to go in settings. This works for the Galaxy S8, Galaxy S8+ and the new Galaxy Note 8. Grab a new keyboard from our roundup, then follow the instructions below if you still need additional help. We recommend GBoard, Swype, or Swiftkey, to name a few.
Instructions
Pull down the notification bar and hit the gear-shaped settings button
Scroll down and select General Management
Next, choose Language & input
From here select On-screen keyboard
and tap Manage Keyboards
Now turn on the keyboard you want, and turn off Samsung's keyboard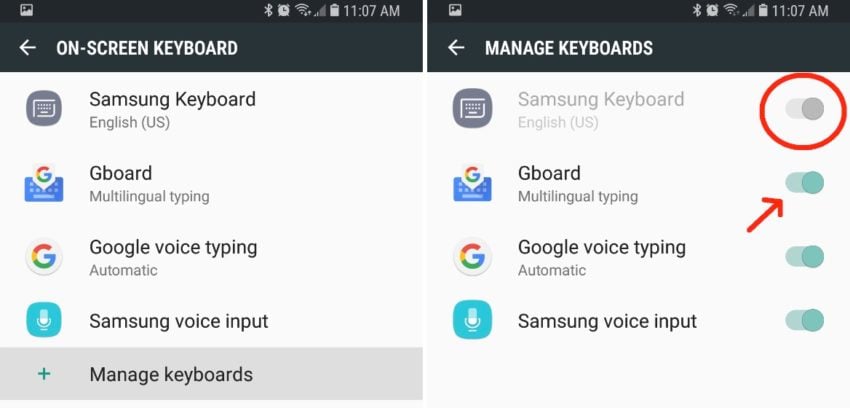 Next, hit back once and tap on Default Keyboard (second option)
Select Gboard, or your keyboard of choice
Now, you've successfully got rid of Samsung's pretty basic keyboard and enabled something much more customizable or powerful. Google's Gboard is one of the most popular. You can change the theme, key colors, add a background wallpaper image, and it's full of emoji and GIFs to keep conversations fun.
Again, there are several keyboards on the Play Store, so choose the one you'll enjoy and give it a try today. Before you go, take a peek at these common Galaxy S8 keyboard problems & fixes, or get a new Galaxy S8 case from our roundup.