How to Connect an Xbox One to a Monitor or TV
There are several ways to connect your Xbox One to a monitor or TV. Out of the box, you can connect the Xbox One to a TV, but you may need an adapter to hook the Xbox One up to a monitor. You'll also want to invest in the best Xbox One headphones for better sound than you'll get from the built-in speakers.
Connecting an Xbox One to a monitor or TV is incredibly straight forward. With the right cables and accessories, you'll find yourself gaming in no time.
The downside is that you may need to buy an adapter to connect to an older monitor. Depending on how old your monitor is, you may want to invest in a better monitor instead of buying adapters.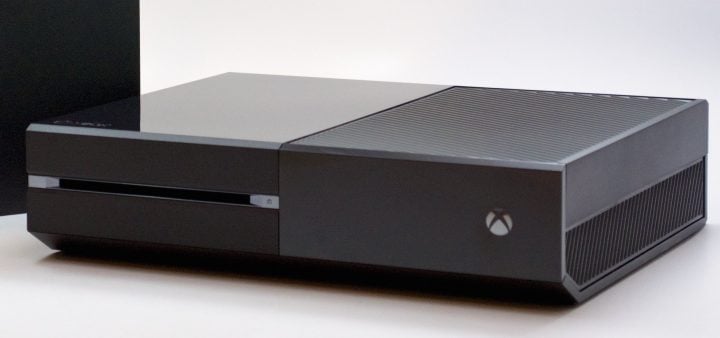 Here's how to connect an Xbox One to a monitor or TV.
How to Connect an Xbox One to a Monitor or TV: Finding the Right Xbox One
If you have yet to purchase an Xbox One, your process starts with deciding which of the Xbox One consoles that Microsoft sells is perfect for your setup.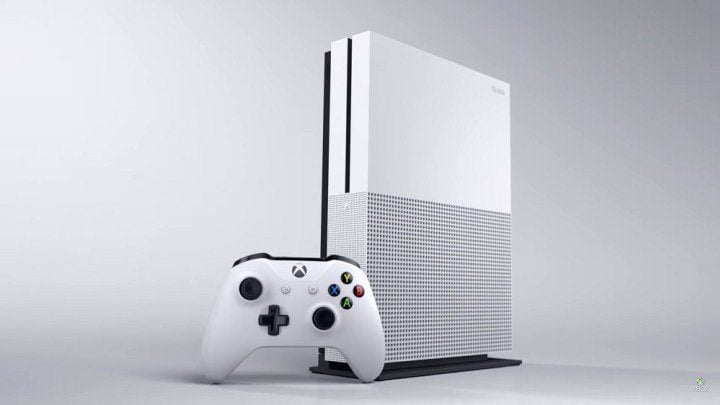 First, take some time to find out whether your television has 4K Ultra HD technology or whether it's capable of 720P or 1080P.
The Xbox One S supports gaming at 1080P and movies at 4K. The Xbox One X supports gaming at 4K and movies in 4K. The original Xbox One only supports 1080p for gaming and movies.
Read: Xbox One vs Xbox One S
The Xbox One, Xbox One S and Xbox One X only have a single way to output to a monitor or television: HDMI.
How to Connect an Xbox One to a Monitor or TV: Finding the Right Display
Finding the right display for your Xbox One is crucial. You'll need a monitor or TV with a resolution that you're comfortable with and all the right ports. You'll want to consider sound too.
The Xbox One supports HDMI out, so you will want to look for a monitor that includes a HDMI port. All modern TVs support HDMI, and most modern monitors come with one HDMI port.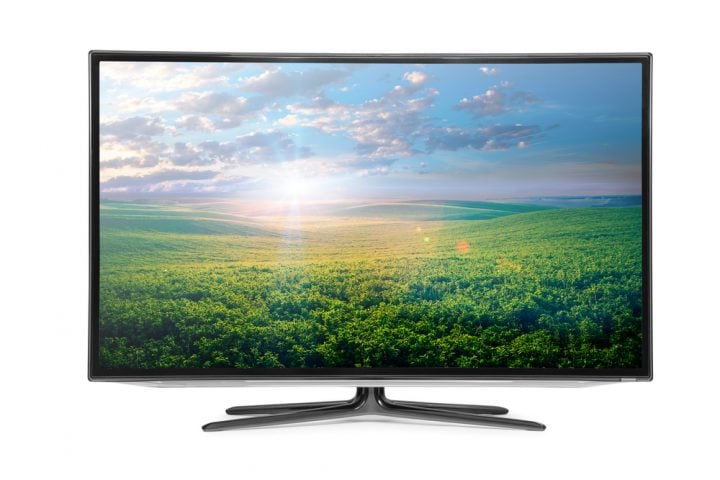 Read: 4K TV: What You Need to Know
If you're planning to connect an Xbox One to a monitor or television that you haven't yet purchased, make sure it includes at least one HDMI port.
You can buy adapters that convert your HDMI to VGA or to DVI, but the experience will not be as good as using HDMI. Amazon offers several HDMI to VGA adapters to choose from starting at $7.99. You can also buy a DVI to HDMI converter for around $6.
One of the biggest things you'll need to account for is sound. Many monitors don't have speakers, and if they do, you won't want to rely on them for any online gaming encounters. You can connect external speakers to the Xbox One's optical out port to get sound. You can also plug any headphones you have laying around into a Xbox One controller an get sound that way. The best way is to invest in Xbox One headphones.
How to Connect an Xbox One to a Monitor or TV
To connect an Xbox One to a monitor or television, unbox the free HDMI cable that came with your console. If the monitor or television has an HMDI port built in, simply connect one end to the Xbox One's HDMI Out port.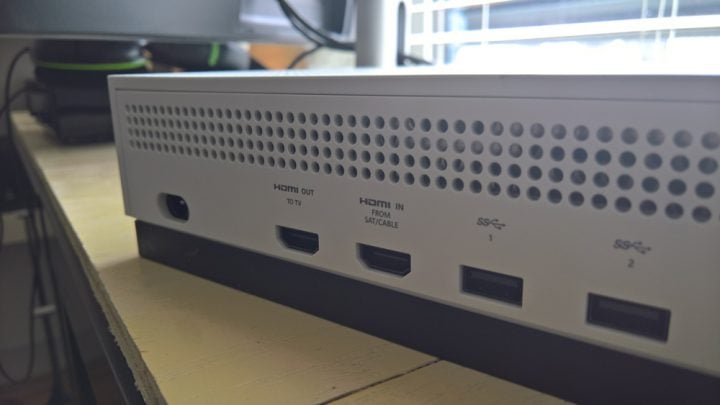 Next connect the other end to the HDMI port on your display. Monitors should begin working immediately, but televisions may need to be turned to their INPUT channels to work. How you get your TV to INPUT depends on its make and model. Refer to the manual that came with your television if you don't know how.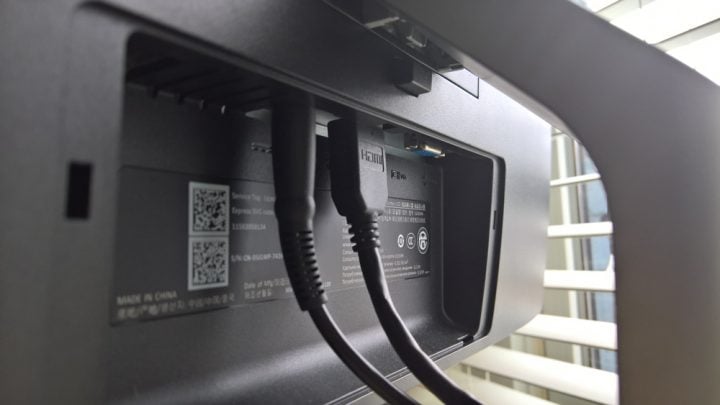 Some setups are more complicated. If you find that the Xbox One S isn't outputting 4K to your television, or something is keeping your display from running correctly, you need to open the Settings app on your console. To do so, press the glowing Xbox logo on your controller to bring up the Xbox Guide. Here's more on how to fix Xbox One X 4K problems.
Next, navigate to the Settings pane. It's to the right side.
Select All Settings.
Now select Display & Sound from the menu on the left side of your display.
The Video Output menu lets you decide what resolution your monitor or television gets from the Xbox One and what its refresh rate is.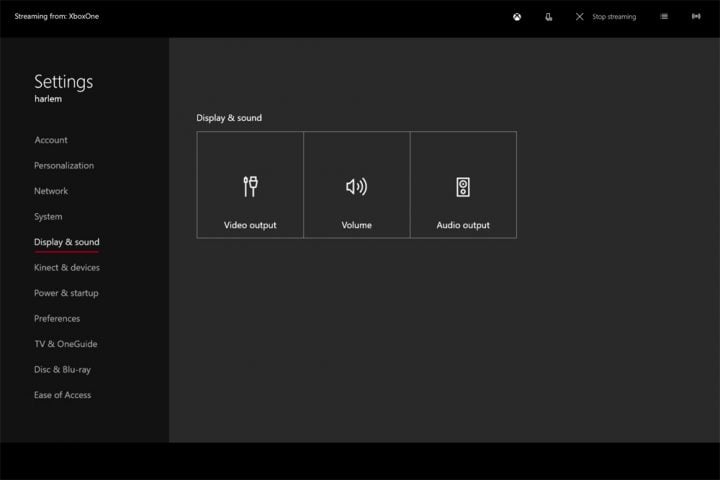 You can also toggle borders around some apps downloaded to your Xbox One. The Advanced Video Settings' 4K TV details menu is great for troubleshooting issues with 4K video.
The Best Xbox One Headsets in 2020
Plantronics RIG 800LX
Plantronics's ultra-comfortable, RIG 800LX headset offers noise-canceling, Dolby Atmos sound and nearly double the battery life of other headsets.


Read: Plantronics RIG 800LX Review





These Xbox One headphones have everything you need for a solid gaming experience including great sound, long battery life and wireless connectivity. It comes with a small USB receiver that connects to your Xbox One for sound and chat. The RIG 800LX uses 40-mm drivers and includes a boom mic that mutes when you fold it up.





Memory foam isolates your ears, and each speaker uses noise-canceling technology to eliminate any sound that makes it through that isolating foam. There are dials on the headset to control audio balance and you can tailor the EQ to your tastes. The RIG 800LX last 24 hours on a charge, so expect to charge these less than other headsets.


The RIG 800LX is also for the style and comfort-conscious gamer. A double headband keeps the accessory on your head, but loose enough that your head doesn't start to hurt during a really long gaming session. Its cups have cutouts for glasses. Also, the entire headset is modular, so you can switch out the black headband for another color whenever you want and match your headset to your Xbox Wireless Controller.

Buy the Plantronics RIG 800LX for $129.99 at Best Buy and $149 at Amazon.