Which Xbox One Should You Buy and Why
If you're having a hard time deciding which Xbox One you should buy, you aren't alone. Use this guide to learn about each of Microsoft's video game consoles and which is right for your living room.
Finding the right Xbox One is difficult because there are so many to choose from. The original Xbox One, a shiny, black device that looked more like a VCR than a video game console, launched in 2013. Microsoft replaced this console with the thinner, smaller One S in 2016. Besides the smaller profile, it supports 4K video streaming, HDR color contrast and limited support for 4K gaming. The One X is Microsoft's newest video game console. It's the perfect companion for a 4K TV and it costs the most of any Xbox One because of that.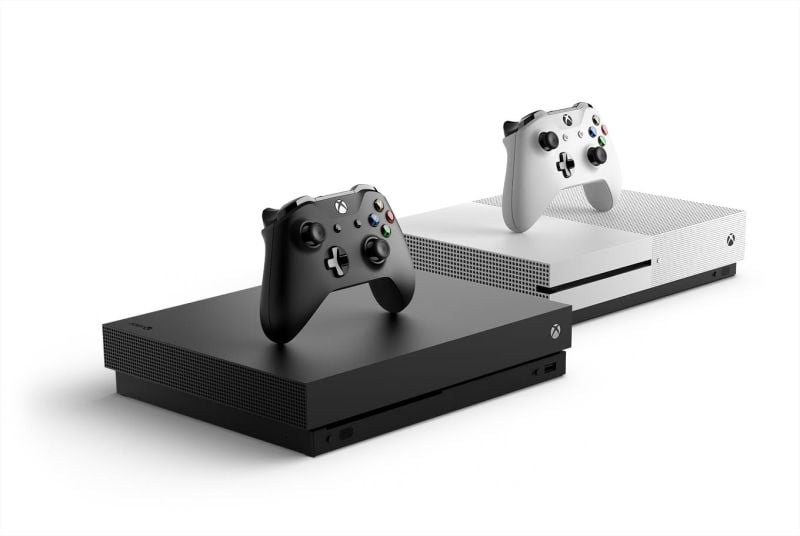 Now that you know how each Xbox One compares to the other broadly, it's time to figure out which Xbox One you should buy.
Original Xbox One
Again, the original Xbox One launched in 2013. This console has a shiny black finish, with plastic accents. Early models included a Kinect sensor for playing motion games and an Xbox Wireless Controller that doesn't have a headset jack. The original Xbox One is big and it has a huge power brick that you have to tuck behind your entertainment center.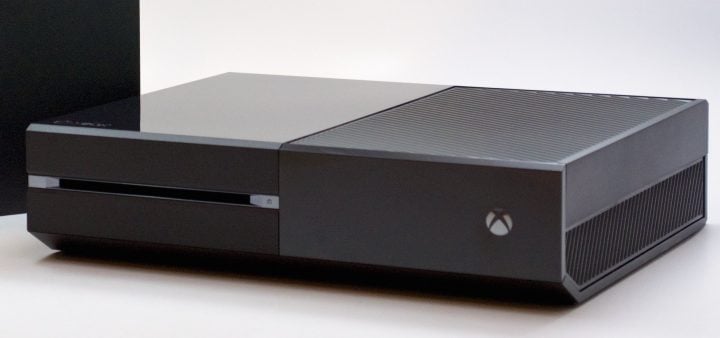 There are no games that the other Xbox One consoles can play that this one can't. That being said, it only supports high-definition games. There's a Blu-Ray player on the front of the console, so watching your favorite movies is easy. Just insert your disc and download the free app from the Microsoft Store.
Who Should Buy the Xbox One?
The original console's lack of frills and rock-bottom price tag make it perfect for anyone that doesn't have a 4K television and just wants a convenient way to play the latest video games. It also makes a really cheap way to watch streaming video services and Blu-ray DVDs.
Read: Xbox One Review: Early 2016
Xbox One Bundles
Microsoft doesn't make this console anymore but used game shops still sell them. These stores bundle the original Xbox One consoles they sell with physical copies of used games. Buy one of these bundles and you have everything you need to get started with just a single purchase.
Xbox One S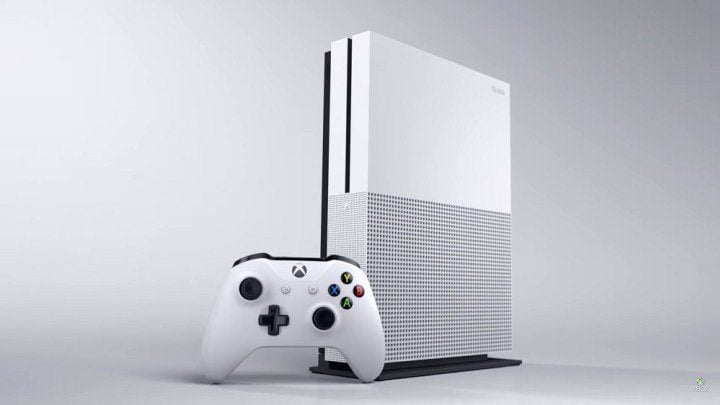 Microsoft launched the Xbox One S in 2016. It drops the drab, scratch-prone VCR design of the original console for a matte white finish. It takes up less space than the model it replaced and there's no giant power brick to hide behind your setup.
There are some solid reasons to pick up a One S instead of the original Xbox One. First, this console includes an updated Xbox One Controller that has a built-in headset jack. With this jack, you can use your Apple EarPods or any headphones you already have to voice chat with other people over Xbox Live.
Read: Xbox One S vs Xbox One: What You Need to Know
Second, the Xbox One S is an all-around better choice for owners of 4K TVs. Hardware updates inside the console let owners stream 4K videos from Netflix and Amazon Prime. Its updated Blu-ray player supports 4K UHD formats too, so physical movies you purchase will look better on your 4K TV. This console has  HDR10, a standard that 4K televisions use to unlock more color contrast for more realistic visuals. Classic franchises, like the latest versions of Assassin's Creed, Mass Effect, NBA 2K, Destiny and Call of Duty support HDR on the One S.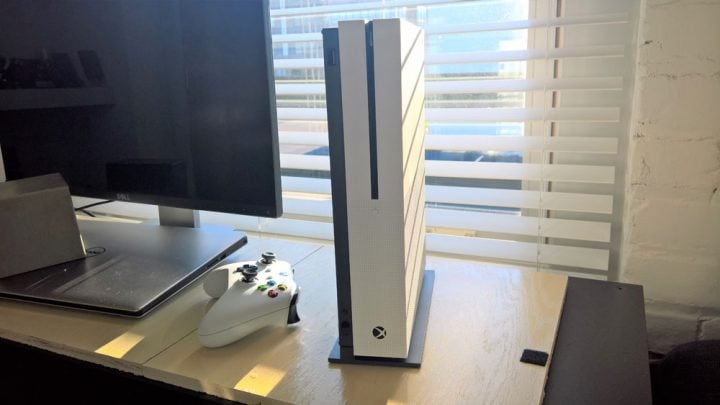 Read: 4K TV: What You Need to Know, What You Need to Watch
The Xbox One S isn't so powerful that you can play your games at full 4K resolution though. Instead, it upscales a game's existing resolution to fit your 4K television.
Read: Xbox One S Review: More for Your Money
Finally, the Xbox One S has more storage options than any other consoles in its family. If you prefer to spend as little as possible and add USB storage when you run out of space for your games, you can. Gamers with a huge library of titles already can opt for a model with a 2TB hard drive.
Who Should Buy the Xbox One S?
The Xbox One S is for anyone that doesn't mind spending a little more money for a future-proof entertainment experience. If you have a 4K television or plan to get one in the near future, you should buy this console.
One S Bundles
There are dozens of Xbox One S Bundles. Before you buy one, carefully look over each bundle's included games. Often times, you can save yourself so money by buying a bundle that comes with the games you want.
[easyazon_link identifier="B01GW3GY3K" locale="US" tag="gbm-ea-20″]Buy the One S 500GB at Amazon for $229[/easyazon_link]
[easyazon_link identifier="B01L1Y0TCC" locale="US" tag="gbm-ea-20″]Buy the One S 1TB Battlefield 1 Bundle at Amazon for $238.84[/easyazon_link]
Read: Best Xbox One S Bundles
Xbox One X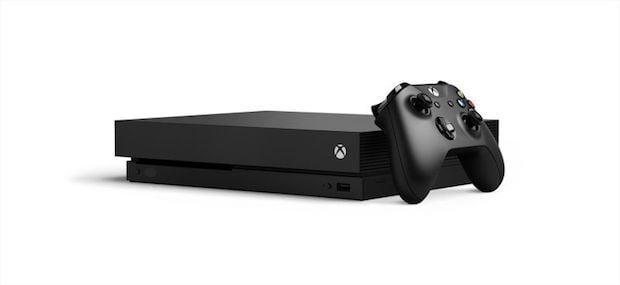 The Xbox One X is Microsoft's ultimate video game console. It's matte black, so as not to take attention away from your television or other entertainment center components. It's also the thinnest Xbox One Microsoft has made yet, and there's still no external power brick, so this console fits just about anywhere.
Read: Xbox One X vs One S: 5 Reasons to Upgrade
A lot of this console remains unchanged. It works with all the same games and includes the same upgraded controller that the One S does. The console boasts full 4K and HDR support for Blu-rays, Amazon and Netflix.
Raw power is what makes it different from all the others. The One X has a new processor and GPU. These let it render games at full 4K resolution, but only if they've been updated for it. Lots of games won't get that update, but many already have. Call of Duty WW2, Assassin's Creed Origins and Forza 7 already support 4K visuals. Developers have lots of free Xbox One X enhanced game updates set for later this year and early 2018.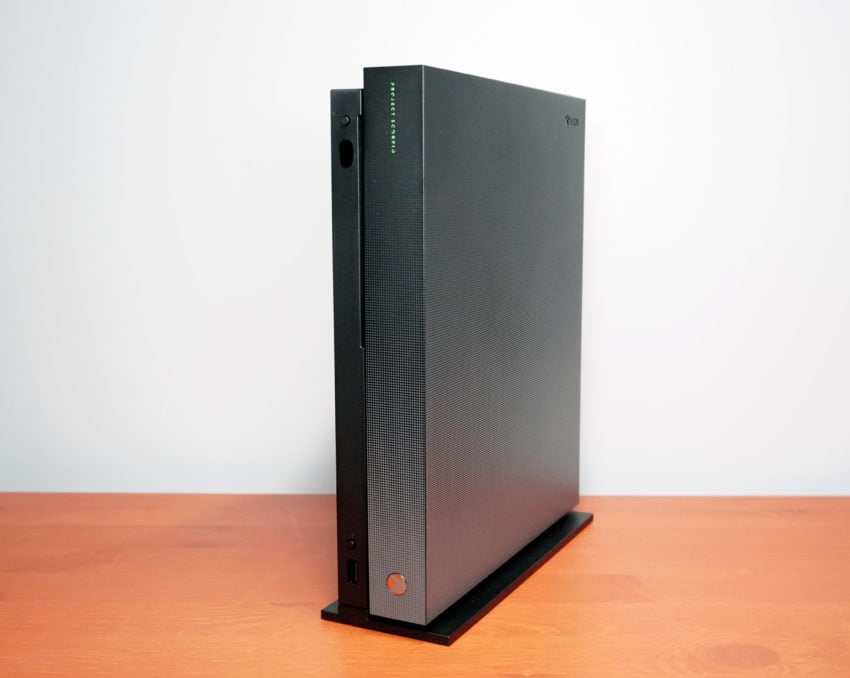 Even if you don't have a 4K television, buying this console is still a solid investment. Sampling technology improves the resolution of existing games on an HD television. Also, the Xbox One X can use the upgraded graphics of official 4K enhanced games on a high-definition television. So, you still get great visuals without upgrading your TV. Lastly, all your games load faster on this console.
Who Should Buy the Xbox One X?
The Xbox One X is for anyone that wants the best video game visuals and doesn't mind spending some extra money to get it.
One X Bundles
Microsoft is keeping Xbox One X bundles simple. These consoles don't come with a free game. You can't save money by getting one with less storage than you might need either.
[easyazon_link identifier="B074WPGYRF" locale="US" tag="gbm-ea-20″]Buy the One X 1TB Console at Amazon for $499.99[/easyazon_link]
8 Best Free Xbox Games: January 2018
Warframe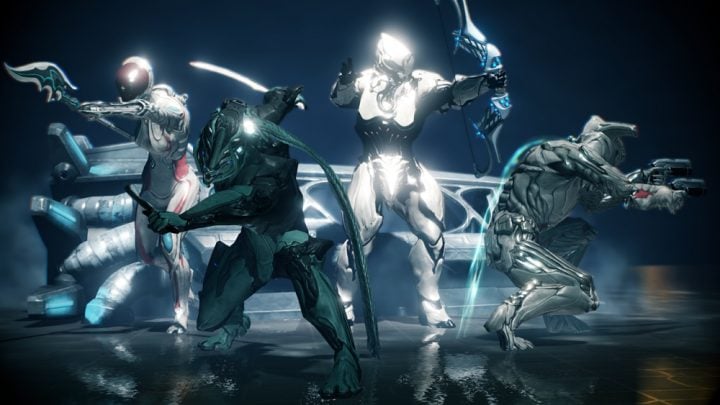 Many free-to-play games revolve around strategy or civilization building. Warframe is one of the free Xbox games that you can download now that doesn't. It's a third-person shooter.
The Tenno have just awoken after centuries of sleeping in stasis. Warframe takes its name from the suits that the Tenno use to do battle with the game's other races. There's the Greiner, who are clones of humans. The Corpus belong to a technology company with lots of robotic innovation at their disposal. Sentients consist of an alien race that's back to do battle.
Warframe features both player-vs-player combat and a single player experience.