How to Customize the Galaxy S9 Keyboard
This guide walks you through how to customize the Galaxy S9 keyboard. If you want to change the keyboard color, background, or fix autocorrect issues we'll show you how. Quickly customize your phone, supercharge your keyboard, or replace it completely.
Millions of people change the background and wallpaper on their phone, but did you know you can do the same thing to the keyboard? It's what we use on our phone the most, so we might as well make it our own.
Read: 9 Common Galaxy S9 Keyboard Problems & Fixes
The stock Samsung keyboard on your phone isn't very customizable. And while you can change a few colors, that's about all. We'll show you Samsung's keyboard options and controls, then suggest alternatives for a better and more personal experience.
Change the Galaxy S9 Keyboard Color
The only thing Samsung lets you change visually is the color of the keyboard by making it "high-contrast".  We'll show you how to do that first, then we recommend downloading a new keyboard. Alternatives like Gboard offer more customization, multiple colors, and way more backgrounds.
Still, if you enjoy Samsung's stock keyboard experience, here's how to change the keyboard color.
Pull down the notification bar and hit the gear-shaped settings button
Scroll down and select General Management
Next, choose Language & input
From here select On-screen keyboard
Choose Samsung Keyboard, then tap Keyboard layout & feedback
Next, select High Contrast Keyboard and choose one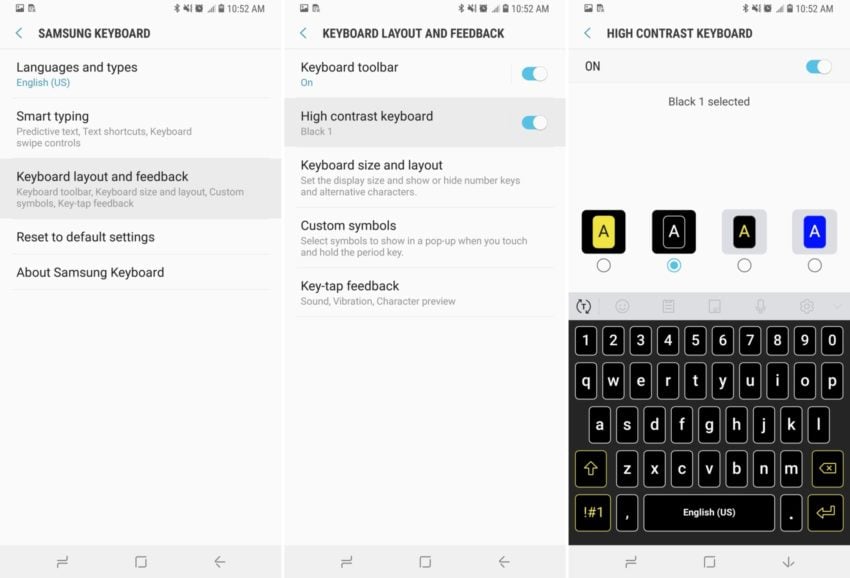 You can choose from four different keyboard colors. However, they're pretty bland and not all that exciting. Choose one from the list and give it a try. Or, keep reading on how to download Gboard and enjoy a better typing experience on your Galaxy.
Change Your Galaxy S9 Keyboard
Our first recommendation is to change the keyboard on the Galaxy S9. Here's a step-by-step guide to everything you need to know. Or, download one of the best keyboards for Android in our list, then follow the steps below.
Pull down the notification bar and hit the gear-shaped settings button
Scroll down and select General Management
Next, choose Language & input
From here select On-screen keyboard
and tap Manage Keyboards
Now turn on the keyboard you want, and turn off Samsung's keyboard
Our first recommendation is Gboard, from Google. Not only is it smarter and faster, but you'll enjoy more options, controls, features, and customization. SwiftKey is good too, so give one a try.
Change Galaxy S9 Keyboard Background
Just like changing your wallpaper, you can change the background on your keyboard. Well, as long as you download a new keyboard on your Galaxy phone. That's because Samsung no longer offers this option. So, once you have a new keyboard, follow these steps.
Go to the same Settings > General Management > Language > Keyboard > and choose your new keyboard from the list. Tap on-screen keyboard, and customize it using whatever options that are available to you. We're using Gboard in our screenshots, as Google offers multiple themes and colors.
Once you're in the keyboard settings menu, take a look around. Select a new keyboard size, button colors, borders, or an entire background. Or, choose one of your own photos on the phone and use it as the background. The choice is yours depending on the keyboard you installed. This is the easiest, fastest, and the best way to customize your Galaxy S9 keyboard.
Turn Off Galaxy S9 Autocorrect
In closing, we want to help you customize one more aspect of the keyboard, the typing experience itself. We're talking about autocorrect. It's one of the most frustrating aspects of Samsung's Galaxy S9 keyboard, and something millions will want to get rid of while they customize their experience. Follow these quick steps and you're all set.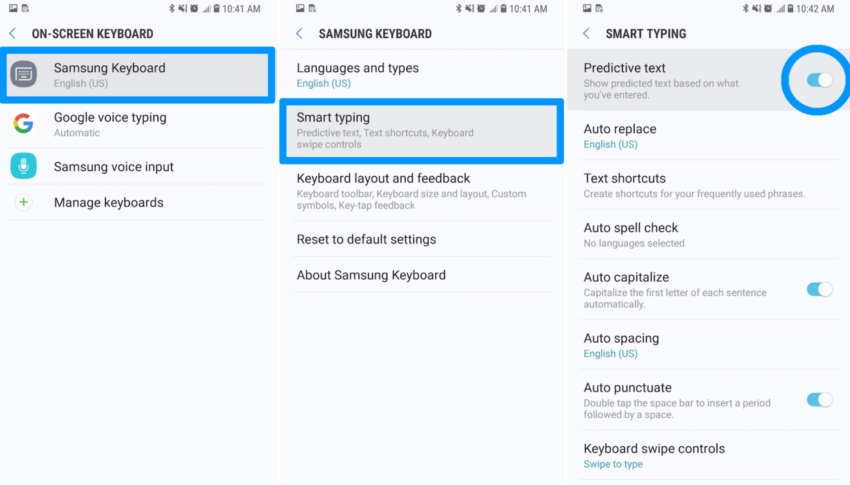 Open Settings in the app tray or notification pulldown bar
Find and select General Management
Now, tap on Language & input and choose on-screen keyboard
Select Samsung Keyboard (or whatever keyboard you use)
Next, tap on Smart Typing
Uncheck Predictive Text (aka autocorrect)
Basically, by turning this off you'll have full control over your keyboard experience. Which is what you probably want the most.
We've successfully changed the entire typing experience on your Galaxy S9 phone. You fixed those autocorrect issues, added a background, or maybe even added a border to the buttons so they're easier to tap on or see. Or, you tried one of the hundreds of SwiftKey themes for phones. Drop us a comment below with any questions or concerns. Before you go, take a peek at these 35 Galaxy S9 tips and tricks and learn more about your device.

This article may contain affiliate links. Click here for more details.