How to Turn Off Galaxy S9 Autocorrect
Here's how to turn off autocorrect on the Galaxy S9 and get back control of your keyboard. If you're having autocorrect problems you'll likely send the wrong word or message to someone. This is especially true when you're typing quickly and tapping on suggestions from the keyboard.
While there are a few problems on the Galaxy S9 here and there, autocorrect is one of the most frustrating ones. We'll show you how to prevent Galaxy S9 autocorrect problems, or at least stop the keyboard from changing what you type.
Read: How to Reboot a Frozen or Unresponsive Galaxy S9
Samsung's Galaxy S9 learns from you over time as you type on it. The keyboard will learn your habits, style, and even frequently used words. As it learns from you, Galaxy S9 autocorrect will become more accurate.
Instructions
If you're trying to type words like "to/too", "home" and "come", but instead you get "top", "hone", "good", and "cone", we know how you feel. Or, you'll try to type a friend's name like "Jim" but autocorrect changes it to "him". This is autocorrect failing you, so lets quickly get rid of it.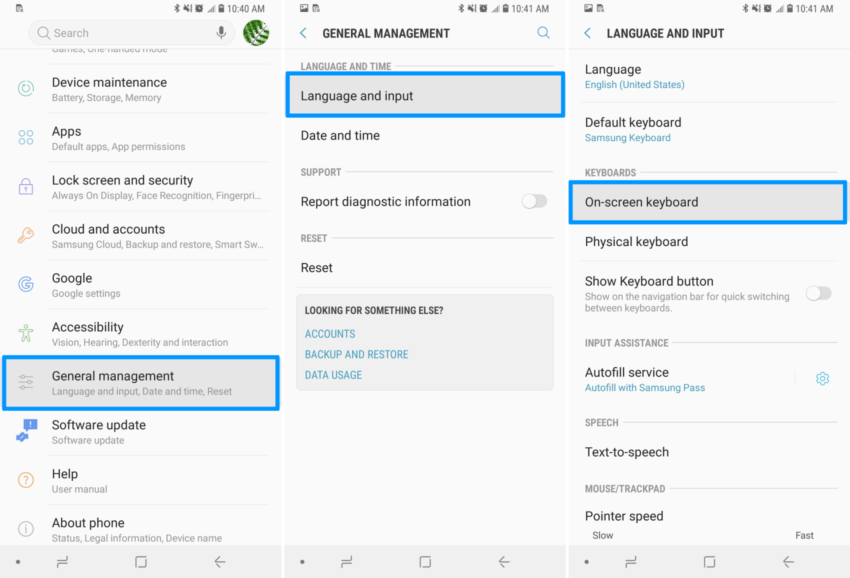 Open Settings in the app tray or by tapping the gear-shaped settings icon in the pulldown bar
Find and select General Management
Now, tap on Language & input and choose on-screen keyboard
Select Samsung Keyboard (or whatever keyboard you use)
Next, tap on Smart Typing
Uncheck Predictive Text (autocorrect)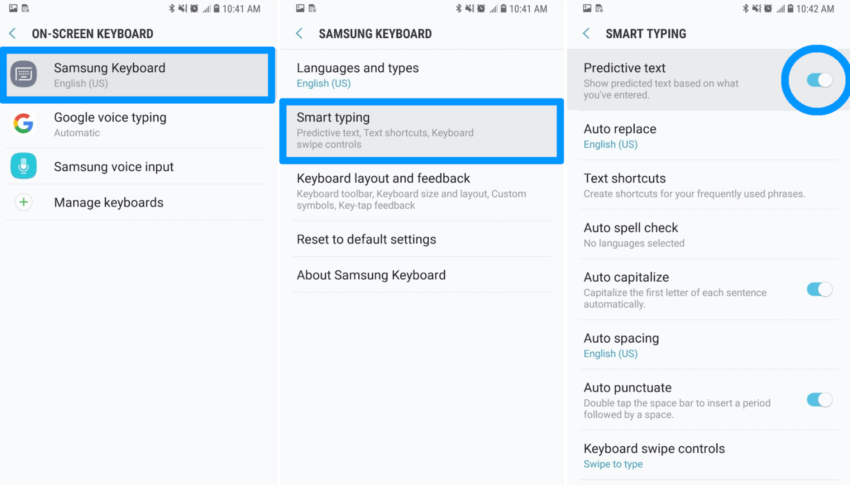 Once you turn off predictive text most of your problems will completely go away. That's the name for autocorrect, as the phone predicts what you're trying to type and automatically replaces or corrects mistakes.
Keep in mind that there are actually two ways to fix your Galaxy S9 autocorrect problems. One is to turn off predictive text as we've just done. However, you can also continue to use autocorrect but disable the "auto-replace" feature, where it replaces what you type. This gets you the predictive smarts without the intrusive changes. Basically, you'll still get corrections and recommendations, only you'll get to choose when to add them to a sentence or message. Not the phone. Here's how to do that.
Turn Off Auto-Replace on Galaxy S9 Keyboard
While autocorrect is extremely frustrating sometimes, it's also very helpful and a tool that millions can't live without. Well, or you can't type quickly and accurately without. If you're missing the suggestions and predictions, or rely on them to spell correctly, we have you covered. You can keep the predictions without them automatically changing anything in your message.
In keyboard settings, instead of flipping the Predictive Text on/off toggle switch as mentioned above, tap where it says Auto Replace. Now, just uncheck the auto-replace aspect of predictive text.
This gives you the best of both worlds. Your Galaxy S9 will still predict words for you and fix mistakes, but it won't automatically add them to your sentence or message. You get to control it, so you're not frustrated because you see a message you already sent has a mistake. Keep in mind that you can still tap the suggestions above the keyboard, quickly, to add predictions into your typing experience.
Now you know this, choose what's best for you. Get rid of Galaxy S9 autocorrect completely, or just tone it down so you have a better grip on your texting. While you're here, try a different keyboard for the Galaxy S9 if you're still having problems. Then, take a peek at these Galaxy S9 battery saving tips, or get a screen protector from our slideshow below.
10 Best Galaxy S9 Screen Protectors
WhiteStone Dome Tempered UV Glass ($44)
The first screen protector we'll recommend for the Galaxy S9 is the impressive WhiteStone Dome Glass kit. This is pretty expensive, but it's worth it to protect your $800 smartphone.
WhiteStone uses a special liquid installation process where you manually install the screen protector with a perfect alignment tray, then use a UV Dome Light machine to "cure" the liquid and screen protector in place. This provides the absolute best experience and installs for curved devices. The video above is a review of their product for the Galaxy S8.
It's not permanent and can be removed if necessary, so don't worry about that. Basically, if you've tried several glass screen protectors that didn't fit, came off, or had touchscreen sensitivity issues, TRY THIS INSTEAD. The liquid fills in the entire area, then physically cures the glass to the screen. We recommend this without hesitation.