How to Get a Fallout 4 Pip Boy Right Now
Bethesda won't be making any more copies of its Fallout 4 Pip Boy Edition which has left some fans of the Fallout series feeling desperate. While no more copies will be made there are still ways you can get your hands on a working Pip Boy ahead of the Fallout 4 release date.
In June, Bethesda confirmed Fallout 4 for PS4, Xbox One and PC. The company used E3 2015 to confirm many of its key details including its gameplay, setting, characters, November 10th release date, and a special Fallout 4 Pip Boy Edition bundle for Xbox One, PS4 and PC.
The Fallout 4 Pip Boy Edition, for those that don't know, is a $120 version of Fallout 4 that comes with a copy of the game and several other items including a real-life Pip Boy that gamers can wear on their wrist. It's a collectible, a potential cosplay accessory, and a device that Fallout enthusiasts can use while playing the game.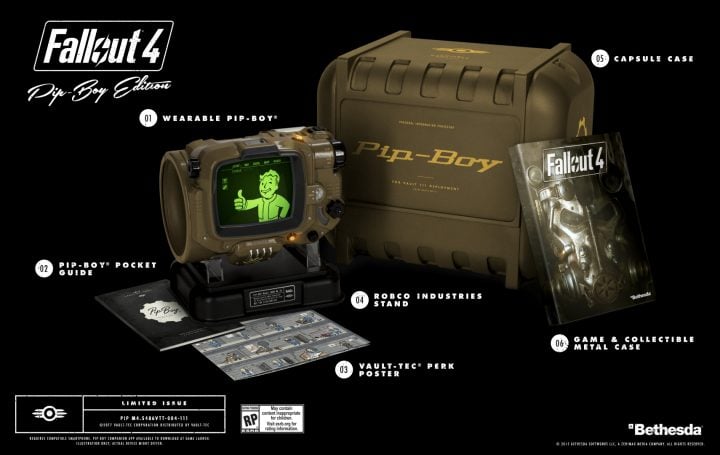 Bethesda's Pip Boy accessory comes with a space for a smartphone. While phones like the iPhone 6 Plus and Galaxy Note 4 are too big, owners of the Galaxy S5 and iPhone 6 shouldn't have a problem.
The company will release an app for smartphones that will allow iPhone and Android users to control certain aspects of Fallout 4. And this is the attraction of the Pip Boy for many people. Wear the Pip Boy while playing the game, feel like the Vault Dweller.
Unfortunately, the Fallout 4 Pip Boy Edition is sold out at most places. It only took a few days for stock to deplete and a few weeks for Bethesda to confirm the bad news. It won't be making any more Fallout 4 Pip Boy Editions. What's out there is out there. This has left left Fallout fans scrambling and parents of Fallout fans hunting for elusive stock.
While the company isn't making any more, all hope isn't lost for those looking to snag a Pip Boy in time for the Fallout 4 release. Here are a few ways to acquire a Fallout 4 Pip Boy ahead of the game's November 10th release date.
Buy Fallout 4 Pip Boy Edition
Your first option is to hunt down a copy of the Fallout 4 Pip Boy Edition. This isn't going to be easy and it's probably going to cost you a lot of money but there are copies out there you just need to know where to look.
U.S. retailers probably won't be offering any more stock at $120 so you're going to have to keep an eye out at various resellers, places like eBay and Craigslist.
eBay has been killing off listings for the Fallout 4 Pip Boy Edition but sly sellers have found ways to circumvent the rules. We've found several Pip Boy Editions lurking on the website for around $400. We've also found listings on Craigslist that are equally as expensive.
You can also look into ordering through a foreign retailer. We've seen Fallout 4 Pip Boy Edition stock emerge in France and Germany in August. Maybe you have a family member or friend living in France or Germany that's willing to put in an order for you.
At this point, if you want the official Bethesda version of the Pip Boy, you're going to have to be really attentive to stock or pay $300+ to a reseller. The time you'll spend, the price you'll pay and the red tape that you'll have to get through may not be worth it to you.
Buy A Fallout 4 Pip Boy Alternative
If that's the case, you'll want to look at some alternatives. While they might not be from Bethesda itself, they'll work with Bethesda's Fallout 4 app and they'll probably work out just fine if you're planning to buy for a friend or a relative.
We've tracked down a number of viable alternatives to the Fallout 4 Pip Boy on sites like Etsy. We've found one, two, three, four solid Pip Boy alternatives currently on sale, none more expensive than $125.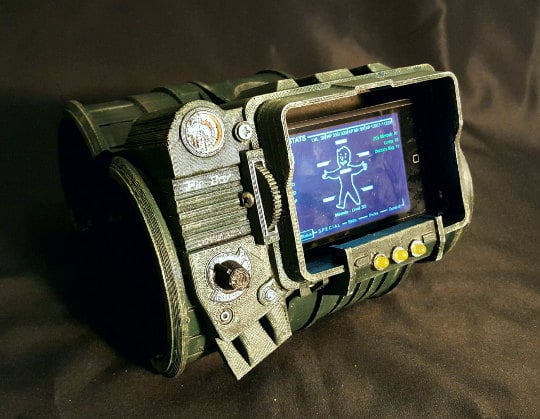 They each have their own caveats and they'll require some DIY time but they all have extremely solid reviews from customers particularly this 3D printed one.
None of them look exactly like Bethesda's Pip Boy but they are, at this point, a fraction of the cost. And with demand for the official Fallout 4 Pip Boy Edition likely to get worse as we get closer to the release date, these are worth exploring if you want or need a working Pip Boy before Fallout 4's arrival.
Make Your Own Pip Boy for Fallout 4
If your treasury is overflowing with coin and you want one of the best Pip Boy's that we've ever seen then you'll want to take a look at this 3D printed Mark IV Pip Boy from Yvo de Haas.
Hass has provided the schematics through his website and it will be up to you to provide the capital to get the Pip Boy made via a 3D printer. If you don't own a 3D printer, you can find a company that'll be willing to do this for you through a site like 3DHubs.
It's far more involved than ordering one from Etsy but it's an option if you become tired of looking for the official version of Bethesda's Pip Boy in the weeks ahead.
PC Fallout 4 Release: 10 Important Details
PC Fallout 4 Deals
The Fallout 4 release for PC is still weeks and weeks away but we're already seeing tempting Fallout 4 deals emerge. The best Fallout 4 deals probably won't arrive until after the Fallout 4 release date but there are a few that're worth looking at right now.
Best Buy is still offering 20% off the game if you join its Gamers Club Unlocked program. The program isn't for everyone and it does require a membership fee but it might be worth it if you pre-order a ton of games or frequently shop at Best Buy.
The retailer also has another Fallout 4 deal going on. If you join the My Best Buy program, you will get $10 in rewards just by pre-ordering the game. This is a nice little perk if you do a lot of your shopping at the retailer.
Amazon is offering $7 off Fallout 4 to Amazon Prime members. That drops the price down to $57 including tax. That's not a huge discount but it's one of the only price cuts that we've seen in recent weeks.
The retailer is also offering some discounts on Fallout 4 accessories. Amazon is offering The Art of Fallout 4 for 13% off its usual price. and it's also featuring price cuts on Prima Games' official Fallout 4 strategy guides including the collectors edition.

As an Amazon Associate I earn from qualifying purchases.