How to Install the Windows 10 Anniversary Update
On August 2nd, Microsoft delivered on a promise it first made to users before releasing Windows 10 back in 2015. The company committed to offering up frequent updates to Windows 10 faster than it had with any operating system previously. Not only were these updates to come faster than before, they were to contain features that Windows 10 notebook, tablet and desktop owners would have needed to wait years for before. The Windows 10 Anniversary Update is available just over a year after Windows 10 first arrived. What's more, it packs features and tiny improvements that lots of people will care about.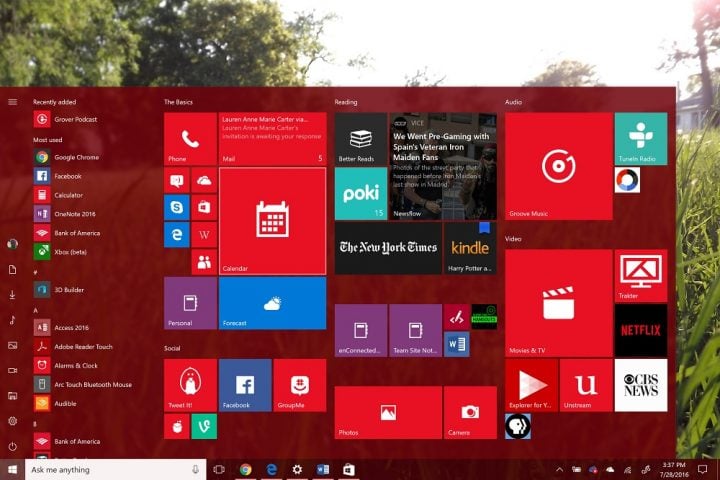 Read: Windows 10 Anniversary Update Review: Everything Necessary
Because it's completely free, everyone can download the Windows 10 Anniversary Update now. It's available for notebooks, desktops and 2-in-1s.
Here's how to get the Windows 10 Anniversary Update if you just have to have it right now.
Get the Windows 10 Anniversary Update Through Windows Update
If you upgraded your PC from Windows 8 to Windows 8.1, you may remember a convoluted process involving you visiting the Windows Store and having to give your PC permission to download the upgrade. That's not the case with the Windows 10 Anniversary Update, thankfully.
Microsoft is always adding minor updates to Windows 10. To make the process of adding substantial upgrades to Windows 10 more seamless, Microsoft stopped requiring users to trigger a download through the Windows Store. Instead, Windows Update, the same tool that keeps your Microsoft-made apps and Windows working year-round, is how you get the Windows 10 Anniversary Update.
Press the Windows key on your keyboard to open the Start Screen/Start Menu.
Read: Surface Pro 4 Windows 10 Anniversary Update: What to Expect
Tap or click on the Settings option in the bottom-left corner of Start. Note that if you're using a device that has Tablet Mode turned on, you'll have to tap or click on the menu button in the top-left corner before you see the Settings option.
Inside Settings, look for the Update & Security.
Click or tap on the Check for Updates button in the center pane of the Settings app. Your PC will reach out to Microsoft's Windows Update servers to check to see if the version of Windows 10 you have is the current one. If the app returns no updates, then Windows 10 Anniversary Update has already installed itself on your PC silently.
If the Windows Settings app says that it needs to download Feature Update to Windows 10 version 1607, then you haven't downloaded the Windows 10 Anniversary Update already. 1607 is what Microsoft calls the software upgrade internally. Because you're downloading an entire Windows update, you'll notice that Windows 10 Anniversary Update takes longer to download than your average set of fixes. If you're on a metered connection, an internet connection with a limited amount of bandwidth, your PC will automatically wait to download the upgrade until you get access to an unmetered connection. Starbucks Wi-Fi and mobile internet hotspots are examples of metered connections that the update won't download over.
As you're downloading the Windows 10 Anniversary Update in the background, you can continue working. Your PC will let you know when it's time to stop working. Under no circumstances should your PC restart and begin installing the software update on its own.
Read: Should You Rush to Download the Windows 10 Anniversary Update?
You'll want to set aside some time for the update to install. To be safe, set aside an hour or so, if you plan on starting the upgrade manually. If you let the upgrade install automatically, Windows 10 will wait until you're least likely to use your computer. For most people, this is during the early morning hours.
A notification will let you know when your PC has been upgraded, successfully. Whether you chose to manually download the update now, or wait a few days.
Get the Windows 10 Anniversary Update Through a Download
If you'd rather not perform the upgrade through Windows Update or find yourself in a situation where you need to install a fresh copy of Windows 10 Anniversary Update, you can get an image file or ISO directly from Microsoft here.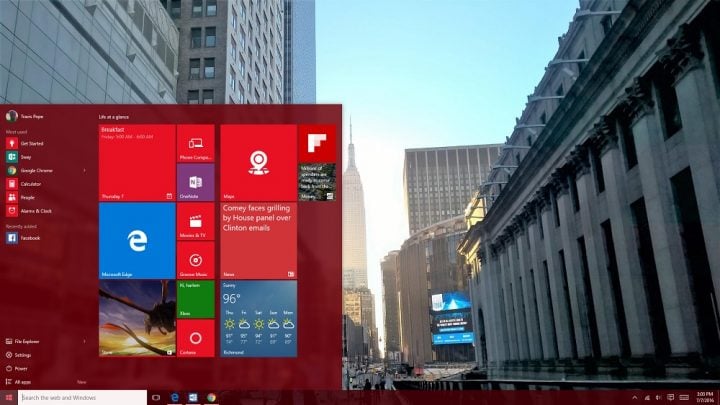 Note that you will need a valid license key for the upgrade if your PC never had Windows 10 on it before. Microsoft recently ended its Free Windows 10 Upgrade Offer. Now the operating system update costs at least $119.99.
Get the Windows 10 Anniversary Update By Getting a New PC
Any notebook, desktop or tablet that you purchase at a retail store running Windows 10 will get the Windows 10 Anniversary Update. It isn't yet clear when PCs will arrive on store shelves with the operating system installed.
Good luck installing the Windows 10 Anniversary Update on your device. As this is a features only release, the upgrade should go pretty well. Microsoft hasn't made big changes to Windows 10's hardware requirements; and all of your apps and programs should survive the update intact.
17 Anniversary Windows 10 Update Features
Cortana Upgrades
The procession of impressive new features begins with Cortana, Microsoft's digital personal assistant. With the first Windows 10 release, Cortana became cross-platform; there are apps for Android and iPhone now.
With this release, Microsoft is closely tying the assistant to Windows phone and Android. Cortana now stays informed of your device's battery life. She notifies users when your battery is low. She can be asked to track down your iPhone or Android device using its built-in GPS too. The personal assistant now sends directions` directly to your phone when you request them on your Windows 10 PC. The company says that it has improved the setup process for Cortana too.

As an Amazon Associate I earn from qualifying purchases.