How to Install the iOS 12 Beta on iPhone, iPad and iPod Touch
Apple releases the first iOS 12 beta for the iPhone, iPad and iPod touch today. This allows users who are part of the Apple Developer Program, or who join using a profile found online to test iOS 12 before the official release date in the fall and before the public iOS 12 beta that will likely arrive later this month.
iOS 12 is pre-release software, which means you will run into bugs and likely see battery life issues. If possible it is a good idea to install the iOS 12 beta on a secondary device so that you can try the new iOS 12 features without running into issues on your main iPhone or iPad. It's not a good idea to install the first several iOS 12 betas on the iPhone you use daily.
It's easy to install the iOS 12 beta on your iPhone or iPad. You should plan on spending about 15 to 30 minutes. You can do this without a computer, but it is a smart idea to make an iTunes backup in case anything goes wrong or you want to downgrade.
Make an iTunes Backup
Even if you backup to iCloud, it is a good idea to make a local backup of your iPhone before you install the iOS 12 beta. This can take a while to complete if you haven't made a backup to your computer in a while. Here's more on what to do before you install the iOS 12 beta.
Connect the iPhone to your computer with a Lightning cable.
Open iTunes and Click on the device's name.
In the Backups section, click on This Computer.
Choose Encrypt iPhone backup if you want to save passwords, health and HomeKit information.
Click Back Up Now.
Once this is done you will want to Archive this backup so that it is not overwritten. On Mac, click on iTunes -> Preferences -> Devices. Then hold Control and click on the newest backup and then choose Archive.
How to Enroll in the iOS 12 Beta
At this point Apple is only offering a developer iOS 12 beta. You will need to join the Apple Developer Program or find the iOS 12 beta profile from a developer. The Apple Developer Program is $99 a year and includes access to the macOS beta as well as the watchOS beta and other software.
Click this link and follow the directions to join the iOS 12 developer beta as an Apple Developer. If you don't want to pay, you can download the iOS 12 beta profile free from this website without a developer account.
Use AirDrop or iCloud to send the iOS 12 beta profile to your device.
Open the profile and Tap on Allow and then Tap on Install.
Restart Your iPhone or iPad.
If you want to install the iOS 12 beta without a developer account the best thing to do is sign up for the public Apple Beta program and wait a few weeks for the first iOS 12 public beta release to arrive.
How to Install the iOS 12 Public Beta
Once you are an Apple developer or you have the iOS 12 beta profile installed, it is easy to install the beta on your iPhone or iPad. From here, the iOS 12 beta installs just like any other update.
Tap on Settings.
Tap on General.
Tap on Software Update
When you see iOS 12 Beta tap on Download and Install.
Tap on Install Now.
This will install the iOS 12 beta in 15 to 20 minutes. If you are trying this as soon as the beta is available you may see longer download times until demand subsides. Once the beta is complete you will be able to test the new iOS 12 features and installing future betas will be as simple as checking for an update.
iOS 12 vs iOS 11: What's New in iOS 12.4.1
iOS 12.4.1 Features and Fixes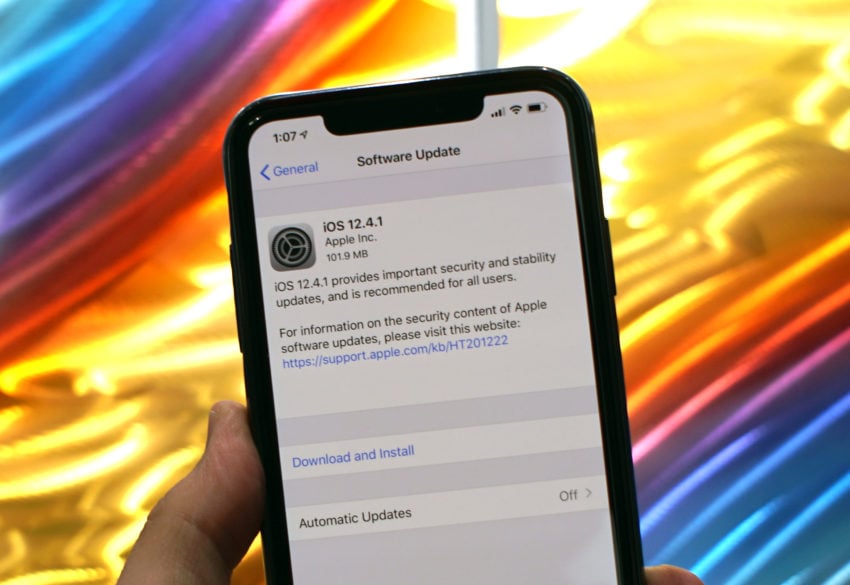 The iOS 12.4.1 update focuses on security fixes for a major bug that Apple fixed once before, but that is back in iOS 12.4. This security issue would allow an app to essentially gain full control over your phone.

Available for: iPhone 5s and later, iPad Air and later, and iPod touch 6th generation
Impact: A malicious application may be able to execute arbitrary code with system privileges
Description: A use after free issue was addressed with improved memory management
This is what allows people to jailbreak iOS 12.4, which is a plus for some users, but most users will want the security that comes from iOS 12.4.1.

As an Amazon Associate I earn from qualifying purchases.