How to Jailbreak iOS 9.3.3 Without a Computer
The iOS 9.3.3 jailbreak tool only works on a PC, which means many users with a Mac are out of luck. Thankfully there is a new way to jailbreak iOS 9.3.3 without a computer. That means even if your only computer is a Mac you can jailbreak iOS 9.3.3 through iOS 9.2 in a matter of minutes.
As of July 28th Apple is blocking this method of jailbreaking. This specific option uses a certificate to side-load the jailbreak tool on to your iPhone or iPad. Apple is revoking that license so it cannot install the tool you need. You can attempt this, but if you get an error that says, "Unable to download app" you should instead use this guide to jailbreak iOS 9.3.3 using your computer.
Using the iOS 9.3.3 jailbreak without a computer is easier than our initial instructions for the jailbreaking on a PC, especially if you had to create a virtual machine on your Mac.
The iOS 9.3.3 jailbreak without a computer takes about 3 minutes to complete and you can do it with or without WiFi.
We recommend that you are on iOS 9.3.3 since it is the latest version. You don't need to, but we restored the iPhone to factory settings so that it did not have any over the air updates installed. Sometimes these complicate the process.
Keep in mind this is a semi-tethered jailbreak so you will need to re-use the jailbreak app if you restart your iPhone or iPad. Here's a list of the compatible iOS 9.3.3 apps and tweaks on Cydia.
How to Jailbreak iOS 9.3.3 Without a Computer
Here's how to jailbreak iOS 9.3.3 without a computer. Which just so happens to be the best way to jailbreak iOS 9.3.3 with a Mac, since you can read the instructions on your Mac and complete it on your iPhone.
Update to iOS 9.3.3 on your iPhone.
Turn off your iPhone passcode.
Disable Find My iPhone.

Open Safari and go to https://totoateam.com/pangujb on your iPhone.
Tap Install in the middle of your screen.
Tap Install on the pop up that asks you to install TTJailbreak.
Wait while the iPhone downloads the Pangu Jailbreak for iOS 9.3.3 directly to your phone. This can take about 45 seconds to a minute and a half. If it does not download, tap on Install again.

Open Settings on your iPhone and Go to General and then Device Management. Tap on Trust the developer and then on the red Trust in the pop up.

Go back to the home screen and tap on the Pangu PP app.
When it opens, allow notifications. This is very important to turn on.
Uncheck the box below the circle and then tap on the circle.

When the circle turns to text, you should lock the iPhone.
Wait a few seconds and you will see a notification. Keep waiting and the iPhone will respring, which may take up to another minute.
When this is complete unlock the iPhone and you will be able to use Cydia.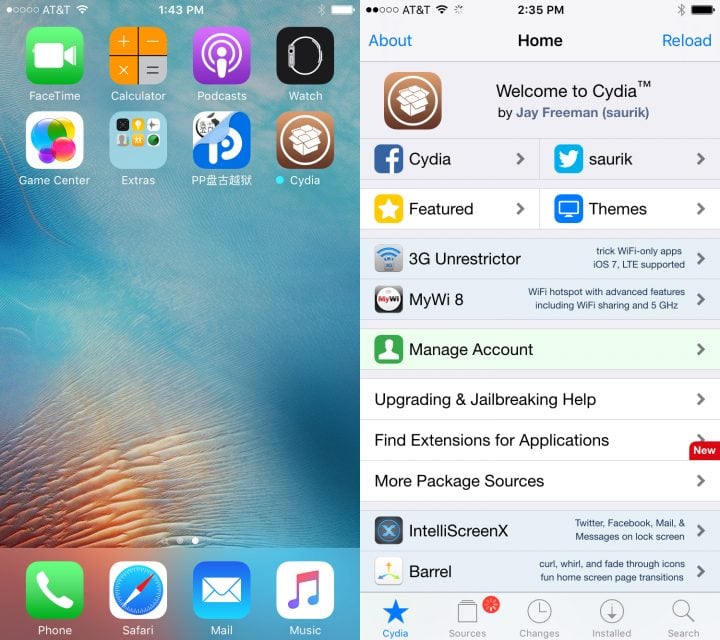 That's all there is to jailbreaking iOS 9.3.3 without a computer. You should now go back and turn on a passcode and Find My iPhone. You can start using iOS 9.3.3 jailbreak tweaks now.
If you reboot your phone you will need to use the PP Jailbreak app again, to be able to use your Cydia apps.
Best iOS 10 Themes for iPhone: Cydia Themes for Winterboard & Anemone
Aeyris Theme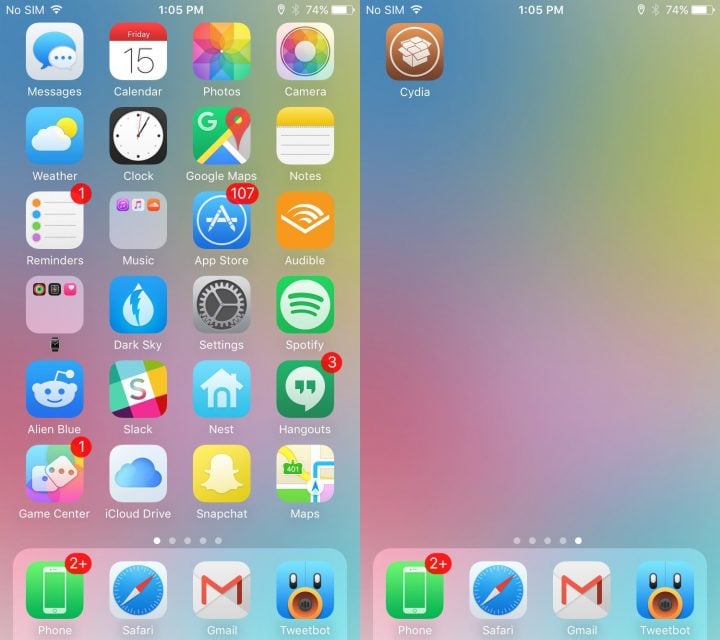 Ayeris is a stunning iPhone theme that looks great on the iPhone and the larger iPhone 6s Plus as well as older iPhones. The theme is one that we've used for several years, and it still looks great on the slightly tweaked look of iOS 9. There are 300 icons included, system-wide user interface skins, status bar icons and different dock modes.
Ayeris for iOS is $2.99 on Cydia

As an Amazon Associate I earn from qualifying purchases.