How to Make a Phone Call from the Apple Watch
If you don't want to fish your iPhone out of your pocket to make a phone call, here's how to make a phone call right on the Apple Watch without using your iPhone at all.
The Apple Watch is a little over six months old now, but it's still a very new device, and it recently just received its first big update. It came with a handful of bug fixes and performance improvements, as well as the ability to create custom watch faces, although that's still something that's a bit lacking.
Apple's new smartwatch is full of all kinds of different features, and while you may know some of the more basic ones, like receiving notifications and checking the weather right on your wrist, you may not know that you can make a full-fledged phone call right from the Apple Watch without even touching your iPhone.
The Apple Watch has a built-in speaker and microphone that makes this possible (located on the opposite side of the Digital Crown).
More often than not, your hands might be full or you're driving and don't want to awkwardly fish your iPhone out of your pocket. Instead, you can just answer the phone call on your Apple Watch and use it hands-free. This is especially handy if you can't legally use your iPhone while driving, but can legally use hands-free devices.
In any case, here's how to make a phone call from the Apple Watch
Making Phone Calls from the Apple Watch
There are a few things to know before making phone calls from your Apple Watch. First of all, the Apple Watch relies on your iPhone's cellular connection, so you won't be able to make or answer phone calls without your iPhone and Apple Watch paired to each other.
This means that if you go out for a run with your Apple Watch, but don't have your iPhone with you, you won't be able to make phone calls, as well as perform a lot of other tasks.
Furthermore, you can only use speakerphone mode on the Apple Watch, since you can't use your headphones, even if they're connected to your iPhone, so be aware of this when you're answering a phone call in public, as anyone around you will be able to hear your conversation.
If you want to make a phone call from your Apple Watch, there are a couple of ways to do it.
From Your Friends List
If you're calling a friend that you have listed in the Friends section of the Apple Watch (clicking the side button), then making a phone call is a bit quicker.
Just click the side button, spin the digital crown to scroll to a specific contact, then tap on their avatar.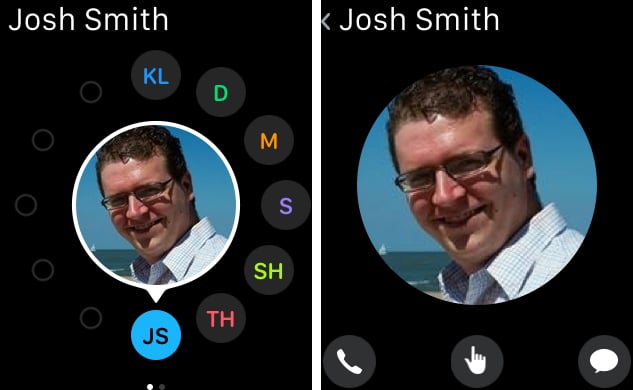 From there, tap on the phone icon in the bottom-left corner. Depending on if they have an iPhone or not, you can choose to talk with them through FaceTime Audio or call them normally. FaceTime Audio is like a phone call, but it uses WiFi instead of cellular, which makes the call quality a lot better.
In any case, select one or the other if you have the option and your Apple Watch will make the phone call.
From the Apple Watch Phone App
If you don't have the contact that you're calling in your Friends list, you can still call them from the Apple Watch by using the Phone app on the device.
Open up the Phone app on your Apple Watch by clicking on the digital crown, which brings up your app layout. Find the Phone app and tap on it.
You'll now have the option of selecting someone to call from either your Favorites, Recents, or Contacts. Unfortunately, you can't dial a new number and call it from your Apple Watch.
Read: Apple Watch Review
After you select a contact, you can tap on the phone icon or the message icon (to send them a text message). Tap on the phone icon and you'll receive the same options as before if they have an iPhone, where you can call them using FaceTime Audio or call them regular over cellular. Even if they don't have an iPhone, you'll still get the option for FaceTime Audio, which is probably just a bug, but you'll call them over cellular anyway.
Once you're connected to the call, you can adjust the volume of the speaker using the digital crown, and you can also mute your microphone from the screen. When you're done and want to hang up, simply just tap the red button to end the call.
Answering Phone Calls from the Apple Watch
Are you receiving a phone call, but your hands are full or don't want to go digging for your iPhone from your purse or pants pocket? You can answer calls right from your Apple Watch.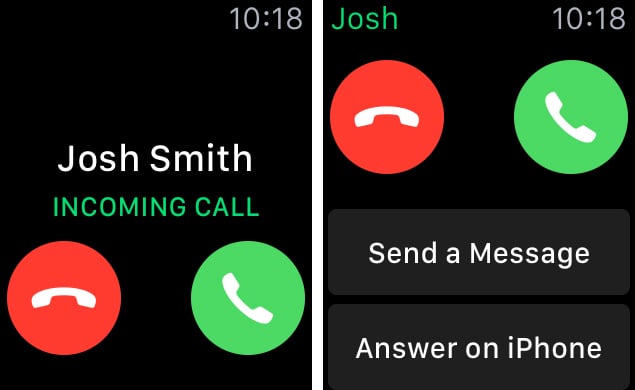 If someone is calling you, you'll receive the alert on your Apple Watch. The screen will give you a few options to choose from as far as how to handle the phone call.
You can either decline the call or answer the call with the two big round buttons, or if you scroll down, you'll have a couple more options to choose from.
You can quickly decline the call and send them a text message saying you'll call them back (or whatever you want it to say), or you can choose to have them wait a few seconds while you grab your iPhone by tapping on Answer on iPhone. This lets them know that you acknowledge their call, but are simply digging for your iPhone.
That's all there is to it! Making and receiving phone calls on the Apple Watch may not be something you'll do all the time, but it's a handy feature to hack as backup.
17 Things You Didn't Know the Apple Watch Could Do
Set Your Apple Watch Ahead 5-10 Minutes
If you are always running behind and you are used to setting clocks ahead so that you leave early enough to get there you'll love the Apple Watch.
There is a setting on the Watch that lets you set the Apple Watch time ahead up to 59 minutes fast. Most people will set the watch a few minutes early or 15 minutes early if they are always late.
Alarms and timers should stick to the real-time, but when you look at the time on your Apple Watch you will see the time you want, instead of the real-time.
Here's how to set your Apple Watch ahead so you're always on time.