How to Set the Apple Watch Ahead
This is how to set the Apple Watch ahead or make the Apple Watch run fast.
Are you someone who can only get there on time when your watch is fast? If so, you'll want to change your Apple Watch time to be up to 59 minutes fast.
That way even if you're 10 minutes late, you'll be on time, and you might even end up getting there early.
How to Set the Apple Watch Ahead
Unlike most of the Apple Watch settings that you change on the Apple Watch app on the iPhone, you change these settings on the Apple Watch itself.
Press the Digital Crown to get to your Apps.
Find and tap on Settings on the Apple Watch.

Tap on Time.
Tap on the +0 min section of the screen.

Turn the Digital Crown to change the time ahead as mush as 59 minutes.
Tap on Set.
Now you should see that your Apple Watch time is ahead of the real time. You can see the real time in the upper right hand corner of the Apple Watch and the new fast time in the section next to +20 or however fast you set your Apple Watch.
Check out more of what you can do with the Apple Watch to learn about other new Apple Watch features.
65 Exciting Things You Can Do With the Apple Watch
Answer Calls on the Apple Watch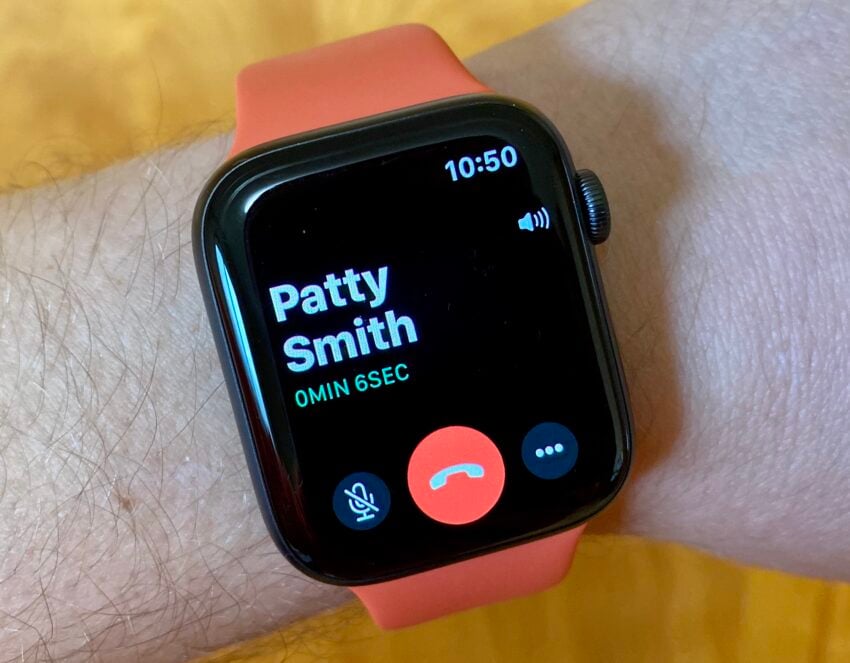 You can answer a call on your Apple Watch using it as a small Bluetooth speakerphone. You only want to use this for shorter calls because the audio quality isn't as good as when you are talking on speakerphone on your iPhone.
The Apple Watch only allows you to answer your calls on Speakerphone, so you won't want to use this all the time. It is very handy when you are working on a project or busy with your hands. Definitely be conscious of where you are taking calls. If you wouldn't talk on speakerphone, you shouldn't talk on your Apple Watch.
If you buy the new Apple Watch with LTE, you can even make calls on the Apple Watch without your iPhone nearby. This requires adding the watch to your plan for $10 a month. You cannot answer a FaceTime video call on the Apple Watch.

As an Amazon Associate I earn from qualifying purchases.