How to Play FIFA 17 Early
The FIFA 17 release date arrives on September 27th, but you can play today. This is how to play FIFA 17 early.
With EA Access on Xbox One the FIFA 17 release date arrives today, with a full version of the game that allows you to get a head start on the competition.
This is not the FIFA 17 demo that has been available for a week, but the final version of the game with all features and functions. Any progress you make while playing FIFA 17 early transfers to the FIFA 17 release date.
EA Access subscribers can play FIFA 17 for 10 hours starting later today. EA Access is $4.99 a month or $29.99 a year. This includes free trials of games like FIFA 17 and it also includes a catalog of older games that you can play.
You can only play FIFA 17 early on Xbox One with EA access and on PC with Origin Access. You don't need to pre-order FIFA 17 or buy FIFA 17 to try it on either service.
This is what you need to know about how to play FIFA 17 early on Xbox One and PC.
Early FIFA 17 Release Date and Time
The early FIFA 17 release date is September 22nd on EA Access and Origin Access. The early FIFA 17 release time arrived this morning so you can now start the download to play FIFA 17 early.
How to Play FIFA 17 Early
You need to subscribe to EA Access or Origin Access to get access to the early FIFA 17 release. Once you sign up for a monthly or a yearly subscription you can download the FIFA 17 trial to your console.
The fastest way to do this is to open the EA Access app on your Xbox One or go to Origin Access on your PC.
Once there you should see a FIFA 17 trial listed. This is the full version of the game, so it will take a little while to download to your console or computer. The good news is that you don't need to re-download or install the game when you get it later.
Choose Download Trial and wait for the game to download and install. You can also search the Xbox Store for the FIFA 17 trial and download it from there if you are an EA Access member.
The FIFA 17 download is 40.20GB, so you will want to start this early. You can go into the Xbox app on your phone and search for the FIFA 17 trial to start the download remotely if your console is setup.
10 Hour FIFA 17 Trial
You can play FIFA 17 for 10 hours. This starts as soon as you open the game on Xbox One or the PC.
You must fully close the game to stop the timer. Sitting on the menu or leaving the game running in the background will keep the timer running.
On Xbox One, press the menu button and choose Quit game when you are done.
FIFA 17 vs FIFA 16: 7 Reasons You Should Buy FIFA 17
FIFA 17 Journey Game Mode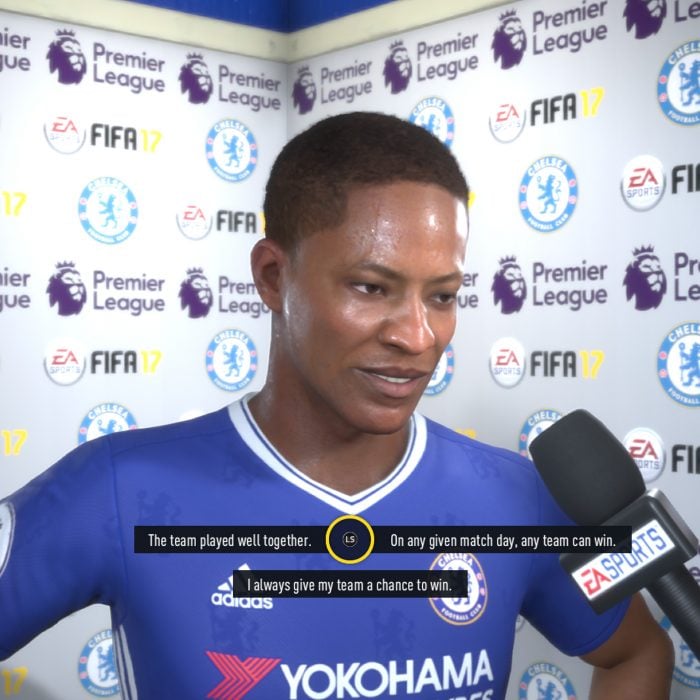 There is now a Story Mode in FIFA 17 called My Journey. You are in charge of a player who is trying to make it in the big leagues. You need to control him on and off the pitch.
Thanks to the Frostbite engine the game can render the field, the manager's office and your apartment as you try to navigate the complexities of playing on the field and making the right decisions off it.
You are Alex Hunter an up and coming player in the Premier League. You can play on any club in the league, but you cannot create your own player -- you need to control Alex.
The game will change based on your performance on the field and decisions you make off of it. This includes your career and it will influence how other characters react to you.
This mode is not in FIFA 16, and is completely new for 2016 and FIFA 17.