How to Setup the iPhone X
This is how to setup the iPhone X and then how to restore from a backup so that your new iPhone is ready to go just where you left off on your old one.
We'll show you how to setup the iPhone X, how to restore from a backup and how long it takes to setup the iPhone X. It doesn't matter where you buy the iPhone X, it will all setup the same. Sometimes the person at the store will speed through the setup, which leaves you with questions about things they skipped. You can always factory reset the iPhone X as soon as you get home from the store and start over so that you can restore from iCloud while you are at home.
How Long Does the iPhone X Setup Take?
Plan on spending about 10 minutes to setup your iPhone X from the time you take it out of the box to the time you can start using it to text, make calls and get online. It will take longer to restore from an iCloud backup or from an iTunes backup. If you choose an iCloud Restore, you can use your iPhone while this completes, but if you restore from iTunes it needs to be attached to your computer and you can't use it for the whole time.
Plan on at least an hour or two for an iCloud Restore and about 30 to 60 minutes for an iTunes restore. This will vary based on how much data you have and how many apps you need to restore to your new iPhone X.
How to Setup the iPhone X
When you take the iPhone X out of the box it will start up and enter right into setup. You should already have your old iPhone backed up. If it isn't you will need to do that before you get too far in the process. You can only restore from an iCloud backup to your iPhone X from a setup, so if you skip this now, you will need to reset the iPhone and do this all over. If you haven't done it yet, backup your iPhone X now.
How to Activate the iPhone X
As part of the Phone X setup you will need to activate your iPhone X. This is something that may happen at the store, but if not you will need to do it as the first part of the setup.
Either you will need to put your SIM card into the new iPhone, or you will need to connect to WiFi or cellular and allow the iPhone X to contact your carrier to get setup and online. This process should take less than a minute and be pretty automatic. If you have issues, you will likely need to call your carrier to have them change a setting on the backend.
Choose Setup Option
You can bring an iPhone running iOS 11 close to your iPhone X to automate a lot of the setup process. If you want, do this and you can scan a code on the old phone with your iPhone X. This automates a lot of the settings and is an easy way to get started. If you want more control, you will need to continue with the directions below.
Setup Face ID
Apple will next prompt you to setup Face ID. This is a replacement for Touch ID that scans your face to unlock the iPhone X. Tap on Get Started and then you will need to move your head around in a circle to train the iPhone for your face. You need to do two face scans and then you will need to create a passcode.
When this process is done you can choose your restore and setup options.
How to Restore Your Old iPhone to Your iPhone X
The next thing you come across will be an option on how you want to setup your iPhone X. There are four choices and there is no wrong choice. This is where you will need to decide if you are restoring from a backup, setting up as a new iPhone or switching from Android.
Restore from iCloud Backup – Restore by downloading from an iCloud backup.
Restore from iTunes Backup – Restore by plugging into your computer.
Set Up as a New iPhone – Start from scratch and leave behind apps you don't use and old iPhone problems.
Move Data from Android – Quickly sync important data from an Android phone to the iPhone.
Many users will want to restore from a backup. Restoring from an iCloud backup puts everything back in place including your apps and your messages. If you restore from iTunes you will need to rearrange stuff and you may need to enter your passwords again. Setting up from a new phone is great if your old iPhone has a lot of problems or you don't want all of your apps brought over. The final option is smart if you are switching from Android and is quite nice.
When picking the option to restore, you need to pick where you currently backup your old iPhone. If that is iCloud go that route and login with your Apple ID and password. If it is iTunes, you will need to plug into your computer to restore from that backup.
Finish iPhone X Setup
After the restore process starts up you can work on the final setup options. You can choose to use express settings or you can manually setup each setting using the Customize Settings option.
Setup Siri  – Train the iPhone X to listen for your voice so you can say , "Hey Siri" to start using the voice assistant.
Share Data with Apple & Developers – Decide if you want device info shared with these sources.
True Tone Display – You can see the difference, but you cannot change any setting on this screen. We recommend leaving True Tone on anyway.
From there, you need to tap through a few screens of how to use the iPhone X home button replacement and then you can swipe up to go to your home screen. The iPhone X will continue to restore from an iCloud backup if you chose that option and you can keep using it. You may need to setup some apps or log back into some services depending on the options you chose.
Now you're ready to go. Here's how to use Animoji and how to use the iPhone X Control Center to get you started.
The Best iPhone X Cases
x-doria Defense Lux iPhone X Case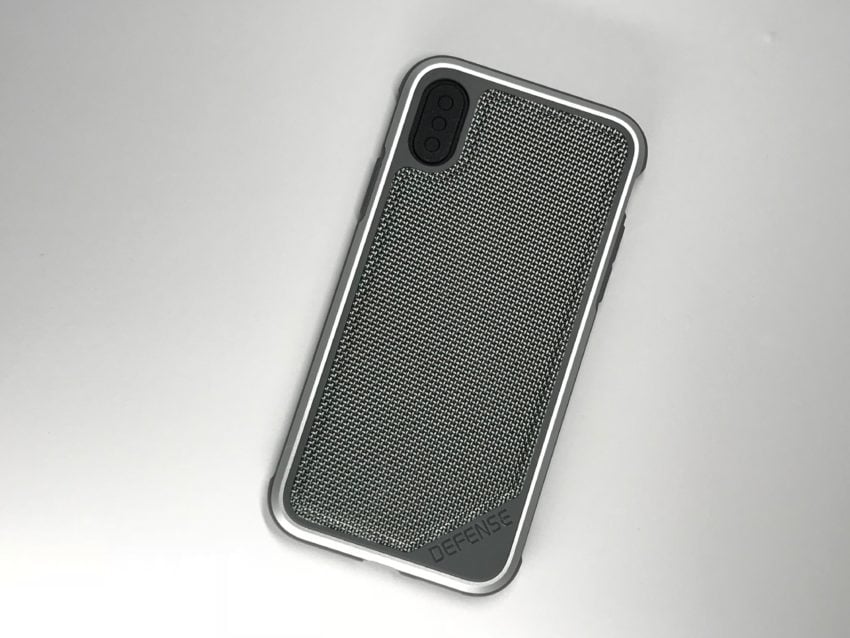 The x-doria Defense Lux iPhone X case is amazing. This case looks great, feels awesome and offers military grade drop protection without adding much bulk.
We love the look of this case in Ballistic Nylon and Black Carbon on the iPhone X. These cases not only offer a cool look, but the back is actually textured like the material listed. The Ballistic Nylon case has a soft, but grippy feel to the back just like you'd expect from looking at it. The Black Carbon feels like textured carbon fiber and looks awesome.
We didn't mean to, but we did drop our iPhone X in this case and our doorbell camera caught it on video. The case iPhone survived without any problems.
x-doria designed this case to protect your phone from drops up to 10 feet on concrete and there is . sound channel to direct the speaker towards you instead of straight out the bottom. The raised edge keeps the screen safe when setting the phone face down on a table.
$34.99 at x-doria

As an Amazon Associate I earn from qualifying purchases.