How to Transfer iTunes Music to the Galaxy Note 8
This quick guide will explain how to transfer iTunes music to the Galaxy Note 8. Giving old iPhone owners an easy way to get all of their music on Android. In fact, there are a few different ways to transfer everything, so don't leave your Apple music collection behind.
Samsung's new phone has a lot to offer. Along with a big screen and dual cameras is a 3.5mm headphone jack. Something that is missing from most new iPhone handsets. As a result, some iPhone users are making the switch from iPhone to Android.
Read: 15 Common Galaxy Note 8 Problems & How to Fix Them
The link above has a few general tips for switching from iPhone to Android. However, it only briefly mentions transferring your iTunes music collection. You'll be happy to know there are several different ways to get it, and we'll detail some of the different methods below.
How to Transfer iTunes Music to the Galaxy Note 8
Samsung SmartSwitch is fast, easy to use, and effective. It will transfer your entire phone, along with the music. We'll start with that, then share a few other one-click solutions to make the switch easier than ever before.
Transfer with SmartSwitch
Samsung's tool comes pre-installed on your Galaxy Note 8, and there's a program for PC and Mac too. Download Samsung SmartSwitch on your computer, or use a USB cable to transfer everything from phone to phone.
Connect an iPhone Lightning cable to the iPhone and the USB end to the Samsung dongle provided in the box with the Note 8. Then find and launch SmartSwitch. Follow Samsung's how to use SmartSwitch for more details. Our image below is from the Galaxy S7 Edge, but it works essentially the same on the new Galaxy Note 8. Only the adapter is USB Type-C.
Follow the on-screen prompts, and it will transfer your entire phone and iTunes library in around 30 minutes. Give or take a few minutes depending on how much music you have. I have over 7,000 songs so this process took nearly 45 minutes.
Alternatively, download SmartSwitch for your computer and use it to drag and drop from PC to the Note 8.
Transfer with Drag & Drop Method
For me, the easiest way to add iTunes music to the Note 8, or to any device is by manually doing it myself. Plug your Galaxy Note 8 into your computer, or even a microSD card, then drag all songs, albums, or collections to a new folder. You can name it Music, or iTunes Music. This moves everything at once and is extremely simple. Here's where to find your music.
Using the included USB to USB Type-C cable connect your phone and get started.
iTunes Locations
Windows XP – C:\Documents and Settings\ (username)\ My Documents \My Music \iTunes
Windows 7, Windows Vista and Windows 8 – C:\ (username) \My Music \iTunes
Mac OS X – /users /username/ Music/ iTunes
Once you find your iTunes music folder you'll want to open that and have it handy on the desktop. Now simply connect the Note 8 via USB to your computer, or insert an SD card. You may need to pull down the notification bar on your phone and select USB options to turn on Media Transfer Protocol (MTP). This lets the phone and PC talk to each other.
If you have a Mac, download the Android File Transfer program. Install that, then plug your phone in with the USB Cable and you'll see something like our image below. Locate or create a music folder. Our image below was from transferring music on an old Galaxy, but the same steps apply.
Now, just click on the iTunes Music folder you left on your desktop and drag it into the "Music" folder or any folder inside the Android File Transfer window above. This copies everything to the Galaxy Note 8.
Read: Best MicroSD Cards for the Galaxy Note 8
As a quick tip, the internal 64GB of storage on the Galaxy Note 8 is faster than most microSD cards. So drag it directly to the phone if you're in a hurry. If you don't have enough space, use a microSD card. Once the transfer completes, unplug your phone and enjoy the music with one of the many music player apps for Android.
iTunes to Android Transfer Tool
Like we mentioned earlier, there are several different tools for transferring your music. Those who'd rather not dig through files and folders can use iTunes to Android Transfer. This is a free tool you can download on Windows or Mac, which can transfer anything and everything with ease. In just a few clicks it will move everything for you.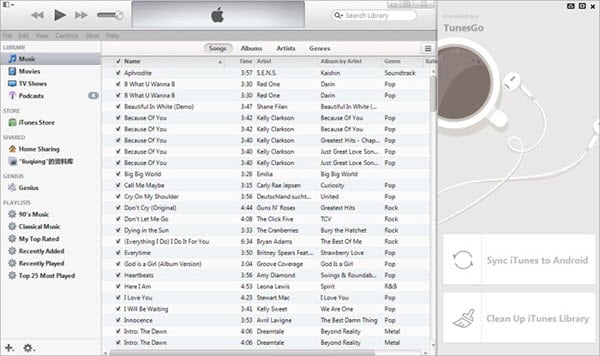 Install iTunes to Android on your PC or Mac, and open the program. It will open iTunes at the same time, and you're almost done. Now, simply connect your Galaxy Note 8 to the computer. There are two options you can choose: "Sync iTunes to Android" and "Clean Up iTunes Library".
Click on "Sync iTunes to Android", then choose "Entire library" or "Select playlists" to sync iTunes to a new Galaxy. It works for music, movies, and other file types. Choose what you want to move, and watch the magic happen.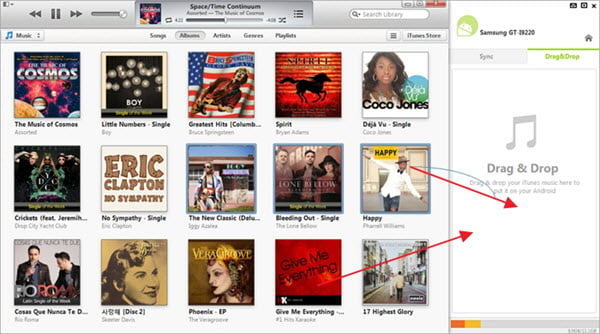 As you can see above, the user interface is very easy to use. Click entire albums, or copy everything at once by going to your music collection and dragging everything.
Transfer iTunes to Google Play Music
Last but certainly not least is the Google Play Music Manager. Transfer everything quickly over WiFi, or upload iTunes music to the Google cloud. Google Play Music lets you store up to 50,000 songs in the cloud, completely free.
Head to Google Play Music in a web browser on a computer. Tap the three lines at the top left and scroll down to "upload music". From here you'll be instructed to download Music Manager. This is the tool you need.
Sign into your Gmail account, install Music Manager, and follow the on-screen prompts. Google's tool will scan your computer and find any and all iTunes music, then, instantly transfers your entire collection. Head to Settings > Preferences to control your upload settings.
In closing, it's important to understand the difference between these services. Google Play Music stores your songs on the cloud. This means you'll need a WiFi connection to listen to your iTunes collection. That, or you'll use your monthly data plan quickly by streaming music. None of it gets stored on your device.
We recommend following the other instructions instead and storing all your music on the Galaxy Note 8 or a microSD card. That way you'll have access to every song, 24/7, even without an internet connection. While you're here, take a look at these 25 best Galaxy Note 8 cases.

As an Amazon Associate I earn from qualifying purchases.