Best MicroSD Cards for the Galaxy Note 8
This guide details the best micro-SD cards for the Galaxy Note 8 and why you need one. This is the easiest and only way to increase the storage on your phone. And while the 64GB built-in is enough for most, others are looking for a little extra space. These are the SD cards worth considering, and what you need to know about the different sizes and speeds available.
Our buying guide will go over everything you need to know about microSD cards. Some cost under $20 and will give you a little extra storage, while others cost a lot more but deliver improved performance along with lots of space.
Read: 25 Best Samsung Galaxy Note 8 Cases
So while out microSD cards below start out affordable, some cost upwards of $150. Those have class-leading speeds and can actually give you over 300GB of space on the Galaxy Note 8. Perfect for taking thousands of photos, tons of 4K video, or your entire music collection with you. We also have some perfect middle-ground SD cards for everyone else that just wants more space on their phone.
One of the main reasons you might want to get a microSD card is for improved performance. Fast microSD cards in our roundup will do exactly that. They help apps run smooth, games open quicker and even improve 4k video recording. Along with the obvious increase in storage limits.
With tons of different sizes, speeds, brands and more there's a lot to consider. A microSD card is one of the best accessories one can buy. Just make sure you don't overpay. Most retail stores like Verizon, AT&T or even Best Buy are extremely overpriced. Instead get a cheaper microSD from our roundup below or find a store like Best Buy that will price match.
Read: 10 Best Galaxy Note 8 Screen Protectors
Using the SIM slot removal tool that comes in the box owners can remove the SIM tray, put a microSD card next to it and slide it back in. Instantly adding another 64GB, 128GB or even 256GB of storage in seconds.
Our recommendation for most owners would be a 64GB card, as it's a nice middle ground. If you pay a little extra, you will enjoy more space and even better performance. Those who get the Note 8 during the first month of availability received one free. For everyone else, you'll want to get a microSD card from our roundup below. Then add as many apps, games, movies, or music as you'd like to your phone.
Samsung EVO+ 64GB MicroSD Card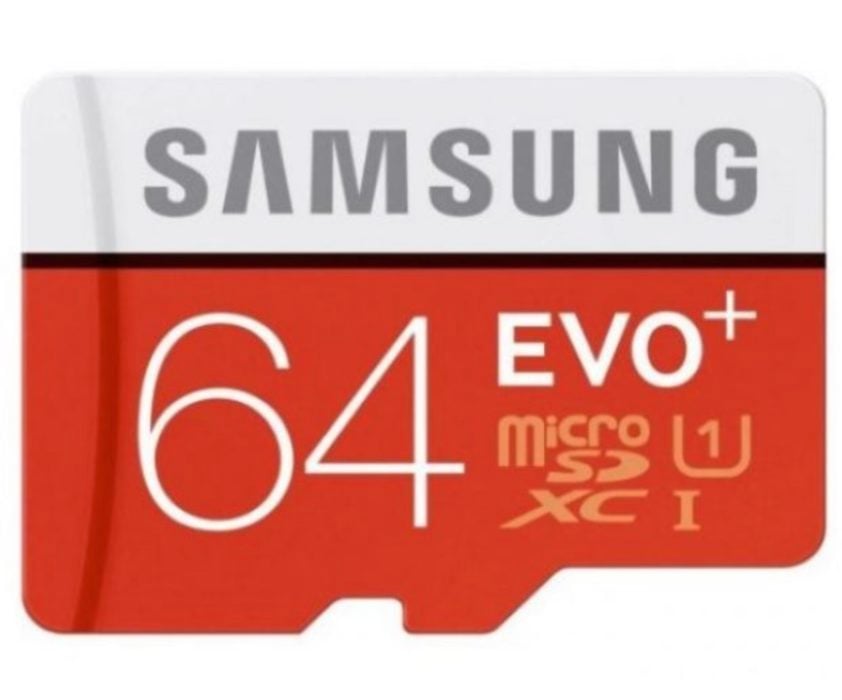 These days you can get a microSD card for very cheap, instead of paying over $200 like just a few years ago. As a result, our first recommendation is a 64GB card. You can get one for less than $25. This is the perfect for almost everyone. Giving you a combined total of over 120GB of storage on the Galaxy Note 8.
Keep in mind the actual available space will be less after formatting, apps, photos, and the OS taking space on your device.
We recommend only getting a card that is "Class 10" or says "UHS-1 or UHS-II" if you want the best performance. Class 10 is visualized by a small circle with a 10 printed inside it right on the card. Our image above shows the "U" branding for UHS. In 2017 most should say that or the new "A1" standard.
Samsung's own 64GB EVO+ Class 10 card is a good place to start. It delivers better performance and more storage at a wallet-friendly price point.
If you do some research, an excellent card like this Samsung 64GB microSD chip can be found for under $20 online, or around $50-75 at local stores. So again, don't overpay.
Buy it Now for $27 on Amazon (or get a SanDisk for $22)

As an Amazon Associate I earn from qualifying purchases.