How to Turn Off the iPhone X
You can't turn the iPhone X off by holding the side button. Apple no longer calls the bigger button on the side a power button, because it doesn't actually power the iPhone off. One press wakes the iPhone, two presses opens Apple Pay and five presses can trigger a call to emergency services, but there is no number of presses to turn it off. Holding it in, like you would to turn other iPhones off activates Siri.
Here's what you need to do to turn off the iPhone X;
Instead of holding that side button, you need to press and hold the volume down button and the side button. After about 2 seconds you will see a screen with a slide to power off option as well as Medical ID and Emergency SOS sliders. Slide the top slide to the right and the iPhone will turn off.
Another option to turn the iPhone X off is to go to Settings -> General -> Shut Down – Slide to power off.
There is no way to use Siri to turn your iPhone X off. Perhaps we will see Apple add this in a future update to the iPhone software.
To turn the iPhone X back on, you hold the side button for a second or two. You will see an Apple logo and the iPhone X will turn on. You can also plug into a lightning cable to charge, which turns the iPhone X on.
If your iPhone X is frozen, you need to press and release volume up, volume down and then hold the side button for about 10 seconds. This will force restart the iPhone X.
The Best iPhone X Cases
x-doria Defense Lux iPhone X Case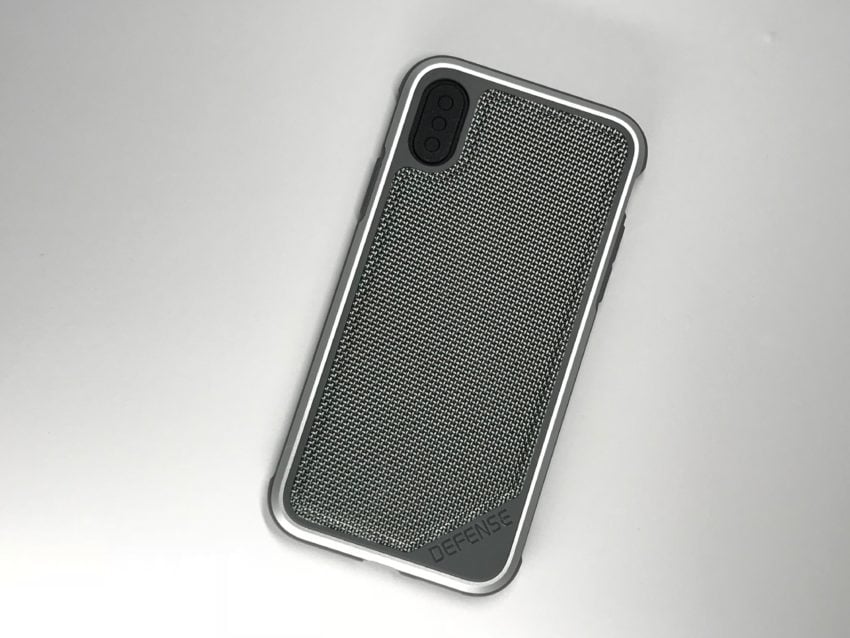 The x-doria Defense Lux iPhone X case is amazing. This case looks great, feels awesome and offers military grade drop protection without adding much bulk.
We love the look of this case in Ballistic Nylon and Black Carbon on the iPhone X. These cases not only offer a cool look, but the back is actually textured like the material listed. The Ballistic Nylon case has a soft, but grippy feel to the back just like you'd expect from looking at it. The Black Carbon feels like textured carbon fiber and looks awesome.
We didn't mean to, but we did drop our iPhone X in this case and our doorbell camera caught it on video. The case iPhone survived without any problems.
x-doria designed this case to protect your phone from drops up to 10 feet on concrete and there is . sound channel to direct the speaker towards you instead of straight out the bottom. The raised edge keeps the screen safe when setting the phone face down on a table.
$34.99 at x-doria