This guide will show you how to use LG G6 emoji to add to your messages. You don't need a special keyboard or to buy any apps to use emoji on the LG G6, but you will need to know where to look.
The LG G6 emoji keyboard is installed by default, but it isn't always accessible unless you know where to look. You can use the LG G6 emoji in two taps once you know where to look.
How to Use LG G6 Emoji
Don't bother installing any third party keyboards to use the LG G6 emoji. You simply need to tap on the small smile face, 1# button in the lower left of the keyboard.
This will show you the number pad. From there, you can tap on the smiling face next to the space bar. This opens up the LG G6 emoji keyboard.
From here, you can see your recently used emoji or you can scroll and tap on the sections to use the emoji. Tap on the emoji that you want to use and it will insert into your message.
You can install the Google GBoard keyboard which will allow you to use LG G6 emoji with a single tap. Simply tap on the smile face icon to switch to the emoji. The Gboard keyboard lets you search emoji and even lets you search gifs to send to people.
To enable this, install the Gboard keyboard from Google, then go to Settings -> Language & Keyboard and then tap on Current Keyboard. Tap on Select More and then on Gboard.
You can use the LG G6 emoji from this keyboard and it will appear on Facebook, on Twitter, a text message or any other message service. No one else needs to have the LG G6 or any special keyboard installed to use it.
If you have a different Android keyboard installed, this may be in a slightly different location. You can also install the Bitmoji Android keyboard to use Bitmoji on the LG G6.
20 Best LG G6 Cases
Spigen Rugged Armor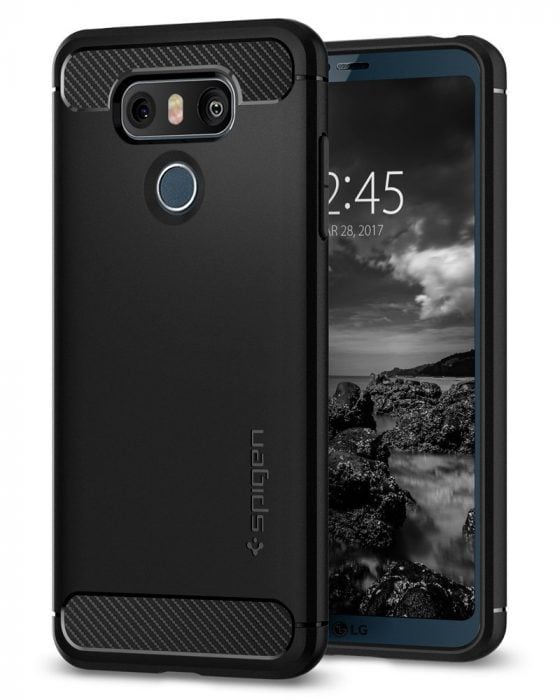 Spigen is a brand that needs no introduction as they offer cases for every phone released. One of my favorites is the Spigen Rugged Armor. It has a sleek design, two-tone finish with a textured grip on the top and bottom, and fits like a glove.
The company makes a wide assortment of cases, so we recommend choosing one that's right for you. They also come in a slew of colors, sizes, and with varying levels of protection.
With the Spigen Rugged Armor, you'll have a case that isn't too thick, but not too thin. They've added a resilient shock absorbing material to the inside edges for added drop protection. Additionally, the outside has a neat carbon fiber finish and glossy accents. This is one of Spigen's most popular cases.

This article may contain affiliate links. Click here for more details.