How to Use & Turn On Windows 10 Dark Mode
Everyone's Windows 10 PC is different. They have different color combinations and different backgrounds. Your PC has your line-up of useful apps. Chances are, you've removed anything that you didn't find useful. In one way, every Windows 10 PC looks the same, despite all the changes we make to them. Windows 10 is very bright.
Microsoft uses a mix of gray and white colors to add depth and context to every part of the Windows 10 experience. The Settings app is white and gray, with colored accents based on your settings. The company's apps feed off that same color scheme too. All of this leads to a very light operating system that looks even brighter depending on what type of screen you have in your notebook, desktop or tablet.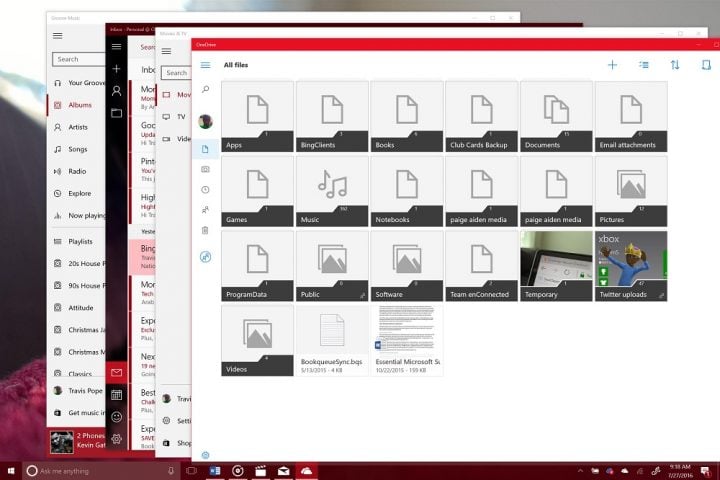 Some users have complained about how light Windows 10 is since its release in 2015. In situations where there's no light to compete with a devices display, Windows 10 can be a little hard on the eyes. Microsoft listened to these users for the Windows 10 Anniversary Update, the free software upgrade includes a second, more muted color palate called Windows 10 Dark Mode.
Read: Windows 10 Anniversary Update Release Date & Features
Here's how to turn on Windows 10 Dark Mode.
Turning on Dark Mode in Windows 10
Press the Windows key on your keyboard or the Windows button on the Taskbar in the bottom-left side of your screen to open the Start Screen.
Tap or click the Settings cog on the left edge of Start. The button sits just over-top the Power button in and out of Windows 10's Tablet Mode.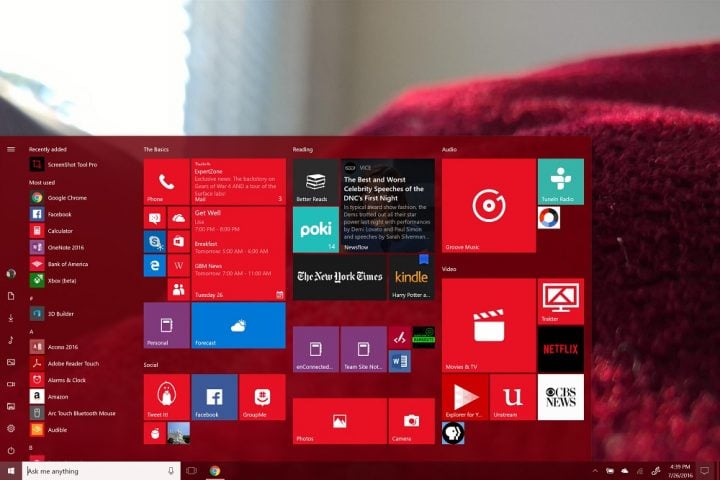 Tap or click on Personalization inside the Settings app. This where you go to do most of your cosmetic changes for Windows 10 once you've gotten the Windows 10 Anniversary Update.
Choose Colors from the menu on the left side of your screen.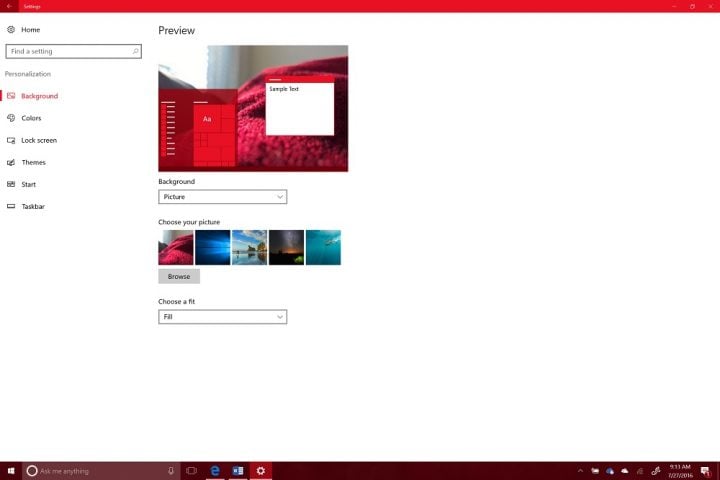 Scroll down until you see the Choose Your App Mode buttons. Select Dark.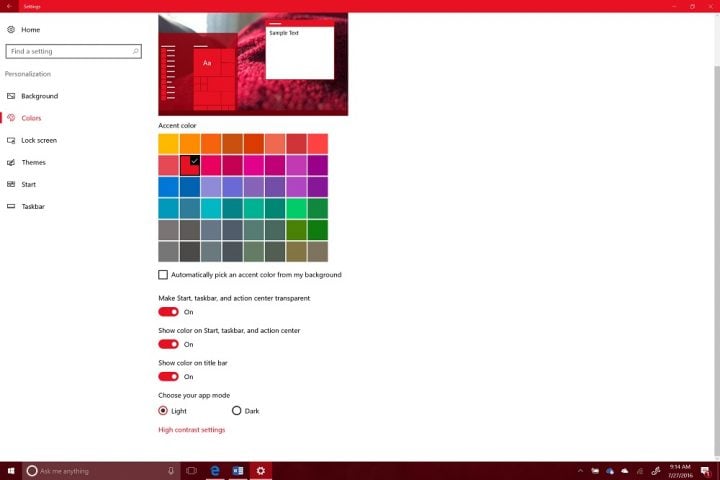 Using Windows 10 Dark Mode
From the moment you select the Windows 10 Dark Mode switch, you should start to notice some changes happening. The Settings app itself should switch colors, using black as a background color rather than white.
Slowly, the change to Dark Mode should start to filter out to other parts of Windows 10. Microsoft, it seems, always had plans to add a Dark Mode to Windows 10, but didn't have time to finish it before the operating system's release last year.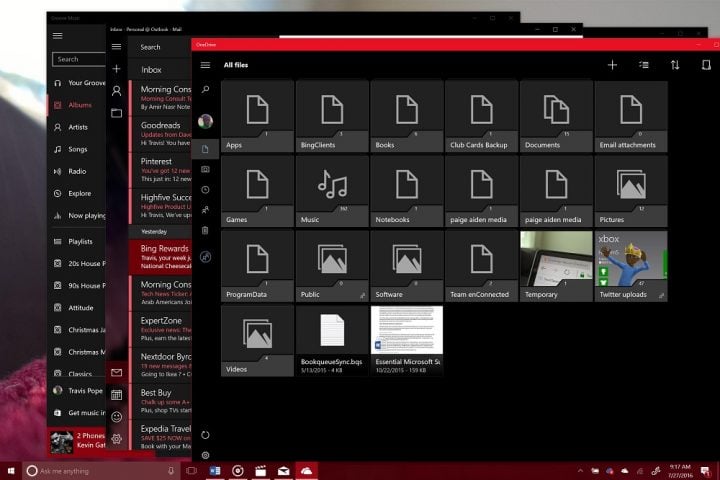 You don't have to manually turn on Dark Mode for Microsoft-made apps because they monitor your settings to see whether Light Mode and Dark Mode are enabled. Each of Microsoft's apps also have an override switch that allows users to set the mode specific to that app. This option is always in their Settings. There are some exceptions to this. Microsoft Edge, the default web browser in Windows 10, doesn't automatically change. You'll need to change its mode manually.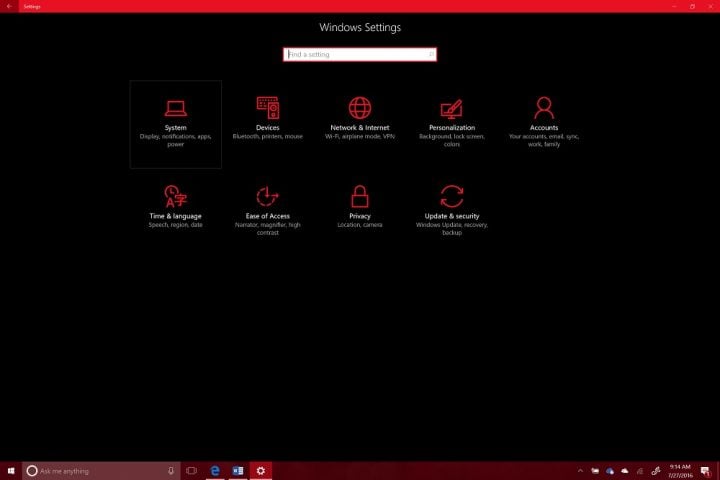 Speaking of exceptions, there are more. Despite making big strides with the latest update, Windows is still very much two ecosystems sitting side by side. Only the modern apps and experiences support Windows 10 Dark Mode. Programs downloaded from the web – like iTunes and even Microsoft Office 2016 – don't support Dark Mode at all. What's more, the Control Panel and File Explorer don't support Dark Mode. Lots of programs do allow you to change their color settings separately though. Be sure to look for theming options in your favorite programs to help you get a cohesive experience.
Microsoft encourages developers that offer apps in the Windows Store to include support for both Dark Mode and Light Mode. As such, many of the apps you download from there should work with the switch just fine. The most important exceptions to this rule are apps available in the Windows Store that haven't been updated to support Windows 10.
17 Anniversary Windows 10 Update Features
Cortana Upgrades
The procession of impressive new features begins with Cortana, Microsoft's digital personal assistant. With the first Windows 10 release, Cortana became cross-platform; there are apps for Android and iPhone now.
With this release, Microsoft is closely tying the assistant to Windows phone and Android. Cortana now stays informed of your device's battery life. She notifies users when your battery is low. She can be asked to track down your iPhone or Android device using its built-in GPS too. The personal assistant now sends directions` directly to your phone when you request them on your Windows 10 PC. The company says that it has improved the setup process for Cortana too.