How to Watch the Galaxy S7 Event Live Stream
The Samsung Galaxy S7 and Galaxy S7 Edge launch event will be streaming live on YouTube. Allowing excited fans and potential buyers to watch the Galaxy S7 announcement on a smartphone, tablet or computer. Here are the details.
Samsung will take the stage Sunday in Barcelona, Spain, ahead of Mobile World Congress to announce the all-new Galaxy S7 and a bigger Galaxy S7 Edge, and possibly some accessories and a new Gear VR camera to go with them.
Read: Samsung Galaxy S7 Release: 10 Things to Expect
Samsung's annual "Unpacked" event starts at 7:00 PM CET (Spain time) which is 10:00 AM Pacific and 1:00 PM ET. Users will be able to tune in and see the flagship phone be unveiled and shown off on stage, hear about its features, and possible even a release date.

The Samsung Galaxy S7 and Galaxy S7 Edge launch live stream is available on YouTube so you can watch on almost any device that connects to the Internet.
Samsung just shared the Unpacked 2016 live stream link on YouTube, which you can watch below to see the Galaxy S7 and Galaxy S7 Edge event. When the event is live you can watch a YouTube video below or go to Samsung using this link to watch the entire show.
https://www.youtube.com/watch?v=8R5HN6oWdC4
All signs are pointing to a much earlier release than any other Galaxy S release in recent years. Just like the Galaxy Note 5 which was announced and then released two weeks later in August, the Galaxy S7 will be revealed today, February 21st, and released within 2-3 weeks.
Leaks and rumors have suggested a March 3-4th release internationally, and carriers in the United States are expected to release the phone around March 11th. As the live stream unfolds today we'll update with additional details, pre-order information, pricing, accessories, release dates and more.
We're expecting Samsung to unveil a Galaxy S7 and Galaxy S7 Edge with a very similar overall look, feel, and design as last year. That being said, the phones will be curvier with rounded edges on the back, thinner profile with a sleek design and a smaller camera bulge, as well as other small changes. This year the Galaxy S7 Edge will be bigger than the regular Galaxy S7, not the same size, and will reportedly have a 5.5-inch Quad-HD display, and curves on both sides of the screen.
Buyers should see a new and improved 12 megapixel camera, bigger battery options for longer usage, faster charging, a pressure sensitive display similar to Apple's 3D Touch, possibly a Iris (Eye) or retina scanner for extra security on top of the fingerprint reader, and loads of accessories. Watch the Galaxy S7 live stream event above for all the details, stay tuned to GottaBeMobile for more details, and see our slideshow below for exciting details about the Galaxy S7.
7 Exciting Samsung Galaxy S7 Specs
Galaxy S7/Edge Display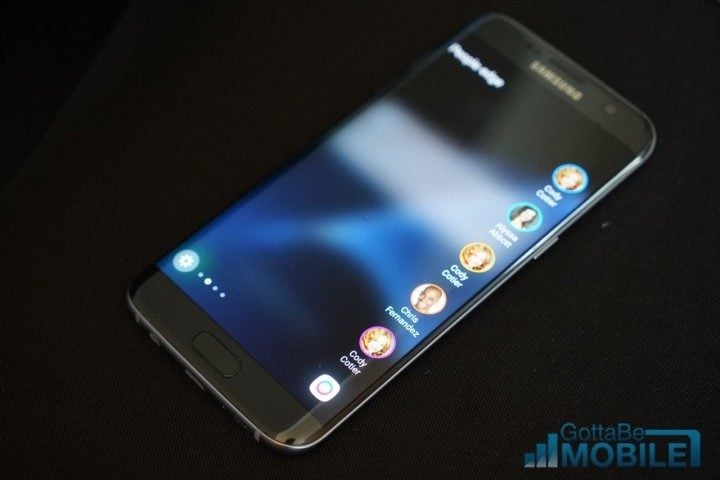 Like every year, Samsung introduced an even better display inside its latest and greatest smartphones. The Samsung Galaxy S7 sports the same 5.1-inch 2560 x 1440 Quad-HD S-AMOLED screen, and it's winning awards already.
However, one big change this year is with the Galaxy S7 Edge. It isn't small, it's big. Rather than releasing a curved edge phone that's the same size, Samsung is giving buyers a choice. Get the smaller Galaxy S7, or get a 5.5-inch Galaxy S7 Edge in Black, Silver or Gold. It isn't as big as the Note 5, but not as small as the Galaxy S6 or Galaxy S7. A perfect middle ground.
So far our early thoughts on the Galaxy S7 are extremely positive. The screen is amazing, crisp, and bright. Are you buying one?

As an Amazon Associate I earn from qualifying purchases.