iOS 12.4 Jailbreak Status: 5 Things to Know Now
This is what you need to know about the iOS 12 jailbreak. There is now an iOS 12.4 jailbreak that works on the latest version of iOS, but only for specific devices. This is what you need to know about the iOS 12.4 jailbreak and the overall jailbreak status.
While this isn't the first iOS 12 jailbreak, it is the fastest access to a jailbreak that we've seen on a recent iOS release. Apple released iOS 12.4 in late July and over the weekend security researchers discovered that it opened up a bug used in a previous update.
This is what we know about the iOS 12 jailbreak status and what you should be aware of as you think of upgrading the software or buying a new iPhone or iPad.
iOS 12.4 Jailbreak Status
While the jailbreaking scene is tougher than it was several years ago, there are several iOS 12 jailbreaks available.
The most recent iOS 12.4 jailbreak from pwn2ownd offers a way to jailbreak iOS 12.4. You can download the iOS 12.4 jailbreak free right now.
This is a computer free jailbreak, and you can do this pretty easily if you are on a compatible device with iOS 12.4.
iPhone XS Jailbreak Status
The current jailbreak supports Apple A7 through A11 devices, which means the iPhone 5S to the iPhone 8 and iPhone X.
It does not work on the iPhone XS or iPhone XS Max. One oddity is that a Google Project Zero researcher told Motherboard that he jailbroke the iPhone XR which uses an Apple A12 processor.
Perhaps we will see an iPhone XS jailbreak for iOS 12.4 soon. If you are interested in it, you may want to get to iOS 12.4 right now, even if that means downgrading from iOS 13.
Should I Upgrade to iOS 12.4?
Should I upgrade to iOS 12.4? If you are on a device that supports the iOS 12.4 jailbreak, you should seriously consider installing iOS 12.4 and jailbreaking as soon as possible. Apple will likely close this loophole and stop signing iOS 12.4 this week.
If you are on an iPhone XS or iPhone XS Max and interested in jailbreaking, you should install iOS 12.4 or downgrade from the iOS 13 beta and then wait to see if there is an iPhone XS Max jailbreak as part of this exploit.
How to Jailbreak iOS 12.4
Follow the directions in the video above to install the iOS 12.4 jailbreak on your device. This works with Cydia and allows you to install jailbreak tweaks on your phone once you complete the jailbreak.
Fake iOS 12 Jailbreaks
Be on the lookout for fake iOS 12 jailbreaks that ask you for your personal information or to complete offers to download them.
We typically see these use the names of existing iOS jailbreaks to borrow authenticity.
We're already seeing some websites promising the ability to jailbreak iOS 12 using various methods.
When an iOS 12 jailbreak arrives, it won't require you to sign up for offers, free trials or share any personal information to download.
iOS 12 vs iOS 11: What's New in iOS 12.4.1
iOS 12.4.1 Features and Fixes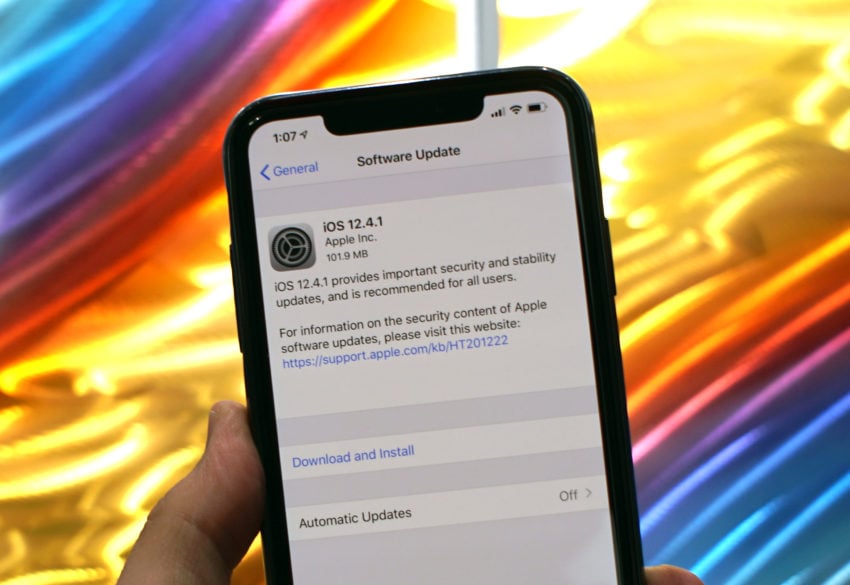 The iOS 12.4.1 update focuses on security fixes for a major bug that Apple fixed once before, but that is back in iOS 12.4. This security issue would allow an app to essentially gain full control over your phone.

Available for: iPhone 5s and later, iPad Air and later, and iPod touch 6th generation
Impact: A malicious application may be able to execute arbitrary code with system privileges
Description: A use after free issue was addressed with improved memory management
This is what allows people to jailbreak iOS 12.4, which is a plus for some users, but most users will want the security that comes from iOS 12.4.1.

As an Amazon Associate I earn from qualifying purchases.