iOS 8, New Apple Products Push AAPL to 52 Week High Ahead of Split
The promise of new Apple products coming as early as next week, iOS 8 rumors of mobile payments and home automation and a 7-to-1 stock split are behind the continual rise of Apple stock (AAPL) which hit a 52-week high this week. This anticipation comes days before Apple's first major event of 2014, where we expect to see new software and hardware announcements.
On June 2nd Apple's WWDC 2014 event will showcase the future of iOS and OS X, and rumors suggest Apple is prepared to announce a new initiative in home automation and control that could deliver an iPhone effect to home control and spark a new source of revenue for the company through a certification program.
During the last two years Apple stock dropped from an all time high of over $700 to as low as $390 as investors remained unimpressed with iPhone and iPad sales and the slow introduction of new products, but as 2014 shapes up to offer a number of potentially exciting Apple products investors and pushing AAPL to $625 and higher.
In the next six months we could see up to seven new Apple products for 2014 announced. From a software standpoint Apple should announce iOS 8 and OS X 10.10 at WWDC 2014. These free updates will not directly add new revenue, but the value that fast and free upgrades add to Apple's products is something consumers clearly appreciate.
The most interesting additions could come in the iOS 8 software that may allow Apple to turn the iPhone into a remote control for your home and may also allow the iPhone 6 to act as a mobile wallet with NFC.
From a hardware standpoint Apple just announced a cheaper MacBook Air and may be ready to announce a cheaper iMac as soon as June. A cheaper iMac could help Apple compete with more affordable all-in-one machines from HP, Lenovo, Dell and others. The cheaper MacBook Air already helps Apple stand out in the notebook department and compared to the Surface Pro 3 that rival Microsoft just announced.
During the next five to six months Apple may announce as many as seven new products for consumers, including;
iPhone 6 – Two models with bigger screens.
iPad Air 2  & iPad mini Retina 2014 – With Touch ID.
iPod Touch 6th generation – Updated performance and more.
MacBook Air Retina – Slimmer, more portable MacBook with high-resolution display.
Mac Mini – A Mac Mini 2014 update could boost the performance and offer a price cut.
Apple TV – The long rumored Apple TV 2014 update could add new features to a small box.
iWatch – Apple is reportedly working on a wearable accessory called the iWatch that will connect to the iPhone.
Adding to the interest in Apple is a stock split that takes place for anyone that holds Apple stock on June 2nd. A stock split pulls the overall price of the stock down, while keeping the value of the company the same, by simply adding more stock to existing owners. Investors that own 1 share of Apple stock on June 2nd will receive six additional shares on June 9th when the stock starts trading at the adjusted value.
Although a stock split does not create more value, the effect of this split will make Apple stock more affordable for smaller investors who want to add some AAPL to their portfolio. It is also more accessible to Apple fans that want to own a part of the company, even if it doesn't confer any say in how Apple is run.
If this lower price attracts more investors the overall value of Apple could increase due to the attention and accessibility of the stock.
Check out the slide show below to see the top 7 Apple products for 2014 that rumors, analysts and timing suggest the company is working on.
Top 7 Apple Products for 2014: iPhone 6, iPad Air 2 & More
iPhone 6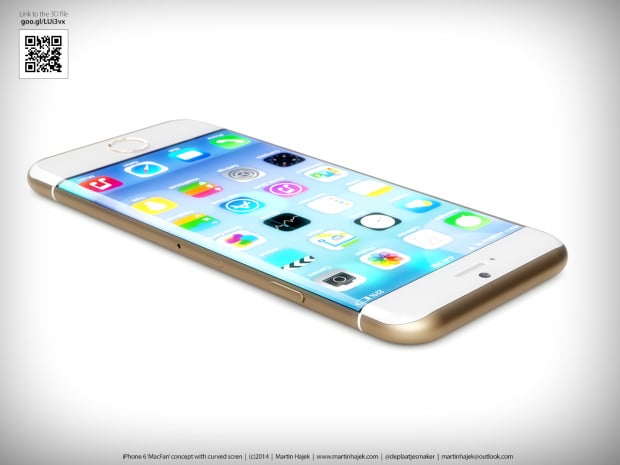 Demand for the iPhone 6 is the highest in years according to a recent survey, thanks to consumer interest in a new design and a larger screen.
iPhone 6 rumors started back in 2012, exploded in 2013 and as we move within six months of a rumored iPhone 6 release the rumors are starting to align and show a better picture of what consumers can expect from the most anticipated Apple product of 2014.

Two Models with Bigger Screens

iPhone 6 rumors, reports and analyst notes all point to an iPhone with a larger screen and many of the reports suggest Apple is planning to release two iPhone 6 models in 2014.

General consensus is Apple plans to offer an iPhone 6 with a 4.7-inch display and a higher resolution than the iPhone 5s. That is a screen size jump of .7-inch and would put the iPhone in line with top Android phones like the HTC One M8 and the Galaxy S5. Rumors do not agree on a resolution for this display, but do expect that it will be higher than the 1136 x 640 resolution on the iPhone 5s.

Another iPhone 6 model with a 5.5-inch or 5.7-inch display is also rumored for 2014, but many sources agree that it will arrive after the 4.7-inch model. This screen would be closer in size to the Galaxy Note 3 and the rumored Galaxy Note 4. This concept above from Martin Hajek includes a curved display, but don't expect that on a new device.

Possible iPhone 6 Features & Specs

Rumors suggest Apple is planning a thinner iPhone 6 that will be between 6mm and 7mm thick, a drop form 7.6mm on the iPhone 5s. We could also see more metal in the design and a power button on the right hand side with new style volume buttons on the left.

Expect an Apple A8 processor that delivers a small speed boost, but also delivers better battery life thanks to a improved efficiency. Ming-Chi Kuo believes we will see 1GB of RAM and an 8MP camera that may include some type of image stabilization.

For more check out our iPhone 6 Rumor Roundup.

As an Amazon Associate I earn from qualifying purchases.