iPad Mini, iPad Air 2 & iPhone 6 with Touch ID Rumored
Apple plans to include Touch ID fingerprint unlocking and purchasing on the new iPads for 2014 and the iPhone 6 according to a new report. This is not the first time that a report claims the new iPad mini and new iPad Air will arrive with Touch ID, nor is it the first report to suggest Apple is ready to bring Touch ID to the iPhone 6.
Touch ID is the name for the fingerprint scanner that is in the iPhone 5s home button. Apple introduced this technology in September 2013 and early rumors suggested it would arrive on the iPad Air and iPad mini Retina last year, but Apple kept this feature on the iPhone only.
In addition to unlocking the iPhone, owners can use Touch ID to make purchases in the iTunes App Store and in iTunes on the iPhone 5s without entering a pass code.
Part of the reason for this delayed roll out may be early issues that users experienced with the sensor and software. When it works right users can place a finger on the home button of the iPhone and it will unlock instantly, removing the need to enter a pass code. Many users discovered a fairly annoying iPhone 5s problem in 2013 and early 2014, where the fingerprint scanner would not recognize a finger and unlock. Apple delivered a fix in the iOS 7.1 update in March and again in the iOS 7.1.1 update that fixes many of these problems by scanning the fingerprint in more detail when setup, thus removing the degradation over time.
Now that Apple knocked out the software bugs, it looks like the company is ready to bring Touch ID to the iPad finally. A report from cecb2b, claims Apple is already working with the Taiwan Semiconductor Manufacturing Company (TSMC) to bring Touch ID sensors to the new iPad Air and iPad mini as well as a new iPhone 6 in 2014.
The source claims Apple is already in possession of the first batch of Touch ID sensors for these new Apple Products for 2014. This news comes just after the Samsung Galaxy S5 release which marked a major Apple rival adding fingerprint scanning to a smartphone. Samsung uses a different technology that is not as user-friendly as the scanner in the iPhone 5s.
This is the third major report of Touch ID in a new iPad mini and new iPad Air for 2014. Analyst Ming-Chi Kuo issued a note to investors in April which outlines five possible iPad Air 2 and iPad mini 2014 details, including the addition of Touch ID as a feature.
A report in April that examined the iOS 7.1 code revealed that there is some planning for Touch ID on an iPad Air. This type of code reveal is similar to what we saw in the iOS 7 beta leading up to the iPhone 5s in 2013.
It is possible that iOS 8 will enable new Touch ID features, or at least remove the restriction to use a pass code when powering on the iPhone and making the first App Store purchase in 24 hours. Apple will reveal iOS 8 at WWDC 2014 on June 2nd according to the latest rumors and reports.
The new iPad mini and iPad Air 2 release date is likely planned for late fall, with October likely as Kuo suggests the new iPad Air will go on sale before November. Expect a new Apple A8 processor with a boost in graphics and the potential for a better 8MP camera on the back of the new iPad mini and iPad Air 2. This update may include a price drop for the iPad mini Retina as Apple is able to bring the cost of making this small tablet under control. While the iPad mini design is two years old later this year, it is unlikely that Apple is planning a major design change at this time. If anything we could see a small reduction in thickness or weight on the iPad mini or iPad Air.
Read: iPhone 6 Release Rumored for September, Again
The iPhone 6 will also feature Touch ID according to Kuo and this report. We expect two iPhone 6 models with larger displays later this year. A 4.7-inch iPhone 6 release date is rumored for September and a 5.5-inch model for later in the year before the holiday shopping season. This is a device that we expect to see a new design on, with edges that look similar to the iPad mini and slimmer bezels. Rumors point to a new Apple A8 processor, an improved camera but not a big jump in megapixels and a higher resolution to go with the bigger displays. It is possible that we will see a price jump of $50 to $100 on the iPhone 6.
These are just a few of the new Apple products we expect to see in 2014 as Apple pushes forward with a collection of new products that are likely arriving in the second half of the year.
Top 7 Apple Products for 2014: iPhone 6, iPad Air 2 & More
iPhone 6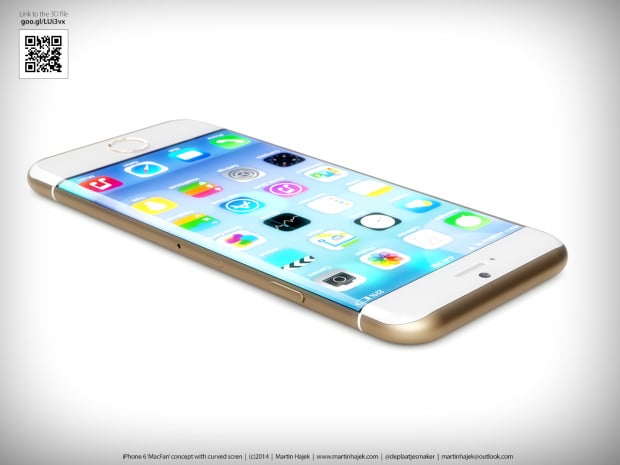 Demand for the iPhone 6 is the highest in years according to a recent survey, thanks to consumer interest in a new design and a larger screen.
iPhone 6 rumors started back in 2012, exploded in 2013 and as we move within six months of a rumored iPhone 6 release the rumors are starting to align and show a better picture of what consumers can expect from the most anticipated Apple product of 2014.

Two Models with Bigger Screens

iPhone 6 rumors, reports and analyst notes all point to an iPhone with a larger screen and many of the reports suggest Apple is planning to release two iPhone 6 models in 2014.

General consensus is Apple plans to offer an iPhone 6 with a 4.7-inch display and a higher resolution than the iPhone 5s. That is a screen size jump of .7-inch and would put the iPhone in line with top Android phones like the HTC One M8 and the Galaxy S5. Rumors do not agree on a resolution for this display, but do expect that it will be higher than the 1136 x 640 resolution on the iPhone 5s.

Another iPhone 6 model with a 5.5-inch or 5.7-inch display is also rumored for 2014, but many sources agree that it will arrive after the 4.7-inch model. This screen would be closer in size to the Galaxy Note 3 and the rumored Galaxy Note 4. This concept above from Martin Hajek includes a curved display, but don't expect that on a new device.

Possible iPhone 6 Features & Specs

Rumors suggest Apple is planning a thinner iPhone 6 that will be between 6mm and 7mm thick, a drop form 7.6mm on the iPhone 5s. We could also see more metal in the design and a power button on the right hand side with new style volume buttons on the left.

Expect an Apple A8 processor that delivers a small speed boost, but also delivers better battery life thanks to a improved efficiency. Ming-Chi Kuo believes we will see 1GB of RAM and an 8MP camera that may include some type of image stabilization.

For more check out our iPhone 6 Rumor Roundup.

As an Amazon Associate I earn from qualifying purchases.