iPhone 6 Price Hike Starts Next Week
AT&T is about to raise the price of the iPhone 6 and iPhone 6 Plus across the board with new fees that push their activation fee to the highest in the industry and a new fee for users who buy an iPhone 6 or iPhone 6 on the AT&T Next plan.
The combined totals, will not drastically change how much you pay for the iPhone 6, but with fees already adding significantly to the price you pay just to get a new iPhone, this is not something many shoppers are happy about.
AT&T announced the price hike for buying a new phone last week and will not start charging until August 1st, so you have a bit of time to buy a new iPhone 6 without spending extra.
The higher fee applies to the iPhone 6, iPhone 6 Plus and other smartphones on the network both on a two-year contract and on AT&T Next plans that allow for early upgrades.
[contextly_sidebar id="ja4vcHVeDhYsesE9Scl6SdIV57WXbDZN"]If you plan to buy a new iPhone in the next 7 to 14 days, it may be wise to move your plans up, but with $5 and $15 increases it is not something that most users should fret over for a long time. Droid Life reports that these changes will start on August 1st.
The first change comes to the AT&T Activation fee for a two-year contract. This is $40 per line when you sign a two-year contract, but starting August 1st the fee jumps to $45 per line. There is no way around this fee if you want to sign a contract and buy a subsidized iPhone for $199 to $399 on a contract.
With the price hike, AT&T charges the highest fee to activate a smartphone on contract.
AT&T Activation Fee – $45
Verizon Activation Fee – $40
Sprint Activation Fee – $36
T-Mobile Activation Fee – $0
Recently AT&T changed how you can buy an iPhone 6 or iPhone 6 Plus from retailers like Apple and Best Buy. These companies no longer sell the iPhone on a contract. Instead they offer an AT&T Next plan where you pay $0 down and make monthly payments for the phone along with options to upgrade early.
Currently there is no fee to upgrade on AT&T Next, which is a big benefit to using the plan. Right off the bat there is already $40 in savings, but soon that will no longer be the case.
The report outlines a $15 AT&T Next upgrade fee starting on August 1st as well. If this happens the $0 down iPhone 6 will now be a $15 down iPhone 6, or at least another $15 will appear on your bill. The report outlines this is for new AT&T Next plans, and AT&T may waive the fee when current AT&T Next users upgrade to a new device, but there is no guarantee. This is important to keep in mind with an iPhone 6s release date likely in roughly a month and a half.
Here is what the monthly payment plan options will look like with the fee in place across the major carriers.
AT&T Next Fee – $15
Verizon Edge Fee – $0
Sprint Lease Fee – $36
T-Mobile Fee – $0
This is not great news for customers as wireless carriers often follow the lead of another carrier and mirror upgrade fees after a short period of difference. T-Mobile CEO John Legere replied to the change on Twitter, calling out AT&T stating,
"Don't get me started on @ATT! An absurd Next 'activation fee'? That's like a new iPhone at @TMobile! #JUMPonDemand"
During the last price hike for AT&T upgrade fees and AT&T activation fees AT&T Spokesman Mark Siegel defended the upgrades, telling FierceWireless, "there are administrative and other costs associated with activating or upgrading a device." It remains unclear why carriers must pay for these expenses with an upgrade fee, rather than building them into the cost of service. 
10 Best iPhone 6 Cases
Best Leather iPhone 6 Case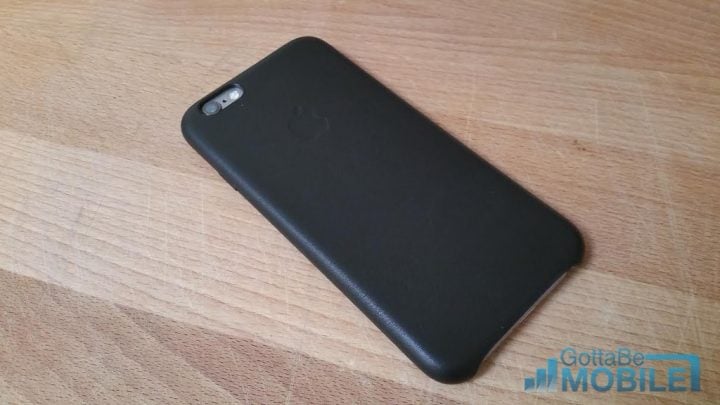 The ultimate leather iPhone 6 case is available from Apple. The official leather case wraps snugly to the iPhone 6 in an array of colors and adds just enough grip to help us hold on to the iPhone while using it.
Read: Apple Leather iPhone 6 Case Review
Apple's official case is thin and light, adding barely any weight or thickness to the iPhone 6. This is why Gotta Be Mobile Editor Adam Mills decided this is the best iPhone 6 case for his device, even though he normally does not use cases.
The official leather iPhone 6 case from Apple is $45 at Apple and other retailers.

As an Amazon Associate I earn from qualifying purchases.