iPhone 6 Release: Production Reportedly Ramping Up for Fall
The iPhone 6 release date is set for the second half of the year according to a new report out of Asia which suggests an Apple supplier is in the process of hiring thousands of workers to meet the needs of an iPhone 6 that is assembled largely by hand.
Several iPhone 6 rumors in March point to a iPhone 6 release in the second half of 2014, and more specifically an Apple partner's earnings expectations point to a fall iPhone 6 release date.
In addition to monitoring components and other iPhone 6 leaks for details about the new iPhone, the hiring of new employees at partner facilities is another method of piecing together Apple's plans for the new iPhone.
Ctee reports that Pegatron is planning to hire thousands of workers to train for the iPhone 6 production at the Shanghai Chang-seok facility. The report claims these workers will start production in the second half of 2014 with volume production to start in the third quarter. This timing would make sense for a fall iPhone 6 release.
A report from December 2013 in The Wall Street Journal confirms Pegatron is an Apple supplier, working on the iPhone 5c primarily. The Ctee report suggests Pegatron is near capacity and will use this facility for the iPhone 6. It does not highlight Apple's plans for the iPhone 5c in the second half of 2014. Apple just announced a cheaper 8GB iPhone 5c for Asia and other markets.
In addition to Pegatron the report points to Hon Hai, Foxconn, as an additional Apple supplier and production partner for the iPhone 6. The report does not include any details about when the other supplier might start hiring or specific details about Pegatron's production numbers.
An iPhone 6 production rumor in early March suggested Apple's supplier Taiwan Semiconductor Manufacturing Co (TSMC) was already producing the iPhone 6 processor. Another rumor just a week later claimed Samsung and TSMC will both supply the new Apple A8 processor and pointed to the fall again. The Apple partner GT Advanced Technologies, which hinted at a fall release in earnings statements is a Sapphire supplier that Apple invested half a billion dollars in last year, and as of late January Apple was pushing to bring production online for a critical component.
This information is not confirmed, but when stacked next to the likelihood of an iOS 8 announcement in June and three fall iPhone launches during the past three years, a fall 2014 iPhone 6 release date makes sense.
We have yet to see an iPhone 6 leak that shows us what the iPhone 6 looks like, but multiple sources believe we will see a larger screen. The iPhone 6 is rumored to arrive with a 4.7-inch and a 5.5-inch or similar sized model. A new report yesterday outlined a faster Apple A8 processor, higher resolution Retina displays and a thinner design. We also heard that Apple may plan to include optical image stabilization on the iPhone 6.
10 Amazing iPhone 6 Concepts (Videos)
iPhone 6 Concept Shows Small, Medium and Large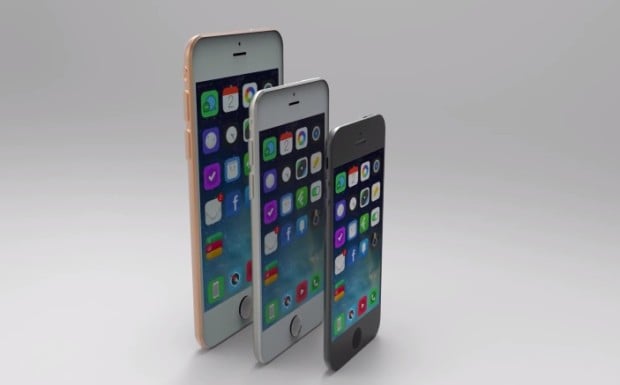 iPhone 6 rumors point to a larger display and this iPhone 6 concept is one of the first to show us what the iPhone 6 might look like with three sizes. If Apple introduces two new iPhone 6 models, it is likely that one smaller iPhone 5s type device will remain at a cheaper price.
This iPhone 6 concept from ConceptsiPhone on YouTube shows us what two larger iPhone 6 models could look like next to a mini model that offers a 3.5-inch display. We typically see Samsung and HTC offer three sizes with different versions of a similar phone, so it would not be out of the question. Still, it is more likely that Apple would stick with a 4-inch display on the smallest iPhone they sell in 2014.
Check out more about this iPhone 6 concept.

As an Amazon Associate I earn from qualifying purchases.