Is it Safe to Wirelessly Charge the iPhone With a Wallet Case?
One of our favorite iPhone 8 and iPhone X features is the ability to wirelessly charge. This leads to a major question from many users who love to carry their credit cards on the back of their iPhone. "Is it safe to wirelessly charge the iPhone with credit cards in a wallet case?"
We reached out to Matt Altschul President & CEO of Silk to learn more about wirelessly charging the new iPhones with credit cards in a wallet. Silk makes the Silk Q-Card iPhone Wallet case that allows you to put a few cards into and recently Silk showed off a bunch of wireless chargers that work with the iPhone 8 while in one of these cases.
The short answer is, yes you can use an iPhone wallet case with wireless chargers without worrying about damaging your credit cards or your iPhone, but you may not want to use one while traveling.
Altschul told Gotta Be Mobile that, "After over two and a half years of wireless charging through our Q Card Case on the Galaxy S6, S7, and S8, we've received no reports of demagnetized credit cards even after years of continuous wireless charging through the cards and case."
In addition to looking at reviews, Silk employees have been testing this out for years on other Android phones. He explains, "Members of our team have tested this on their personal phones over the years with the same credit cards without issues. But the much larger sample base is through sales to our customers on Amazon. Trust me when I say, if there's a problem with a product, you'll hear all about it Amazon reviews and customer support tickets. We've only heard reports that everything works just fine."
While a lot of this testing is done with Android phones, they are using the same wireless charging technology and the same qi wireless charging standard. Altschul says, "We used to get a similar question about the phones themselves causing demagnetization, which they don't. The only exception to this (and likely for wireless charging) are those older magnetic hotel key cards. Those function with a very weak temporary magnetic charge. So those suckers can demagnetize if you just sneeze too close to them."
While you are at home or driving in your car with a wireless charger, you should be fine to charge with an iPhone wallet case on. The only real catch you need to pay attention to is the thickness of the case and your cards. Some chargers work with cases that add up to 3mm of thickness while others are rated for 5mm of thickness.
The Best iPhone X Cases
x-doria Defense Lux iPhone X Case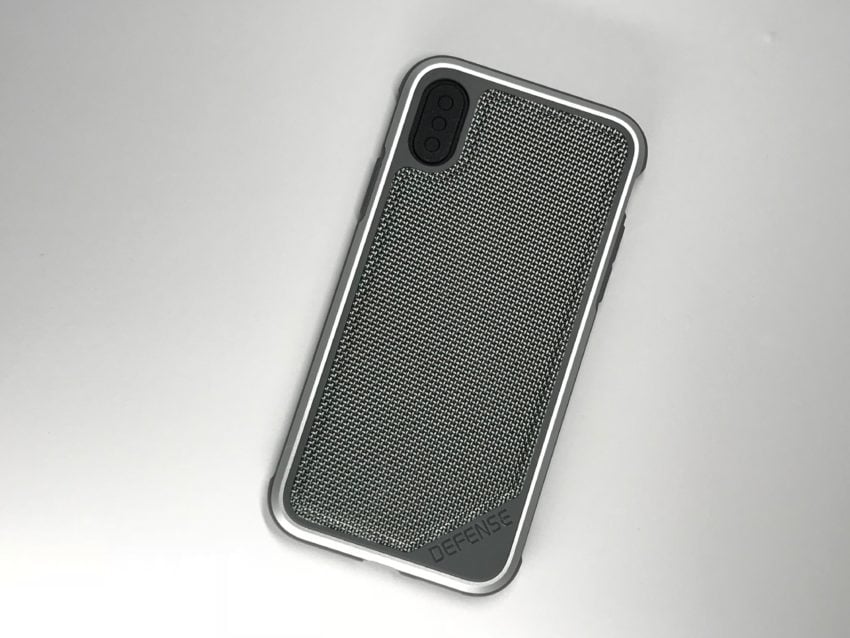 The x-doria Defense Lux iPhone X case is amazing. This case looks great, feels awesome and offers military grade drop protection without adding much bulk.
We love the look of this case in Ballistic Nylon and Black Carbon on the iPhone X. These cases not only offer a cool look, but the back is actually textured like the material listed. The Ballistic Nylon case has a soft, but grippy feel to the back just like you'd expect from looking at it. The Black Carbon feels like textured carbon fiber and looks awesome.
We didn't mean to, but we did drop our iPhone X in this case and our doorbell camera caught it on video. The case iPhone survived without any problems.
x-doria designed this case to protect your phone from drops up to 10 feet on concrete and there is . sound channel to direct the speaker towards you instead of straight out the bottom. The raised edge keeps the screen safe when setting the phone face down on a table.
$34.99 at x-doria