Is Madden 18 G.O.A.T. Worth Buying?
The Madden 18 release date arrives next week, and it comes early if you buy the special Madden 18 G.O.A.T. edition this year. Following in the footsteps of last year's Ultimate Edition, the new G.O.A.T. edition is $20 more which means many players are asking, "Is the Madden 18 G.O.A.T. Edition worth buying?"
We'll show you what you get with the Madden 18 G.O.A.T. edition and help you decide if you should spend the extra $20 on Madden 18 this year. There is no super-duper digital edition of Madden 18 this year.
Even when you take advantage of the best Madden 18 deals, you still pay about $20 more for the Madden 18 G.O.A.T. edition because you are getting added items for Madden Ultimate Team.
You can buy Madden 18 at Amazon, Best Buy and GameStop on disk or digital, which is a last-minute change for Amazon which up until now had only offered the digital versions of the game.
The Madden 18 release date is August 22nd for the G.O.A.T. edition and three days later on August 25th for the standard edition, which may be enough of an advantage for some buyers, but it's not the real reason to buy Madden 18 G.O.A.T. edition.
The Madden 18 G.O.A.T. edition includes a wide range of Madden Ultimate Team bonus items. This will help you get a lead in Madden Ultimate Team for Solo Play and for the online matches. This will help you with an edge on the new Madden 18 Weekend Championship play. If you don't play Madden Ultimate Team, there is little reason to pay $20 more for the G.O.A.T. edition, even when you consider the ability to play early.
When you buy the standard edition, you get 1 ELITE Player and 5 Madden Ultimate Team Packs, but with the Madden 18 G.O.A.T. edition you get;
7 Madden Ultimate Team Squad Packs
1 ELITE G.O.A.T. Player
2500 Contracts
1 MUT Uniform pack
3 Day Early Access
Madden Ultimate Team allows you to create your own fantasy team that you play against the computer, and against other players. In Madden 18, there is a new MUT Squads mode that allows you to play against friends easier, even if they aren't as invested in Madden Ultimate Team. Unlike last year, there are no Tickets for Ranked Draft Champions mode.
Overall, you get $50 worth of in-game items when you pay $20 more for the G.O.A.T. edition. If you play Madden Ultimate Team and even consider spending money on the in-game upgrades, this is an up front cost that is well worth your money. The contracts allow you to keep players on your team without spending coins in the game and the ELITE G.O.A.T. player will give you an edge with either Tom Brady, Barry Sanders, Ray Lewis, Deion Sanders or Jerry Rice on your team. With all of these added items, it's worth buying Madden 18 G.O.A.T. if you love Ultimate Team.
If you simply want to play Madden 18 early, you are better off spending $5 on a month of EA Access, which lets you play 10 hours of Madden 18 starting on August 17th, that's five days early. Here's more on the early Madden 18 release date.
We plan to buy the Madden 18 G.O.A.T. edition, since we love to play Ultimate Team and the added items are well worth it for Ultimate Team. This is an easier choice since we can save 20% or more on Madden 18 G.O.A.T. at Best Buy and Amazon. If you are trading in Madden 17, you can get $25 off either edition. Here's a closer look at what's new in Madden 18.
Madden 18 vs Madden 17: 11 Exciting New Madden 18 Features
Madden 18 Graphics Upgrades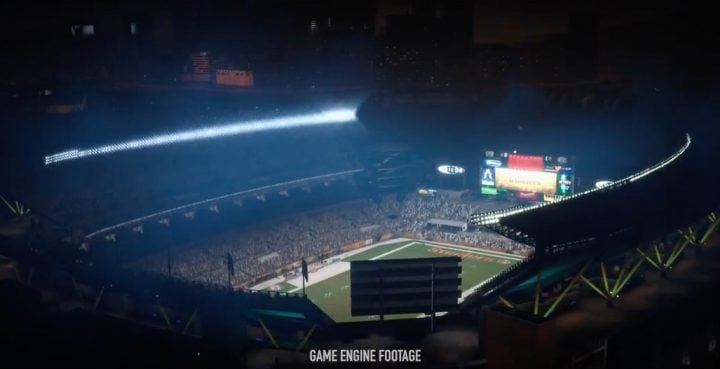 You can count on Madden 18 graphics upgrades thanks to the switch to the Frostbite engine. EA switched FIFA to Frostbite last year and this year it's time to upgrade Madden.
We get to see game engine footage in the Madden 18 teaser trailer below, but we don't see any head to head gameplay that reveal the changes you will see when you play.
The Madden 18 graphics upgrades we know about include better-looking stadiums inside and out. With Frostbite we will see city skylines and stadium exteriors. EA promises that you can, "watch the spectacle of NFL game day come to life in our most photorealistic game to date." Frostbite can deliver better-looking player faces as well. This is one of the places where FIFA upgrades were most noticeable.
EA promises more to come, but specifically, calls out the fireworks that you see in the video above, player runouts and "stunning" weather elements. Frostbite delivers impressive weather in Battlefield 1, and we hope that this means we will see more realistic weather elements in Madden 18.