Madden 18: Which Edition to Buy
There's a big change in the Madden 18 editions this year, and you need to do a little more research into which version of Madden 18 you buy this fall. Even if you don't buy Madden 18 to play early, there are some important reasons to pay attention to which edition of Madden 18 you buy.
The good news is that you can get Madden 18 deals on all version of the game, and there are new reasons to buy the Madden 18 G.O.A.T. edition even if you don't play Ultimate Team.
This year Tom Brady is on the cover and instead of the Deluxe Edition that we saw last year, there is Madden 18 and Madden 18 G.O.A.T., the latter of which is the special edition.
There is a special Madden 18 Xbox One S version for $279 that includes Madden 18 standard, a month of Game Pass, a Xbox Live 14 day trial and 20% off NFL Shop. The Xbox One S is normally $249 to $299 with a game, so getting one with Madden 18 at $279 is a good deal.
The Madden 18 release date is August 22th for the G.O.A.T. Edition and on August 25th for the standard edition. That may be enough to help you decide which edition to buy, but it's not the only difference. Madden 18 is only available on the Xbox One and PS4. There is no version coming to the Nintendo Switch or to the PS3 and Xbox 360.
Madden 18 is available at Best Buy, GameStop, Amazon and also digitally from Microsoft and Sony.
Madden 18 Standard Edition
The Madden 18 Standard Edition is $59.99 on disk or digital and deals will help drop this price down to $38 after all savings are combined.
With the base version of Madden 18, you get the full game, plus 1 elite player from your favorite team and 5 Madden 18 Ultimate Team Squad Packs.
The Madden 18 Standard Edition release date is on a Friday, three days after the special edition access arrives. If you are a casual player and you don't play Madden Ultimate Team, this is the edition for you. Yes, you ned to wait longer, but if you are an EA Access member you should still get to play early.
Madden 18 G.O.A.T. Edition
The Madden 18 G.O.A.T. Edition is $79.99 on disk and digital and you can save up to $22 on the game with the best Madden 18 deals.
You get the full Madden 18 game, the elite player from your favorite team and the base bonus of 5 Madden 18 Ultimate Team Squad Packs. For the added $20 price you get the following bonuses.
7 Extra Madden 18 Ultimate Team Squad Packs
1 ELITE G.O.A.T. Players
2500 Contracts
1 MUT Uniform Pack
3-Day Early Access
This is the Madden 18 edition that you should buy if you are a Madden Ultimate Team fan and you want to play the new Madden game as soon as possible.
There are five G.O.A.T. players that you can get with this edition.
Tom Brady
Barry Sanders
Ray Lewis
Deion Sanders
Jerry Rice
You can pick one ELITE G.O.A.T. player. You can still play early with EA Access, without paying for the added Ultimate Team extras. Here's why we are buying the Madden 18 G.O.A.T. edition.
Madden 18 Disk or Digital?
You can buy Madden 18 on a disk or you can buy it digitally. The price is the same and you get the same game with each purchase, but there are some advantages and disadvantages to each method.
You'll find fewer digital Madden 18 deals since most retailers want you to come in and buy a disk that they get a bigger profit from. If you buy digitally in a store, you may not be able to pre-load the game. This isn't as big oif a deal if you have EA Access since this traditionally allows you to download the full Madden game ahead of release.
If you buy Madden 18 on a disk you can loan it to friends and you can also trade it in later. Sports games typically trade in at a very low price, but for the past several years we've seen Madden 18 deals at Best Buy offer a big bonus with a Madden trade-in that drops the total price to below $15 on the release date. This is one reason we typically buy new Madden games on disk.
The big benefit to buying a digital Madden 18 edition is that you don't need to switch disks when you play the game. If you plan to jump back and forth on sports games like FIFA 18 and NHL 18 this fall, it's a good idea to buy digitally.
Madden 18 vs Madden 17: 11 Exciting New Madden 18 Features
Madden 18 Graphics Upgrades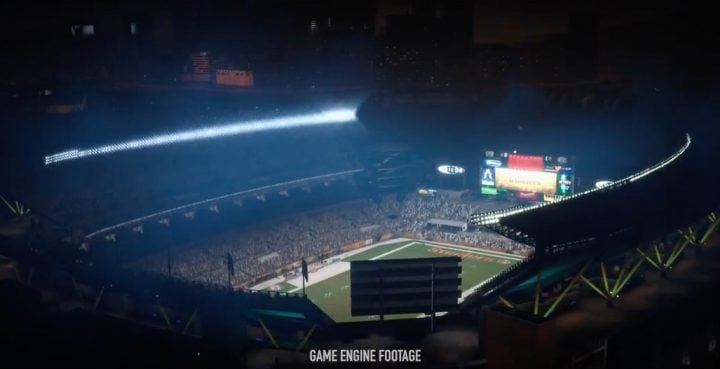 You can count on Madden 18 graphics upgrades thanks to the switch to the Frostbite engine. EA switched FIFA to Frostbite last year and this year it's time to upgrade Madden.
We get to see game engine footage in the Madden 18 teaser trailer below, but we don't see any head to head gameplay that reveal the changes you will see when you play.
The Madden 18 graphics upgrades we know about include better-looking stadiums inside and out. With Frostbite we will see city skylines and stadium exteriors. EA promises that you can, "watch the spectacle of NFL game day come to life in our most photorealistic game to date." Frostbite can deliver better-looking player faces as well. This is one of the places where FIFA upgrades were most noticeable.
EA promises more to come, but specifically, calls out the fireworks that you see in the video above, player runouts and "stunning" weather elements. Frostbite delivers impressive weather in Battlefield 1, and we hope that this means we will see more realistic weather elements in Madden 18.