How to Play Madden 18 Right Now
The Madden 18 release date is August 22nd if you buy the special edition and August 25th for everyone else, but there is a way you can play Madden 18 early without spending $20 more for MUT extras. That starts right now.
With EA Access you can play Madden 18 early. This is as close as you will get to a Madden 18 demo or beta, but it's better than that since it is a full version of the game. Don't expect a Madden 18 demo on PS4 or Xbox One, so this is the best way to play Madden 18 early.
We know that there is an early Madden 18 release date in August, but we don't know the exact date just yet. We do expect the five day early play and up to 10 hours of playing the full game. Based on the Star Wars: Battlefront early release, we expect that you will be able to play Madden 18 early on August 17th in the afternoon.
You need EA Access to play Madden 18 early. This is $4.99 a month or $30 a year and includes access to a wide range of EA games including Battlefield 1. In addition to playing all the new EA games early, you also get the EA Access Vault and 10% off digital purchases including Madden Points and digital versions of Madden. Keep in mind there are a lot of Madden 18 deals out there that you can buy and still use EA Access.
There is no EA Access for PS4, so you can only play Madden 18 early on the Xbox One. This is what you need to know about how to play Madden 18 early.
Early Madden 18 Release Date and Time
EA confirmed the early Madden 18 release date as August 17th, but on August 16th EA opened up the game early. You can now play Madden 18 early with EA Access on Xbox One.
How to Download the Madden 18 Trial
You need to be signed up for EA Access. Once this is done, you will download the EA Access app to your Xbox One. In that app there is a trials section. This is the easiest way to download the Madden 18 trial.
You can also search the Xbox Store on your console and since you are an EA Access member you should see an option to download a trial directly from the Madden 18 store page on the Xbox One.
The Madden 18 download is 36.49GB, so it will take a little time to complete.
No Early Madden 18 Pre-Load
We've never seen an EA Access trial pre-load, so you should expect to download the Madden 18 trial after the release date and time, not ahead of it. If you aren't going to be home, make sure your console is set up to download automatically and search for het Madden 18 trial in your Xbox App. This will allow you to download it even if you aren't home.
The great news is that you can use this as your pre-load for the full game, even if you bought a disk based version that typically doesn't support pre-loading games.
10 Hour Madden 18 Trial
This should allow you to play Madden 18 for 10 hours. That's the only limitation to the EA Access Play First Trials. You can expect to play for at least this long and it doesn't need to be in one go. You can play a few games and then quit, just make sure you go to the dashboard and manually quit the game so the timer doesn't keep running.
Full Madden 18 Game Included
This is the full Madden 18 game that other gamers will not be able to play until August 22nd or August 25th. This includes all of the new Madden 18 features and game modes. All of you progress will carry over to the full game when you buy it and it arrives the next week. This includes Madden Ultimate Team setup and progress, which gives you a chance to get going before the rest of your friends.
We've found this very useful in learning the new Madden 18 features before the rest of the world gets a chance. This can help you win some online friendly matches against your friends or get an edge in MUT online play for a few days at least.
Madden 18 vs Madden 17: 11 Exciting New Madden 18 Features
Madden 18 Graphics Upgrades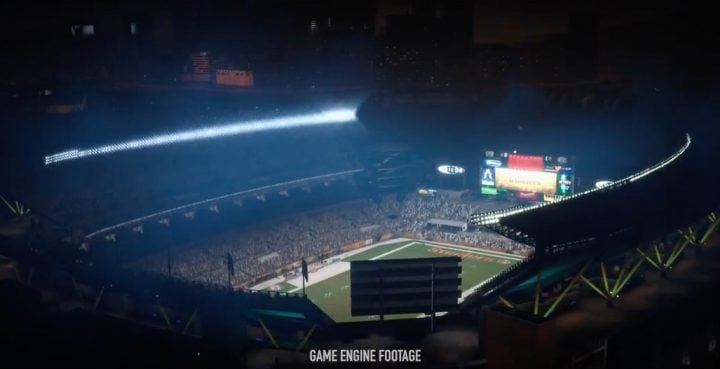 You can count on Madden 18 graphics upgrades thanks to the switch to the Frostbite engine. EA switched FIFA to Frostbite last year and this year it's time to upgrade Madden.
We get to see game engine footage in the Madden 18 teaser trailer below, but we don't see any head to head gameplay that reveal the changes you will see when you play.
The Madden 18 graphics upgrades we know about include better-looking stadiums inside and out. With Frostbite we will see city skylines and stadium exteriors. EA promises that you can, "watch the spectacle of NFL game day come to life in our most photorealistic game to date." Frostbite can deliver better-looking player faces as well. This is one of the places where FIFA upgrades were most noticeable.
EA promises more to come, but specifically, calls out the fireworks that you see in the video above, player runouts and "stunning" weather elements. Frostbite delivers impressive weather in Battlefield 1, and we hope that this means we will see more realistic weather elements in Madden 18.

As an Amazon Associate I earn from qualifying purchases.