Madden 18 Release Date & Time, Review, New Graphics & Features
We have the latest Madden 18 release date info, how you can save big on upgrading to Madden 18 and tons of new footage showing off Frostbite in Madden 18 that paves the way for the Longshot Story Mode. Plus, we have details on which edition to pre-order and the best Madden 18 player ratings and the top new Madden 18 features and gameplay.
EA released Madden 18 early on the Xbox One for EA Access members, who can play right now. There is also a special Madden 18 G.O.A.T. Edition this year that lets you play three days early, starting at midnight tonight. Here's our Madden 18 review in progress to help you decide if Madden 18 is worth buying.
We're hearing from some Amazon buyers who will not get Madden 18 G.O.A.T. delivered on the release date. Amazon told several customers it is not a release date eligible item. At least one user reports that they are able to get a credit for the game due to the blunder. If you're just waiting for Amazon to deliver Madden 18 G.O.A.T. today, you better double check your orders. Amazon is doing all it can to convince gamers to buy Madden 18 digitally without a Prime discount or to buy it elsewhere this year.
Madden 18 switches to Frostbite this year, which delivers better graphics across the game and delivers an experience that includes college play, off the field experiences and a massive story mode called Longshot. EA also packs in MUT Squads a 3 vs 3 online Madden mode that allows you to combine Madden Ultimate Teams and go up against other players with your friends.
Once again there is no NCAA 18 to deliver college football, which leaves us with the NFL as the main option. On the upside, you will be able to play the NFL Combine and even play some college football thanks to schools licensing the logos.
Madden 18 Release Date – August 25th
Madden 18 Cover – Tom Brady
Madden 18 Gameplay Videos – See Madden 18 in action.
Madden 18 Frostbite & Graphics – Looking Sharp
Madden 18 Impressions – What Gamers think of Madden 18
New Madden 18 Features – What Sets it Apart form Madden 17
Here's a breakdown of the Madden 18 release details that you need to know.
Madden 18 Release Date
The Madden 18 release date is August 25th. EA confirmed this when announcing Madden 18 and Tom Brady as the cover athlete. For the last 10 years, the new Madden game arrived in August, and that's not changing.
One major change to the Madden 18 release date is that it is on a Friday this year. Traditionally the new Madden game arrives on a Tuesday, but if you buy the Madden 18 G.O.A.T Edition you can play early on the 22nd.
If you buy the standard edition, you will need to wait until Friday after the initial release. EA notes that there is a G.O.A.T. edition upgrade available on the Xbox Store and on the PlayStation Store, but they are not listed yet. With EA Access, you can play Madden 18 on August 17th, five days before the G.O.A.T. edition is playable.
Madden 18 is coming to Xbox One and PS4. This includes the Xbox One, Xbox One S and the Xbox One X as well as PS4, PS4 Slim and PS4 Pro. There is no mention of Madden 18 for the Nintendo Switch or for older consoles.
Midnight Madden 18 Release Date Events
We've yet to find midnight Madden 18 release date events at GameStop or Best Buy. This may be due to the split release date between the standard and G.O.A.T. editions.
You can likely walk into Walmart or Target to get Madden 18 at either store at midnight, but you may want to double check with the retailer before you head out late at night. It's also worth considering that this may mean no early midnight Madden 18 release date at 9 PM Pacific the day before the release date.
Madden 18 Cover
There is no Madden 18 cover vote this year and there is no mystery. Tom Brady is on the cover of Madden 18, including the special edition of the game.
"Madden" curse? Tom Brady isn't worried. (via Tom Brady/Facebook) pic.twitter.com/Say1oLYFTg

— Bleacher Report (@BleacherReport) May 12, 2017
Brady is not worried about the Madden curse, and in the video, above he proceeds to break a mirror and walk under a ladder to show he isn't worried about luck.
Madden 18 Video, Gameplay & Screenshots
We're seeing way more videos of Madden 18 gameplay including this rain game footage of the Dolphins vs. Bills.
Madden 18 Demo & Early Play
You shouldn't count on a Madden 18 demo that you can play on your own PS4 or Xbox One.
When you buy the Madden 18 G.O.A.T. edition you can play three days early on Xbox One or PS4. With EA Access gamers will also get to play early, and you can do that right now.
Madden 18 Graphics
We are in for a major upgrade to the Madden 18 graphics and gameplay thanks to the switch to Frostbite. This engine is in use on FIFA 18 and FIFA 17 and it delivers more room to include off the field moments as well as to deliver better gameplay on the field. We are still waiting for actual Madden 18 gameplay to see what the Madden 18 graphics look like while you play, but the cinematic footage looks good.
EA states, "Our Madden NFL franchise will transition to the Frostbite engine with Madden NFL 18, unlocking major visual advancements and new gameplay experiences that will excite dedicated Madden players, football fans, and sports fans overall."
The video above shows off the new graphics capabilities with player intros, stadiums and weather effects in Madden 18.
EA is already hiring for Madden testers who will check the game for NFL accuracy and the EA Sports Studio responsible for Madden 18 is currently seeking someone proficient in Frostbite who will work on Madden audio, which could signal that we will see new presentation options and off the field moments to go with the upgraded graphics.
This new engine can render on the field footage as well as off-field footage using the same engine. In interviews at EA Play, we learned that there will be a lot of off-field moments in Longshot.
We also get to see how Madden 18 vs Madden 17 compare graphics wise in the video above.
Madden 18 Impressions
At EA Play gamers were able to play Madden 18 for the first time. From regular players to professionals and YouTube creators, we learn about how the new Madden 18 plays.
Madden 18 is such BEAUTIFUL game. You guys will be blown away when you see it. Great job to @RexDEAFootball and the team at EA…

— DaDYNASTY (@DaDYNASTYCFM) June 11, 2017
First impression of Madden 18: Wow it animates totally differently. Acceleration really matters in getting off the line.

— Kat Bailey (@The_Katbot) June 10, 2017
Overall the general opinion is that the switch to Frostbite is positive and the new Madden 18 features are implemented well.
Madden 18 Ratings
Typically we see ratings teased out over a month, but we now know the best Madden 18 players thanks to loads of ratings released from EA. This is the official look at the best Madden 18 players that you can count on playing as with your favorite teams. It's a huge deal for players who want to see how their team is doing. This came right after Madden 18 rookie player ratings arrived to stunned and sometimes frustrated rookies.
You can see all the Madden 18 player ratings on MaddenSchool with sortable lists that let you check and compare a wide range of attributes. This list will shwo you the best Madden 18 players at each position.
Madden 18 Features
There are several new Madden 18 features that we know about so far, and we expect to learn about in the next month. Here's what's new in Madden 18, that we know of so far about the new features and how they work.
Play New NFL Matchups
New Play Styles
Target Passing
Coach Adjustments

Coverage Assignments

Madden 18 Story Mode – Longshot
MUT Squads 3 Vs 3 Online
The Madden 18 trailer shows off a player outside of Lucas Oil Stadium. We also know that you can manage your Madden 18 franchise with a smartphone app this year. Click through below for more information on each of the new Madden 18 features.
Madden 18 vs Madden 17: 11 Exciting New Madden 18 Features
Madden 18 Graphics Upgrades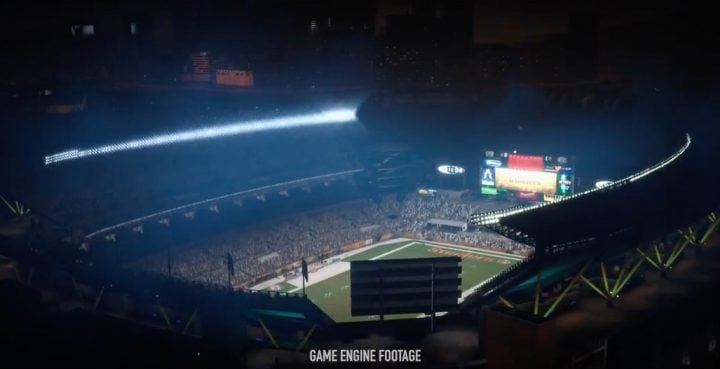 You can count on Madden 18 graphics upgrades thanks to the switch to the Frostbite engine. EA switched FIFA to Frostbite last year and this year it's time to upgrade Madden.
We get to see game engine footage in the Madden 18 teaser trailer below, but we don't see any head to head gameplay that reveal the changes you will see when you play.
The Madden 18 graphics upgrades we know about include better-looking stadiums inside and out. With Frostbite we will see city skylines and stadium exteriors. EA promises that you can, "watch the spectacle of NFL game day come to life in our most photorealistic game to date." Frostbite can deliver better-looking player faces as well. This is one of the places where FIFA upgrades were most noticeable.
EA promises more to come, but specifically, calls out the fireworks that you see in the video above, player runouts and "stunning" weather elements. Frostbite delivers impressive weather in Battlefield 1, and we hope that this means we will see more realistic weather elements in Madden 18.