Killer T-Mobile iPhone 6s Deal Revealed
T-Mobile, the United States' third-largest mobile carrier has a pretty amazing deal ahead of the iPhone 6s release date and pre-order sales. It's handing users an unlocked iPhone 6s for hundreds off the entire purchase price when they sign up for its T-Mobile JUMP On-Demand service.
T-Mobile announced its new iPhone 6s deal in a post on its blog just a day after Apple revealed its new line-up of smartphones. Named the iPhone 6s and the iPhone 6s Plus, each has upgraded rear-facing cameras, stiffer materials and Apple's new 3D Touch technology for interacting with iPhone and iPad apps.
Read: iPhone 6s Release Date Breakdown
T-Mobile's iPhone 6s deal is pretty good, but a little difficult to follow for anyone who doesn't already have its service. The carrier says that anyone who wakes up at midnight this Saturday to place an iPhone 6s or iPhone 6s Plus pre-order will get steep savings. Specifically, it won't charge any T-Mobile JUMP On Demand member for their iPhone 6s pre-order. Additionally, it'll only add $20 to their monthly bill for the next 18 months. After the 18 months users are free to give back the device and choose another phone or pay $164 to keep it.
If you add those 18 months together, users are getting an entry-level iPhone 6s for $360. Apple will sell the iPhone 6 for $649 off-contract or $32.45 a month when it goes on sale this Saturday. Of course, T-Mobile is banking on Apple iPhone 6s and Apple iPhone 6s Plus not wanting to keep the phone in two-years and pay the $164 to keep it. Users who do choose to keep their device are still getting a pretty amazing iPhone 6s deal. The charge to keep the iPhone 6s and the monthly payments only amount to $524 total. It works out to be a pretty amazing deal on the iPhone 6s Plus to, with monthly payments of $24 and a final payment of $164, T-Mobile users are looking at $596 for one of the best smartphones of all time.
Theoretically, they won't since hardcore iPhone lovers will want to upgrade to the latest models in two years time. That makes sense, T-Mobile JUMP is made specifically for users who want the latest smartphones.
To be clear, T-Mobile isn't being entirely forthright about how everything in this iPhone 6s deal. Joining the T-Mobile Jump On-Demand program itself requires an add-on fee of $10 a month. The service does include insurance, but it's separate from T-Mobile's basic calling, messaging and data charges. It's still a good deal if you're already a T-Mobile JUMP On-Demand member or switched from a more expensive mobile carrier. T-Mobile does allow users to drop JUMP On-Demand and keep their smartphone instead of trading it in.
T-Mobile has more than just this iPhone 6s deal for shoppers. The company is preparing other incentives too. Called the T-Mobile Lifetime Coverage Guarantee, T-Mobile will refund all of charges associate with the first month of service if a user decides that the carrier's service isn't as good as they require. T-Mobile says it'll let JUMP users who aren't satisfied with their coverage keep paying on their smartphones interest free if they leave the network using the Lifetime Coverage Guarantee. The theory is that users will never switch since T-Mobile is rolling out more LTE coverage across the country and making use of what it calls Band 12 mobile spectrum. For T-Mobile more spectrum and coverage means a network capable of competing better against Verizon and AT&T. It has passed Sprint in terms of subscribers.
Read: iPhone 6S Pre-Order Offers Release Day Pickup In Store
T-Mobile's website is already taking information for users who'd like to advantage of the iPhone 6s deal or simply order an unlocked device for use on the carrier. Pre-registration ahead of the iPhone 6 release date requires name, email address and information about whether you're a T-Mobile subscriber or not already. T-Mobile will automatically send out an email with purchase information the moment iPhone 6s and iPhone 6s Plus pre-orders kick off.
iPhone 6s vs iPhone 6: What's New
3D Touch Display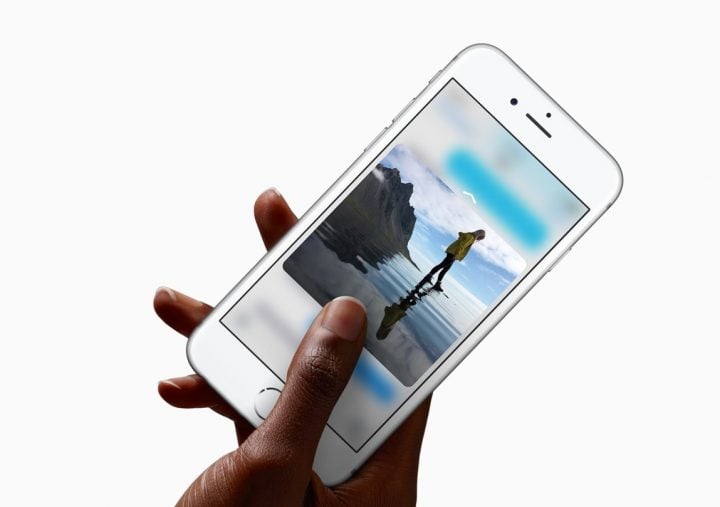 The new 3D Touch display on the iPhone 6s and iPhone 6s Plus makes a plethora of features possible, some of which we will break out into sections.
In short the new iPhone 6s display is the same size and resolution as the iPhone 6 display, but it can now tell the difference between a tap, a press and a deeper press. This allows users to call up secondary actions in many apps and on the home screen as well as in games.
The video above shows the new 3D Touch display on the iPhone 6s and iPhone 6s Plus. Even though the iPhone 6s display looks very similar to the iPhone 6 and both phones run iOS 9, you cannot use these new features on the old iPhone because the technology is not there.
3D Touch display actions work on the home screen, in Apple apps and in third-party apps.

This article may contain affiliate links. Click here for more details.