Lenovo IdeaPad 720s Review
To get the best, you must spend more. That's the way buying a Windows laptop or anything else works. Yet the Lenovo IdeaPad 720s costs just below $900 and it still has almost everything a more expensive Windows 10 device has. It's a strange PC for sure.
The Lenovo IdeaPad 720s is a mid-range laptop, but you'd never know that by looking at its specs. It uses Intel's 7th Generation of Core processors and you can add up to 8GB of RAM and 256GB of fast storage for your pictures, music and videos. A dedicated graphics card provides the system with a little extra horsepower for light gaming. Also, the laptop's aluminum frame and sharp design might fool even you into thinking you've spent more on it than you did.
Read: Windows 10 Anniversary Update Review: Everything Necessary
As we all know, a lower than average price means you can expect some compromises, and the IdeaPad 720s has a few. Still, it's a very solid machine for its price.
Lenovo IdeaPad 720s Review: Design & Internals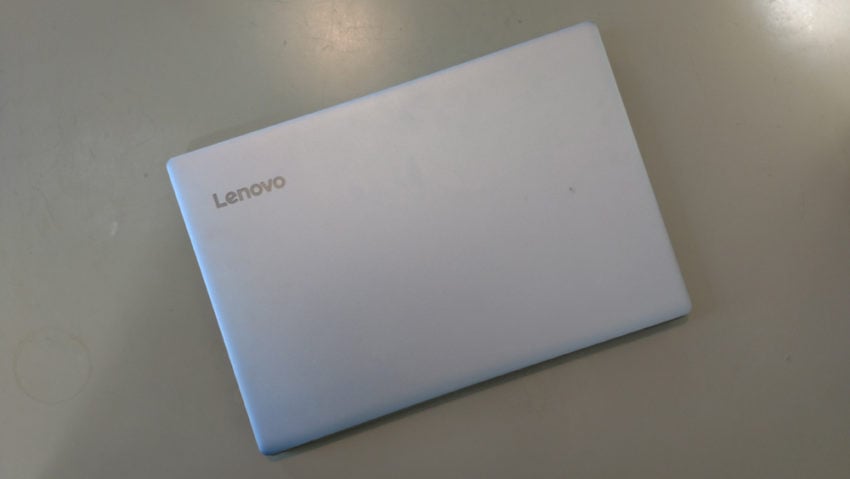 The IdeaPad 720 owes its sharp looks to its aluminum frame. There are glistening edges all over this laptop. Despite its high-end look and materials, it doesn't feel like you're holding a piece of delicate jewelry that you might accidentally destroy at any moment. The keyboard deck doesn't bend or flex. You never feel like one drop might finish this notebook off.
Its aluminum frame also means that this laptop is a little heavier than if it were made of plastic. It weighs 3.42 pounds, so you feel its presence in your bag. It's only a sixth of an inch thick though, so you won't struggle to make room for it as you head off to work, school or your favorite coffee shop.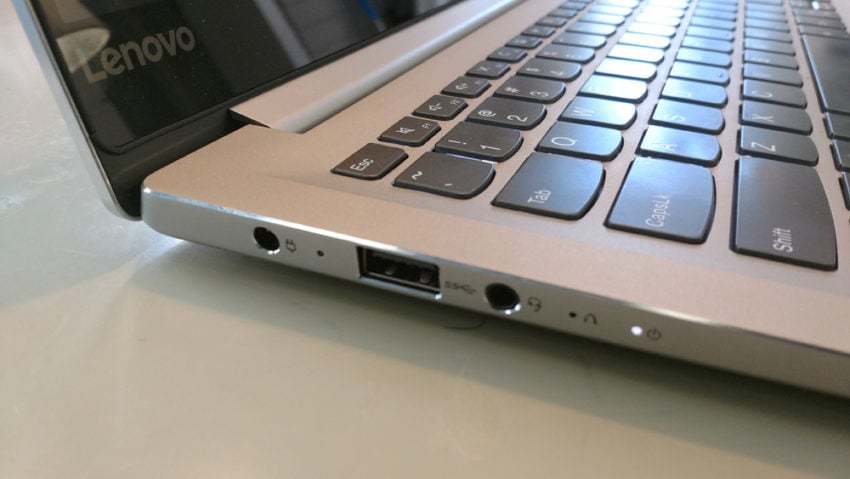 A power port, full-size USB 3.0 port and headset jack are on the left edge of this notebook, and the right edge holds another USB 3.0 port that can charge a phone when the IdeaPad 720s is off. An HDMI port, memory card reader and a Thunderbolt 3 port are also on the laptop's right edge.
This Thunderbolt 3 port makes transferring files speedy and connecting to a dock with a single cable possible. Many reasonably priced notebooks still don't have Thunderbolt 3, so this is a win for Lenovo.
The keyboard deck is laid out well. A huge glass trackpad sits below dark gray keys that are very comfortable to type away on. Windows Hello-ready fingerprint readers can let you into your PC without a password, and the IdeaPad 720s has one so that buyers can avoid them just as easily as Surface Pro and ThinkPad buyers can.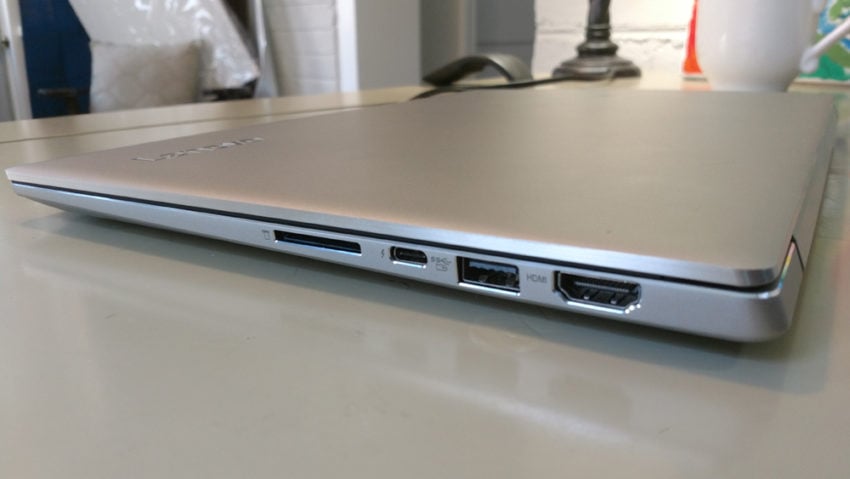 A buyer can outfit a Lenovo IdeaPad 720s with almost every modern part they need. It supports up to a 7th Generation Intel Core i7-7500U processor, NVIDIA's GeForce GT 940MX graphics card with 2GB of dedicated RAM, 8GB of system RAM and 256GB of speedy solid-state storage.
It does lack more display options. The 14-inch 1920 x 1080p FHD display that comes in all models can't be upgraded to an OLED display for brighter colors. Also, you can't buy this notebook with a touchscreen display.
Gotta Be Mobile's IdeaPad 720 review unit came with an Intel Core i5-7200U processor, 8GB of RAM, 256GB of solid-state storage and the NVIDIA GeForce GT 940MX graphics card. It sells for $853.59 at Lenovo.com.
Lenovo IdeaPad 720s Review: Experience
Going from a PC that costs $1000 or more to something as modestly priced as the IdeaPad 720s can make you feel a little lost. You grow accustomed to your PC starting in just seconds. You expect long battery life, a glass trackpad, a great display and backlit keys that let you work in the dark.
Using the Lenovo IdeaPad 720s as my only computer didn't feel like a chore at all. That's because Lenovo managed to stuff a lot of must-haves into this laptop. The fingerprint reader and glass trackpad are both a pleasure to use. Though not as detailed as some other screens, the HD 14-inch display didn't bother me once I tweaked the scaling settings to shrink Windows 10 to something a little less touch friendly. The laptop has backlit keys that you can see in the dark.
The IdeaPad 720's dual JBL speakers can fill a room with sound. Software controls let you tune them to the kind of media you are enjoying.
Expect the Lenovo IdeaPad 720s to perform any task you give it quickly. Also, expect your apps and programs to load effortlessly. You won't run into any bottlenecks browsing the web, creating documents and editing photos.
You can expect a less than stellar gaming experience, which makes sense for a notebook in IdeaPad 720s' class. Its NVIDIA GeForce 940MX graphics card only has 2GB of RAM. It runs modest games, like Halo Wars 2, but you must keep the game's visuals lower than on a PC that has more video RAM. Do expect faster renders in Adobe Photoshop and Adobe Premiere because of the graphics card. Don't expect a great action gaming experience. This notebook wasn't designed with that in mind.
The Lenovo IdeaPad 720s has a fan that can get very, very loud. This fan noise doesn't ruin the machine, but it is something to be aware of if ambient sound bothers you. You don't need to game to get this fan noise either. Opening ad-heavy websites in Microsoft Edge usually did the trick.
You don't get touch with this machine, but its other input methods are solid. The dark gray backlit keys are satisfying to press without being too loud. Also, they have a slick texture that lets your fingers effortlessly roll from key to key. The trackpad is accurate and spacious.
In all, only the Lenovo IdeaPad 720s' battery life does it a disservice. Lenovo's website says that users should expect around 14-hours from the notebook, but that wasn't my experience at all. With three tabs and Microsoft Word open, I managed 7 hours of battery life. That was with screen brightness at half, which also made the display a little too dark. Increasing brightness brought the expected battery life down to 5 hours. I wouldn't count on this notebook getting you through an entire workday on a single charge unless you're a big fan of Windows 10's Battery Saver utility and don't mind leaving it on.
Lenovo IdeaPad 720s Review: Specs
Processor & Graphics
7th Generation Intel Core i5-7200U Processor

·        (7th Generation Intel Core i7-7500U Processor Optional)

NVIDIA GeForce GT 940MX 2GB

Memory & Storage
8GB of DDR4 RAM

·        (16GB of RAM Optional)

256GB Solid State Drive

Display
14-Inch 1920 x 1080p FHD Display
Ports & Extras
·        1 Thunderbolt 3 Port

·        2 Full-Size USB Type-A Ports

·        1 Headset Jack

·        Wireless AC 8625 & Bluetooth 4.1

·        720P Web Camera

·        Fingerprint Reader

·        Backlit Keyboard

·        Dual JBL Speakers

Battery Life
7 Hours of Battery Life

(14 Hours According to Lenovo's Mark14 Benchmarks.)

Dimensions & Weight
12.6-inches x 8.8-inches x 0.78-inches

3.5-pounds
Lenovo IdeaPad 720s Review: Should You Buy?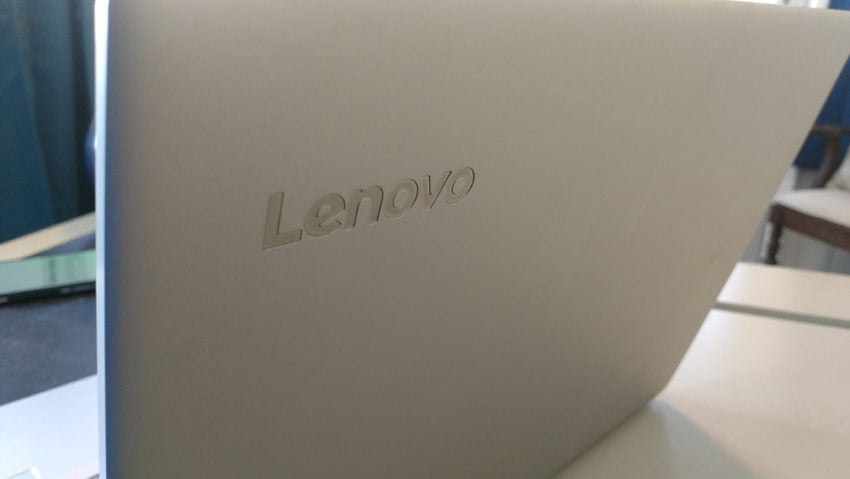 Despite the things that it lacks, the Lenovo IdeaPad 720s is still a solid laptop. Buyers get fast storage, great build quality, a solid keyboard and a discrete graphics card for less than $900.
Is this the must-have laptop for everyone? No, those that really want a touchscreen display in their next laptop must look elsewhere. Also, this isn't the laptop to buy for true mobile warriors that don't like to charge over lunch or after a long money. Despite the graphics card, you don't want to do serious gaming on this machine.
Still, the Lenovo IdeaPad 720s handles apps and programs well, starts quickly, looks nice and has some features you can't get for its price elsewhere. You really can spend a little less on a Windows 10 laptop and still get some high-end finishes and options these days.
[letsreview]

As an Amazon Associate I earn from qualifying purchases.