2017 ThinkPad X1 Yoga Review
Businesses want to do more with less and notebooks that can double as tablets make that possible. Compromise, loud fans, modest battery life and flaky software somewhat tainted the last crop of major Windows 2-in-1s, but Lenovo's 2017 ThinkPad X1 Yoga isn't likely to meet the same fate.
This notebook has 2017 ThinkPad X1 Carbon's 7th Generation Intel Core processors, a durable frame and Lenovo's fast fingerprint unlocking technology. Office workers can also count on the ThinkPad X1 Yoga to get them through a long work day on a single charge, just like the Carbon.
Unlike that notebook, the 2017 ThinkPad X1 Yoga transforms from a laptop to a tablet with ease. A touch screen and hinges, designed to let you fold the display backward, make this possible. An included pen charges from the notebook's battery reserve so that you're never hunting for a battery or rushing back home to get the digital pen you left on your desk.
All told, the Lenovo 2017 ThinkPad X1 Yoga is a solid Windows 2-in-1. I only wish that Lenovo's engineers had stopped short of compromising the terrific ThinkPad Keyboard to improve its Tablet Mode.
2017 Lenovo ThinkPad X1 Yoga Review: Design
The 2017 ThinkPad X1 Yoga's carbon-fiber body meets strict durability Mil-Spec durability standards, according to Lenovo. That means that it is shock resistant, spill resistant and can take a beating. Lenovo sells black models for board room dwellers and silver models for those that want a little more visual flair.
If you're looking to get away from the girth of a typical notebook, this isn't the device for you. The ThinkPad X1 Yoga weighs 3.15 pounds with a 14-inch IPS display. Switching this display out for an OLED display knocks the weight down to 2.99 pounds. It's a seventh of an inch thick and measures 13-inches from cover to corner.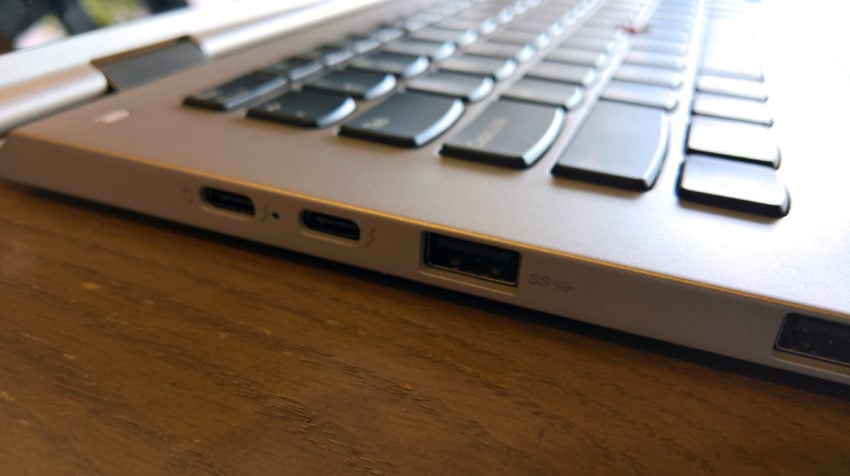 Because its screen folds backward, almost every port on the ThinkPad X1 Yoga is on its left and right edges. Two Thunderbolt 3 ports and two full-size USB ports are on the left side. The right side holds another full-size USB port, a headphone jack, an HDMI Port, a Kensington lock slot and the charging slot for the ThinkPad Pro Pen that Lenovo includes with the machine. It doesn't have a typical docking port, which is why those 2 Thunderbolt 3 ports are great. You can connect the laptop to monitors and other accessories with a single cable. Thunderbolt 3 ports also let you transfer company files to an external drive very quickly.
I only have a problem with two of the laptop's essential ports. First, you must close the notebook to use the MicroSD card slot along the device's top edge. Second, its miniature Ethernet port requires an adapter. Luckily, Lenovo includes this adapter with the machine.
2017 Lenovo ThinkPad X1 Yoga Review: Internals & Experience
Shoppers get the very latest processors, solid state storage options and screen technology with this Windows 2-in-1. Every 2017 ThinkPad X1 Yoga has an Intel Core i5 or Intel Core i7 processor. Lenovo's configuration tool gives users four options, with the Intel Core i7-7600U Processor being the most powerful. You can switch out the 256GB solid state drive for a 512GB solid state drive that gives you more room to store your files. A 14-inch 2560 x 1440 OLED display option offers brighter colors, darker blacks and sharper, more detailed visuals. There's a second 14-inch WQHD  2560 x 1440 IPS display option for buyers that want a lot of detail without the bright colors of a OLED display.
Unfortunately, shoppers shouldn't expect fast rendering in 3D modeling programs. Despite all those upgrade options, the 2017 ThinkPad X1 Yoga doesn't have a graphics card option.
Gotta Be Mobile's review unit had the Intel Core i5 processor, 8GB of RAM, a 256GB of SSD and the standard 14-inch 1080p FHD touch display. It is the same the entry model that sells for $1,682.10 at Lenovo.com.
The 2017 ThinkPad X1 Yoga never performed like it was the line's entry model during my time with it. It started up quickly, and programs that bring other Windows 2-in-1s to their knees loaded fast. iTunes and Spotify are usually performance nightmares on Windows, but both programs started quickly on this machine. Every Microsoft Office app and Adobe Photoshop Elements ran well on the ThinkPad X1 Yoga. In fact, I loaded them all at the same time to look for significant drops in performance and still didn't notice any multitasking issues.
Battery Life
Business users can rest assured that the ThinkPad X1 Yoga will get them through a solid work day. The laptop lasts for 15-hours, according to Lenovo. I managed to reach that benchmark.
I charged the 2017 ThinkPad X1 Yoga every other day. That's roughly 13 hours of word processing, web browsing and social media alerts if you discount lunch breaks. Dimming the display got me closer to Lenovo's 15-hour figure. Really stressing the processor with photo editing tools and 10 tabs during my work sessions reduced the time between charges to a day and a half and around 9 hours of battery life. That's still a solid work day.
Lenovo Yoga notebooks don't have interchangeable batteries, which can be a problem for business users that really don't have time for a full charge between meetings. Quick charging technology in the ThinkPad X1 Yoga solves this. You can get it back to 80% of capacity with a solid hour-long charge. I wish more notebooks, desktops and tablets included this feature.
Using the ThinkPad X1 Yoga as a Notebook
As expected, the 2017 ThinkPad X1 Yoga is a solid notebook.
The new trackpad is spacious and very, very accurate. Your fingers smoothly glide over its surface, and its buttons have a nearly silent, satisfying click. Two, three and four finger gestures make switching apps or adjusting zoom in Windows 10 effortless.
A new fingerprint reader provides business users with an easy way to unlock the device in any mode. This makes up for the lack of a Window Hello sensor and the disappointing 720p web camera that won't impress anyone you are in a Skype video call with.
In fact, the only thing I didn't like in Notebook Mode was the backlit ThinkPad keyboard. The original ThinkPad X1 Yoga had a keyboard plate that rose from its body to protect each key. 2017 ThinkPad X1 Yoga's keys slowly retract into the body of the notebook as you turn it into a tablet. Lenovo calls this the Wave Keyboard.
There are some positives to the Wave Keyboard. You do feel like you're less likely to damage a key while using the device as a tablet. Also, its spill resistance makes it the perfect companion for anyone that has ruined their laptop with liquids in the past. The TrackPoint and keyboard shortcuts ThinkPad users love are present.
Unfortunately, the mechanism has a net negative impact for typing. Typing on it is not awful, but every keystroke on the 2017 ThinkPad X1 Carbon felt more satisfying than on the Yoga.
Using the ThinkPad X1 Yoga as a Tablet
The 2017 ThinkPad X1 Yoga is absolutely a better tablet replacement than its predecessor.
The Wave Keyboard exists because the extended keyboard deck on the original ThinkPad X1 Yoga felt uncomfortable in Tablet Mode. This isn't a problem on the 2017 ThinkPad X1 Yoga. The retractable keys do make it more comfortable to hold.
Lenovo's ThinkPad Pro Pen removes some pain points of using a stylus. Because you slide it into the laptop's body, you are less likely to lose it or leave it at home than other digital pens. It also lasts for a little less than two hours on a 15-minute charge. You won't need to visit a drug store every four months to pick up a small battery you can't find anywhere else.
Digital ink flows effortlessly from the tip of the pen into Microsoft OneNote and other apps. It can detect 2,048 different levels of pressure and there's very little delay. Fair warning: this pen feels more like a mechanical pencil than the high-end digital writing tool the Surface Pen mimics.
Finally, the 2017 ThinkPad X1 Yoga is whisper quiet, just like a tablet should be. Many Windows 2-in-1s get so hot, and have fans so loud, that they shatter the illusion you're using something as straight-forward as an iPad. I never heard the ThinkPad X1 Yoga's fan while watching a video or browsing the internet. The exhaust fan is high enough on its back edge that right-handed users won't have sweaty hands from hot air pouring out of the notebook's body.
Only the 2017 ThinkPad X1 Yoga's thickness and screen size would keep me from using it as tablet replacement. It's a seventh-of-an-inch thick and weighs 3-pounds. Microsoft's 2017 Surface Pro is a third-of-an-inch thick and weighs 1.7-pounds with a Core i5 processor. I wouldn't want to read books or take notes on the ThinkPad X1 Yoga unless it was sitting flat on a desk or laying in my lap. Forget holding this device up with one hand like you would an eBook reader. It's too bulky and heavy for that. Count on using its Stand Mode to avoid your wrist cramping after you hold it too long.
2017 Lenovo ThinkPad X1 Yoga Review: Specifications
Processor & Graphics
2.6GHz Intel Core i5-7200U Processor with Turbo Boost to 3.1GHz

·       (7th Generation 2.8GHz Intel Core i5-7300U Processor with Turbo Boost to 3.50GHz Optional)

·       (7th Generation 2.8GHz Intel Core i7-7500U Processor with Turbo Boost to 3.5GHz Optional)

·       (7th Generation 2.8GHz Intel Core i7-7600U Processor with Turbo Boost to 3.90GHz Optional)

Intel HD Graphics 620

Memory & Storage
8GB of LPDDR3 RAM

·       (16 GB of RAM Optional)

256GB Solid State Drive

·       (512 GB SSD Optional)

Display
14-Inch 1920 x 1080p FHD Display with Touch

·       (2560 x 1440 OLED Display with Touch Optional)

·       (2560 x 1440 WQHD Display with Touch Optional)

Ports & Extras
·       2 Thunderbolt 3 Ports

·       2 Full-Size USB Type-A Ports

·       Mini Ethernet Port

·       1 HDMI Port

·       1 Micro-SD Card Reader

·       1 Headset Jack

·       Intel Dual-Band Wireless AC 8625 & Bluetooth 4.1

·       720P Web Camera

·       Fingerprint Reader

·       Retractable, Backlit, Spill Resistant Keyboard

(LTE Connectivity Optional)

Battery Life
15 Hours of Battery Life & Rapid Charging
Dimensions & Weight
13.11-inches x 9.02-inches x 0.69-inches

3.15-pounds

·       (2.99 -pounds with OLED Display)
2017 Lenovo ThinkPad X1 Yoga Review: Should You Buy?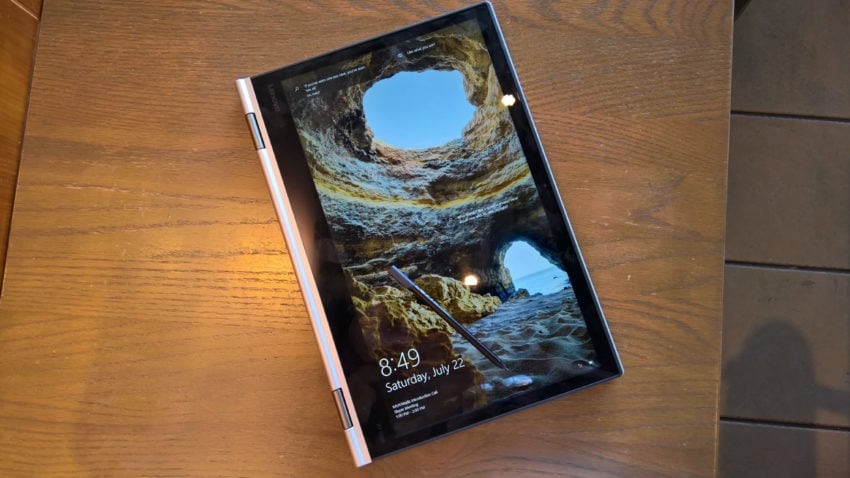 Lenovo's 2017 ThinkPad X1 Yoga is a solid Windows 2-in-1. Its durable frame can take a beating, and it has every port necessary to get you through your work day, even if one requires an adapter and the other is in an awkward place. The ThinkPad X1 Yoga lasts a long time between charges and gets back to a full battery quickly. You don't feel like you're going to accidentally flick a key off the keyboard either.
I only wish that Lenovo had found a better compromise that offered retractable keys and the same sensation that the ThinkPad X1 Carbon offered. The Wave Keyboard doesn't ruin the 2017 ThinkPad X1 Yoga, but it is a big enough change that long time ThinkPad users should try the keyboard out in a store before taking one home.
To be clear, Lenovo has a winner here, even with the keyboard.
[letsreview]