Lenovo Yoga 720 (12") Review: The Best for Less
For far too long, the most expensive laptops and tablets have captured our imagination. The Lenovo Yoga 720 (12") makes a good case for why some us should pay less attention to pricey computers with mid-range specs and more attention to wallet-friendly PCs that do exactly what we need them to do.
Don't mistake the Lenovo Yoga 720 (12") for an ultra-affordable PC. With a price tag of $629 at Best Buy, it's definitely not the least expensive Windows 2-in-1 that you can buy. This works to its advantage. It isn't ruined by a sub-par display or terrible touch experience and it looks just as good as Lenovo's more expensive laptops.
At the same time, it's nowhere near as expensive as other Windows 10 laptops that transform into tablets. To hit that lower price tag, Lenovo makes a few concessions, but none are too serious to call for avoiding this very reasonably priced device.
Lenovo Yoga 720 (12") Design & Internals
The front of the Yoga 720 (12")'s lid and base gently curve to meet each other. From the sides, it looks a lot like a binder. At 2.53 pounds it feels like you're carrying a binder too.
The lid, base and keyboard deck are all made of the same aluminum material that Lenovo uses in its more expensive devices. Despite that, Lenovo takes a step back from the bright colors and watchband designs its known for these days. The Yoga 720 (12") only comes in black or platinum. Neither color is as bold as the glass backs and Star Wars logos of the Yoga 920, but they both look professional, at least.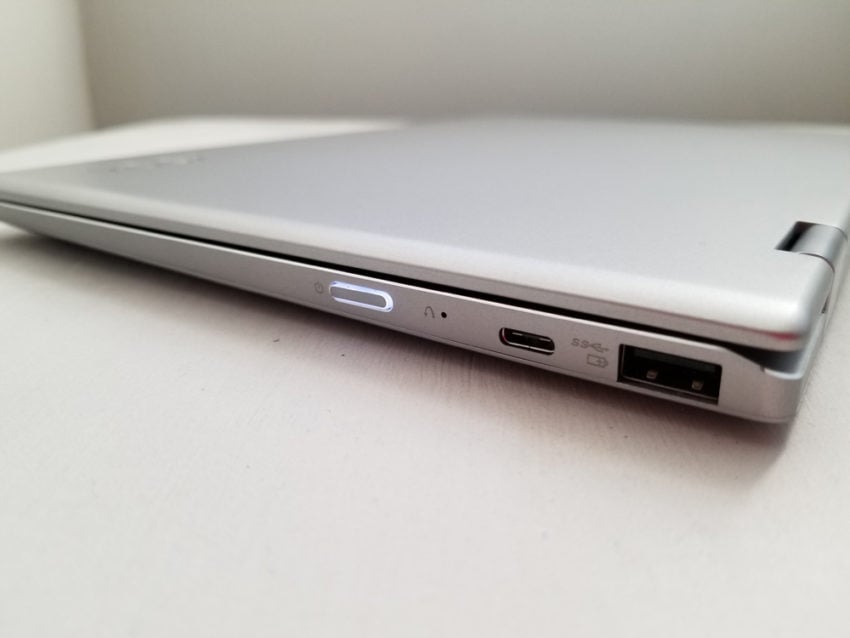 The Yoga 720 (12″)'s polished edges glisten in the daylight, which makes up for the two unexciting silver hinges that connect this laptop's two halves. You notice this effect around the spacious glass trackpad and a fingerprint reader that sit below the laptop's gray keyboard.
Internals
Intel's Core M processors allowed PC makers to create very thin laptops at the cost of performance. Lenovo aired on the side of performance with the Yoga 720 (12"). Inside is a 2.4Ghz Intel Core i3-7100U processor. Everything, from browsing the web to playing music in Spotify, is better with the more powerful processor. Just 4GB of RAM backs up the Core i3 processor in the least expensive configuration, so don't expect a terrific multitasking experience.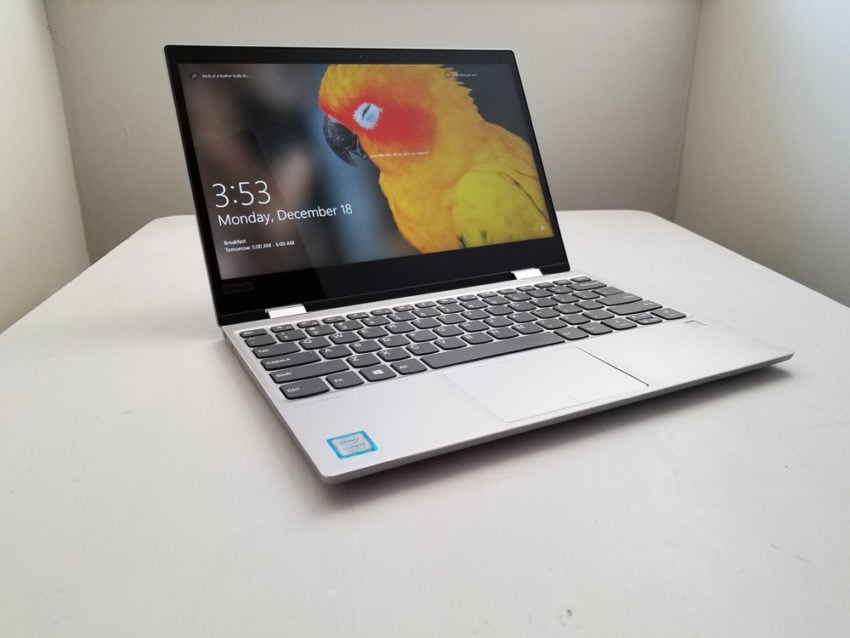 There is a 128GB solid-state drive inside the Yoga 720 (12"), which is enough to hold a modest music collection, a few movies and maybe a lightweight Xbox game from the Windows Store. It doesn't have an SD or MicroSD card slot. For music and video hoarders, this is a big problem, but I suspect it's just fine for the average user. Before you buy this laptop, make sure your files don't take up more space than 128GB. If they do, Windows 10 includes 5GB of OneDrive cloud storage. Also, its music, video and photos apps can see files stored on OneDrive and not on your PC.
Connectivity is limited. There's only a single full-size USB 3.0 port, headset jack and USB Type-C port on this notebook's edges. Plan on buying a USB Type-C adapter if you like to connect a display to your desktop setup.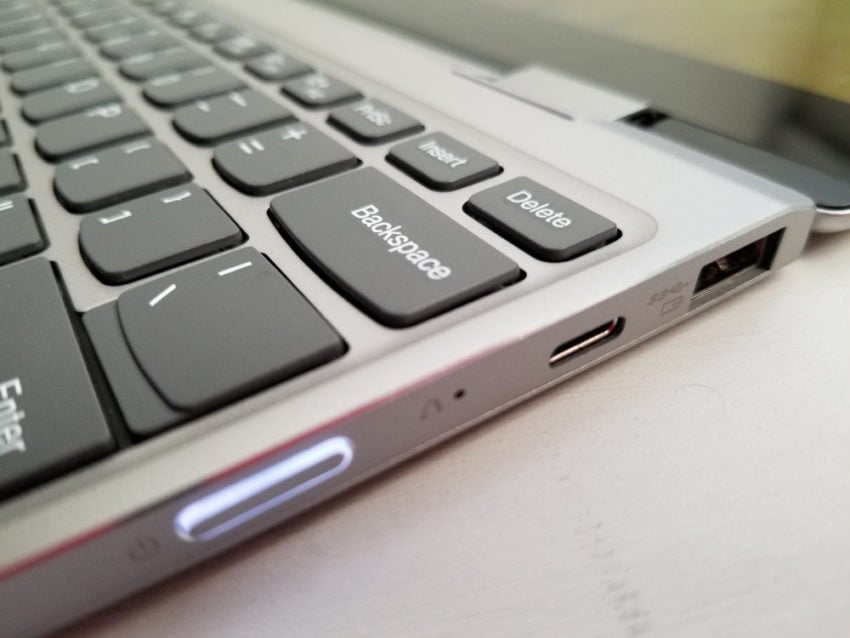 Despite new displays with ever-increasing detail, some screens are simply good enough. The 12.5-inch 1080p touchscreen inside the Lenovo Yoga 720 (12") is fine for enjoying your HD movie collection from iTunes, Amazon Video or YouTube. You don't get the extra detail you'd get from a 4K display, but you also miss out on the heavy battery drain that those displays cause. A glossy coating enhances the display's colors. Expect to see your hands reflected in the large bezel underneath the display because of that coating.
Two Harmon Kardon speakers on the Yoga 720 (12″)'s bottom provide sound for whatever you're watching on the laptop's solid display. Keep their Dolby simulated surround setting on and you've got a solid portable jukebox. Bass isn't great, but I've listened to far worse speakers on laptops this thin.
Lenovo Yoga 720 (12") Experience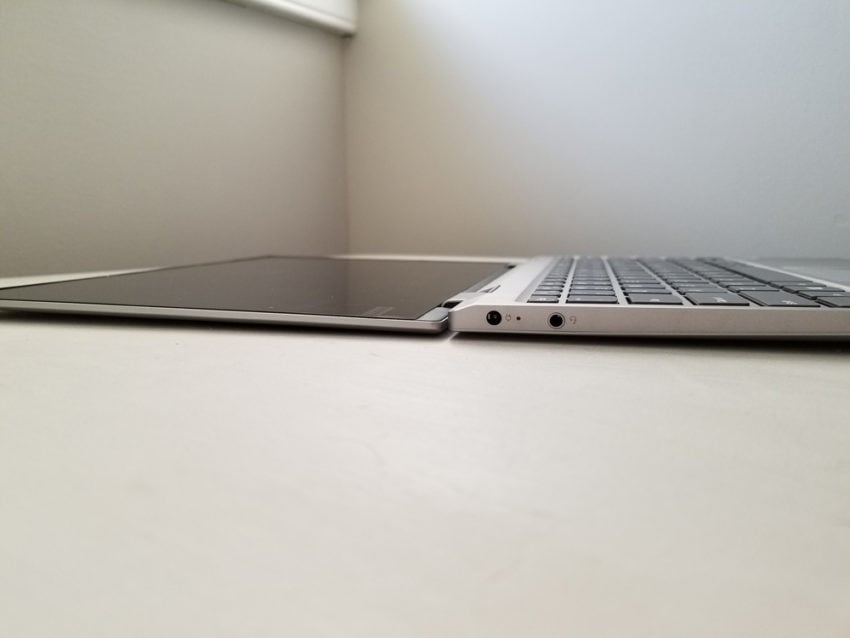 When buying a mid-range PC, it's always helpful to start with what you're missing by not spending more money.
The Yoga 720 (12") has a wonderful keyboard despite its thin frame. There's plenty of key travel and the matte texture makes it a bit harder for your fingers to slip onto the wrong key. Unfortunately, turning on a light or becoming a very good touch typist is the only way you will type on this PC in the dark. Its keys are not backlit.
Instead of a Windows Hello camera, Lenovo went with a Windows Hello fingerprint reader for fast logins. This laptop's fingerprint reader identifies you quickly, but it's also tiny. Expect to spend an extra few seconds trying to get your finger placement right before every login.
Finally, Lenovo has joined the list of Windows 10 hardware makers that require you to buy accessories for built-in functionality. The Yoga 720 (12″) derives its name from its ability to become a tablet by folding it in half. It works just fine with touch without spending more money, but you can't test out the laptop's 4,096 different levels of pressure as you take notes in OneNote and draw until you spend money on Lenovo's Active Pen 2 accessory. This digital pen costs $59.99.
Battery Life
By far, the biggest compromise you make when buying this laptop over more expensive notebooks is battery life.
Lenovo's estimates aren't far off; the laptop lasts around 6 hours on a single charge with real-world usage and the display bright enough to combat glare. That's enough to get through a few classes or extended working sessions, but not the entire day, which isn't awful on its own. It's only bad when you compare it to laptops and Windows 2-in-1s that cost just $100 or $200 more. They can last around 13 hours on a single charge.
All That's Good
I know it sounds like a lot there's not a lot to like about the Lenovo Yoga 720 (12"). But don't be discouraged; it has a lot going for it, too.
There are Windows 10 PCs in this price range that have horrid trackpads and a lot of touch delay. The Yoga 720 (12") doesn't. Both support all Windows 10's gestures for zooming in on pictures, switching apps and minimizing programs. There's very little delay between your gesture and when Windows 10 recognizes that gesture.
Performance
Second, the Yoga 720 (12")'s processor and RAM configuration lends itself well to everyday tasks. You won't open Microsoft Word and curse the day you purchased it. And you won't visit a flash-heavy website in Chrome and have it freeze. Windows Store apps and programs run well on it.
That being said, don't do all those things at once and not expect a little sluggishness and fan noise. It does have just 4GB of RAM and you notice that after opening seven tabs in Microsoft Edge and a few programs. Best Buy has a model with 8GB of RAM, but it costs $749.99, pushing you closer to high-end PC territory.
Tablet Mode
The Yoga 720 (12") Tablet Mode is solid. It also suffers from the same limitations that every PC with its form factor does.
Being that this is a convertible, I didn't expect the Tablet Mode to be amazing and it wasn't. The notebook is thinner than the average laptop, but it's still thick enough that it makes for a very awkward tablet experience. Also, the keyboard doesn't retract into the laptop's body. Instead, Windows 10 simply stops registering your keystrokes when you fold the display backward.
Whenever you're using tablet mode, be sure to avoid accidentally pressing the protruding power button on the laptop's side.
Lenovo Yoga 720 (12") Specifications
Processor & Graphics
7th Generation Intel Core i3-7100U Processor

Intel HD 620 Graphics

Memory & Storage
4GB of RAM

128GB SSD

Display
12.5-inch 1080p FHD display with Touch
Ports & Extras
1 USB 3.0 Type-C Port

1 USB 3.0 Type-A Port

Headphone Jack

Fingerprint Reader

720p Web Camera

Harman Speakers & Dolby Audio

Battery Life
7 Hours

8 Hours, According to Lenovo Benchmarks and Your Usage

Dimensions and Weight
11.53-Inches x 8.01-Inches x 0.62-Inches

2.53 Pounds
Should You Buy the Lenovo Yoga 720 (12")?
A solid mid-range PC doesn't need every feature more expensive PCs have. It needs the features and hardware that make the most impact. That the delicate balance that Lenovo manages with the Lenovo Yoga 720 (12").
For $629 you get a well-performing Intel Core i3 processor, a great display, a fingerprint reader and a USB Type-C port that allows you to add other ports if you really need them. That laptop feels like you spent more money than you really did and it's thin and light enough to get lost in your bag.
If you are looking for a Windows 10 laptop with solid performance and a reasonable price tag, add the Lenovo Yoga 720 (12") to your shortlist.
[letsreview]

As an Amazon Associate I earn from qualifying purchases.