Lenovo Yoga 920 (14″) Review
PC makers don't usually list "refinement" as one of the core reasons someone should buy their new PCs but Lenovo should consider doing so. The company's Yoga series was among the first to offer a solid laptop and tablet experience in one device and Lenovo has learned from its past mistakes with the Lenovo Yoga 920 (14″).
Available from Lenovo.com for $1,329.99, the Yoga 920 (14″) is a solid laptop that can also replace a tablet. Lenovo's engineers have changed the things that frustrated buyers of the Lenovo Yoga 910, like where its web camera is and how difficult it is to open the device's lid. On top of those things, the Yoga 920 (14″) has new hardware that really improves two of Windows 10's core features: drawing and Cortana. It also lasts a pretty long time on a single charge.
Lenovo Yoga 920 (14″) Design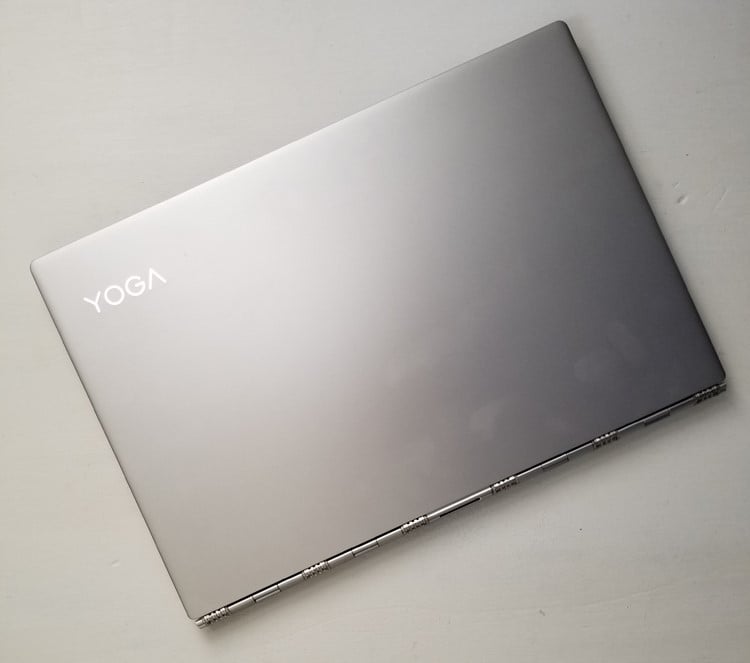 Lenovo hasn't changed what made its previous high-end Windows 10 2-in-1 such a great laptop: it is stunning design. The Yoga 920 (14″) is just 0.55-inches thick and weighs 3.02 pounds. It's made entirely of machined aluminum and you can choose whether you want it in bronze, silver or gold.
If you really crave a fresh, new look for the device, you can replace any model's aluminum lid with a black glass cover. Louis Aymonod's Vibes of Elegance design sits behind this glass and lends it some personality.
The keyboard deck and touchscreen of the Yoga 920 (14″) are held together by Lenovo's slick watchband hinge. Because of this hinge, you can lean the display forward, or fold it back to turn the device into a tablet. In notebook mode, there's almost no screen wobble as you type.
The Lenovo Yoga 920 (14″) does have all the ports you need, even if there aren't that many of them. There are two USB Type-C Thunderbolt 3 ports on the left edge of the notebook. These ports allow you to charge the laptop or connect hard drives and docking stations. Thunderbolt 3 ports also double as great ways to connect 4K displays. A headset jack sits just to the right of these ports.
A power button and a single full-size USB 3.0 port sit on the right edge of the notebook. Thanks to this port, you can continue to use your mice, keyboards, USB hub or printer without buying adapters for the Thunderbolt 2 ports. The Lenovo Yoga 920 (14″)'s power button is also on the right edge.
You can see evidence of Lenovo listening to fans without even opening this notebook. The front edge of the Yoga 910 was flush but there's a cut out on the Yoga 920 (14″) so that buyers can easily open it.
If you need further evidence of Lenovo listening to customers, open the notebook and look at the top edge of the aluminum lid. Lenovo has moved the web camera above the display. This web camera sits below the display on the Yoga 910 and it doesn't provide people on your video calls with the most flattering view of you.
Processor & Display
There are two display options for the Lenovo Yoga 920 (14″) and which you choose determines how much battery life you can expect. The 13.9-inch 920 x 1080p display is easier on the laptop's battery, getting you close to 13 hours on a single charge. The 13.9-inch 3840 x 2160 display brings battery life down to 10 hours but you can enjoy all your 4K movies and television shows from the Windows Store and Netflix without connecting to an external display.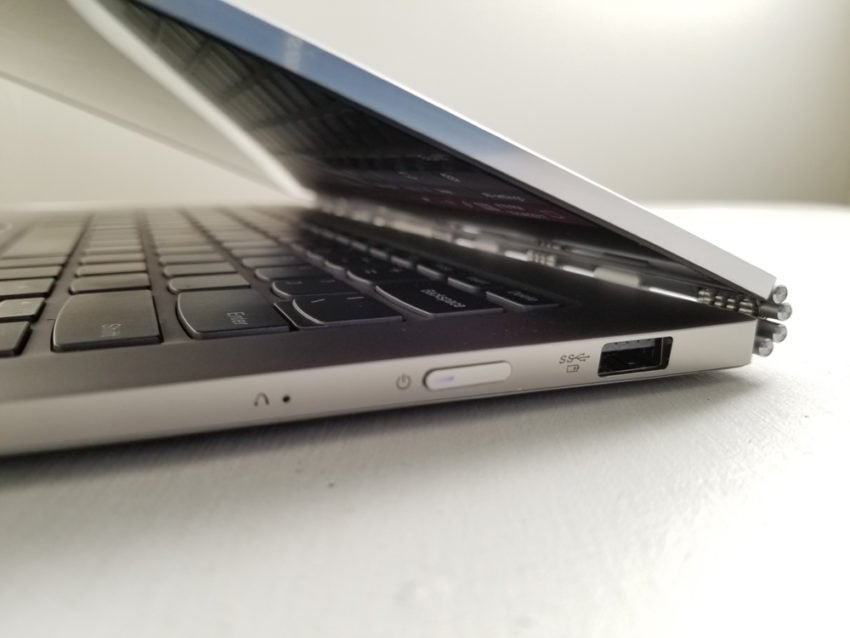 Each of these PCs uses Intel's 8th-Generation Core I processors. Expect apps and programs to load faster on this PC because these processors have four cores instead of two. Lenovo says that these new processors offer a forty percent performance boost compared to PCs with older processors. You can configure the Yoga 920 (14″) with up to an Intel Core i7 processor, 16GB of RAM and 1TB of storage online. Bluetooth is also built-in.
Gotta Be Mobile's review unit came with the Intel Core i7-8550U processor, 16GB of RAM and 512GB of storage.
Both the Intel Core i5 and Core i7 models have Intel's integrated graphics. That's to be expected, as the Yoga 920 (14″) is for people on the go that want a solid convertible. It's not meant to play Call of Duty WW2 at full resolution on.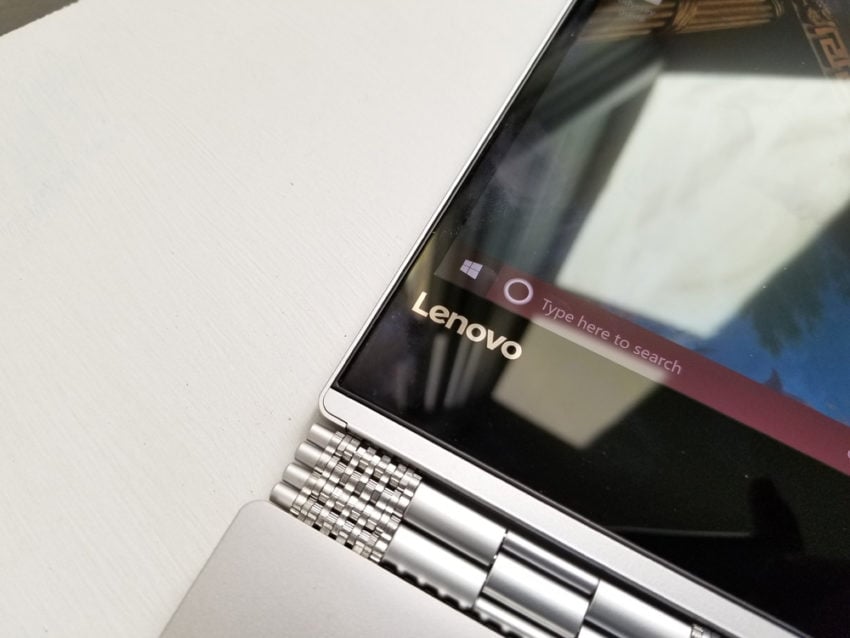 Everyone gets a Lenovo Active Pen 2 stylus, backlit keys and a fingerprint reader too. This fingerprint reader is Windows Hello ready, so you can use it to log into your PC with it and confirm your purchases from the Windows Store. This is the first time that a Yoga has supported a pressure sensitive pen. Wacom technology lets the Yoga 920 (14″) detect 4,096 different levels of pressure as you write with it in Sticky Notes and more.
Lenovo Yoga 920 (14″) Experience
Open the Yoga 920 (14″) and it's a notebook, but keep folding the screen back and it morphs into a tablet. In either mode, you can expect stellar battery life. The Lenovo Yoga 920 (14″) lasted through my entire 9-hour work day, every day.
Using the Yoga 920 (14″) as a Notebook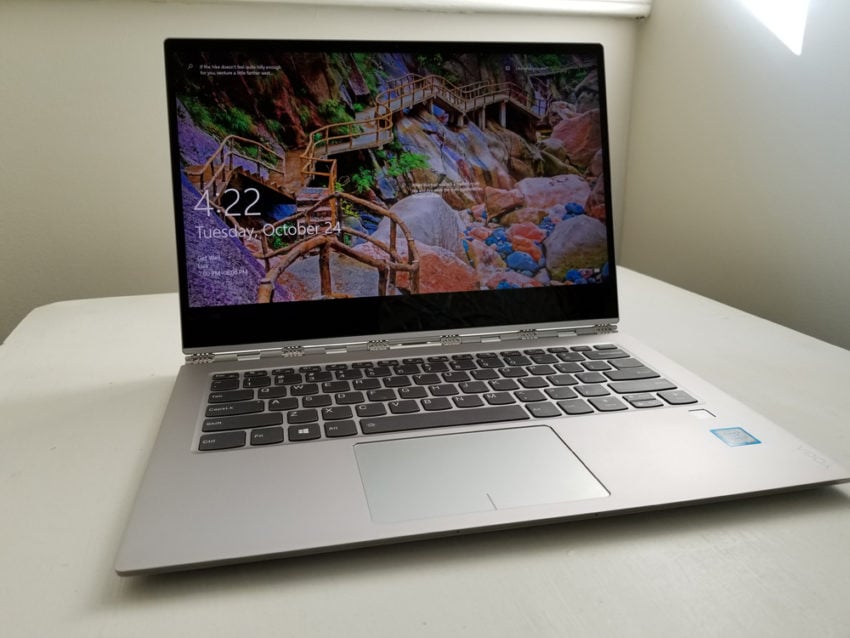 The Yoga 920 (14″) is a pretty good – almost exceptional notebook PC.
Performance is great. The quad-core Intel Core processors and RAM inside the notebook allow it to handle any task you need it to almost effortlessly. Having ten tabs in Microsoft Edge open doesn't drag down system performance. Demanding programs, like Adobe's Photoshop, run well. The Yoga 920 (14″) handled some light video editing and rendering just as easily as it did everything else.
I consider it "almost effortless" because this is a quad-core PC has a fan to help keep itself cool. Open too many tabs or browse a particularly flash heavy website and that fan kicks on. I don't consider the fan exceptionally loud, but you can hear it across a room.
No notebook is solid if it doesn't have a good keyboard and trackpad. The Yoga 920 (14″)'s trackpad is excellent. Every tap or swipe registers quickly. Multi-touch gestures from your phone work just fine with it. I really enjoyed pinching my fingers on the trackpad to zoom in on people in my pictures I didn't realize were in the background.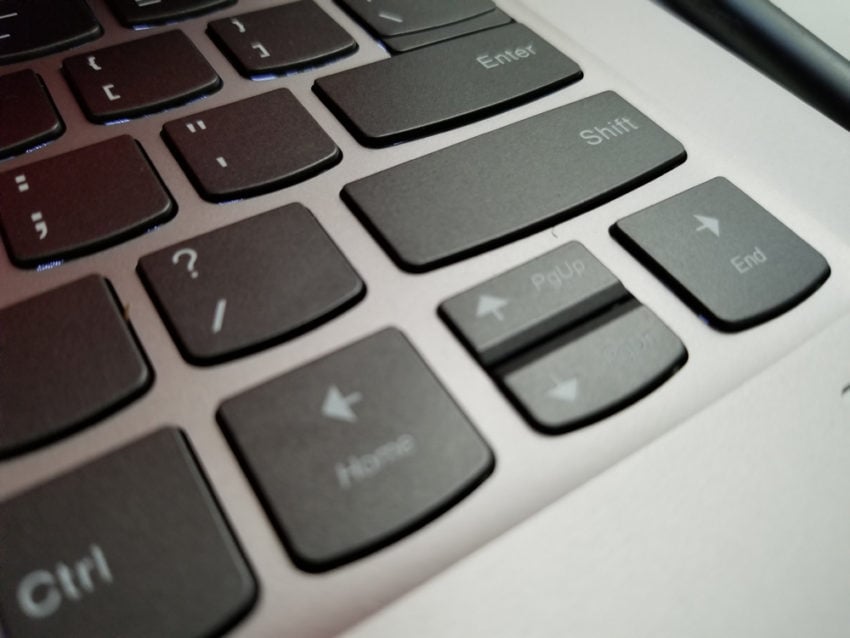 The keyboard is the one thing about the Yoga 920 (14″)'s notebook experience that feels out-of-place and unrefined. Lenovo increased the size of the shift key as users wanted, but each key still feels softer than it should. That each plastic keycap squeaks as you type on it doesn't help. The harder you push the machine, the more these plastic keys warm, making it slightly uncomfortable to type on.
Using the Yoga 920 (14″) as a Tablet
That this keyboard doesn't retract into the laptop's body to improve its tablet mode isn't great either. In Tablet Mode, your fingers rest on the keyboard deck. Luckily there are plenty of other things to say about the Yoga 920 (14″)'s Tablet experience and they're all good.
The 4K display is absolutely gorgeous, and the bezels that surround it on three sides are thin enough that they disappear as you watch videos. The bezel along the bottom edge is huge and it's a great place to grip the Yoga 920 (14″) as you read a book or browse the internet in portrait orientation.
I really enjoyed the Yoga 920 (14″)'s Any Pen 2 stylus and I'm happy that everyone who buys the notebook can experience. It's so sensitive and quick at communicating with Windows that it almost feels as if you're writing with a real pencil in OneNote. The lack of an eraser cap breaks the illusion, but a dedicated eraser button on the pen's barrel makes up for that a little. This is a very, very good pen.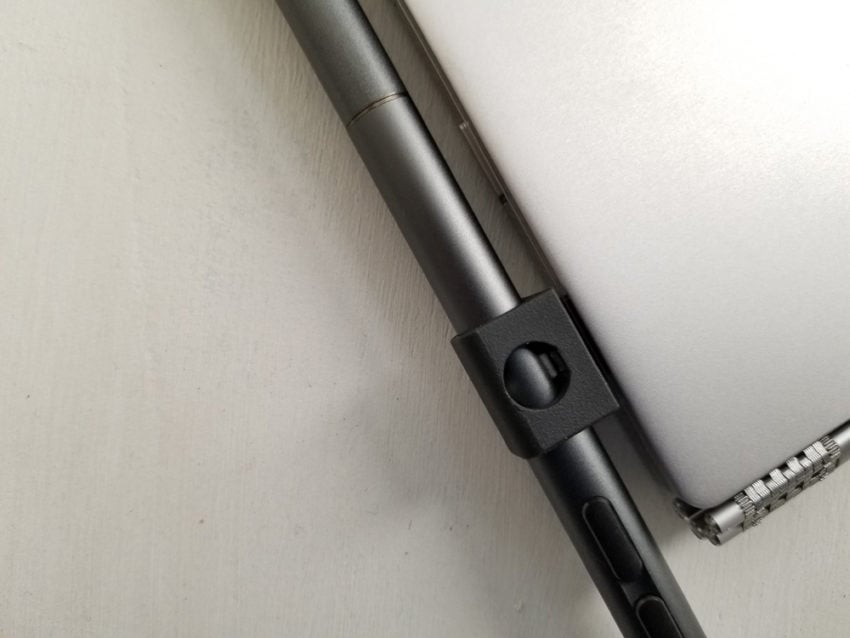 Just be sure to skip the terrible plastic holder that slots into the Yoga 920 (14″)'s USB 3.0 port. The connection between the port and the holder doesn't feel secure at all. Stick the pen in your pocket instead and rest easy knowing that you won't accidentally lose the $69.99 accessory in a coffee shop or in your bag.
Finally, the tablet's upgraded microphone array does allow Microsoft's Cortana personal assistant to hear you across a large room. This way you can give her commands and ask questions even when you're busy doing something else. The array always heard me, but Microsoft's services sometimes didn't connect me to the information I was looking for. That's a problem with Cortana though, not the PC itself.
Lenovo Yoga 920 (14″) Specs
Processor & Graphics
8th Generation Intel Core i7 Processor

Intel HD Graphics 620

(8th Generation Intel Core i5 Processor Optional)

Memory & Storage
8GB of RAM

512GB Solid State Drive Storage

(256GB, 512GB & 1TB of Storage Optional)

Display
13.9-Inch 3840 x 2160 Touch Display

13.9-Inch 1920 x 1080p FHD Touch Display

4,096 Levels of Pressure Sensitivity from Any Pen 2

Ports & Extras

2 USB 3.0 Thunderbolt 2 Ports
1 USB 3.0 Port
1 Headset Jack
MicroSD
720p Front-Facing Camera
Backlit Keyboard
2 JBL Speakers
Windows Hello Fingerprint Reader

Battery Life
10 Hours of Battery Life

(15 Hours of Battery Life FHD Display)

Dimensions & Weight
12.72-Inches x 8.8-Inches x 0.55-Inches

3.02 Pounds
Should You Buy the Lenovo Yoga 920 (14″)?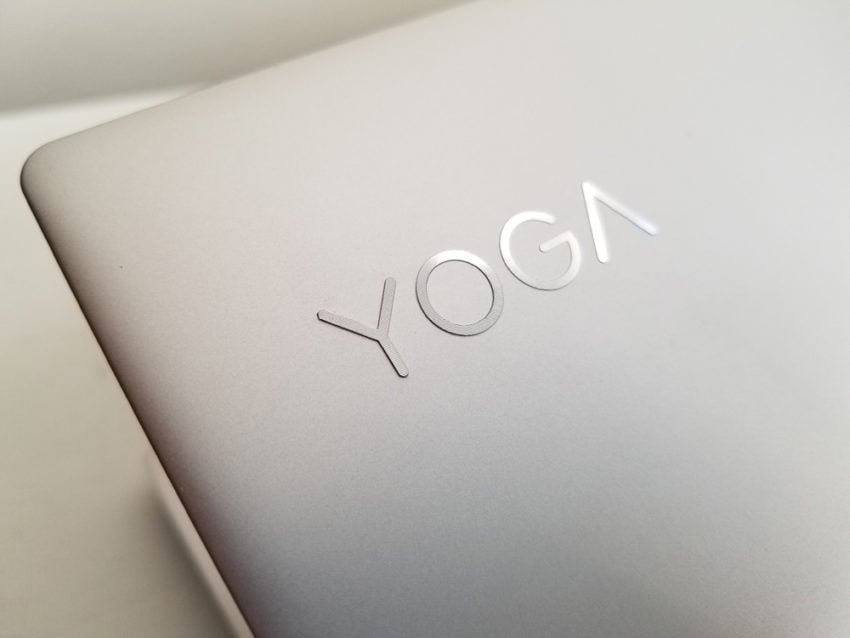 For now, the Lenovo Yoga 920 (14″) is best Windows 10 2-in-1 without a removable keyboard that you can buy. Lenovo only compromised on the keyboard experience. And most users would rather have a very thin and light Windows 2-in-1 with a decent keyboard and solid battery life than a very thick laptop that struggles to replace their tablet.
You can buy the Lenovo Yoga 920 (14″) knowing that you're getting a solid Windows 2-in-1.
[letsreview]

As an Amazon Associate I earn from qualifying purchases.