There are some LG G6 settings that everyone should change to make the phone better, easier to use and to customize the look of the phone. After using the phone we have the must know LG G6 tips and tricks that help you get more from your device.
It's easy to get lost in the LG G6 settings, but if you know what to look for, you will find out ways you can make your phone better without spending money on any LG G6 accessories.
Forget about reading the LG G6 manual to find out how to use your new phone and get more out of your LG G6 every day.
We change these LG G6 settings and we use these LG G6 features every day to get more done with our phone. If you use these LG G6 tips and tricks you will get the most out of your phone.
Switch to Google Keyboard
The Google Keyboard or Gboard, is a better keyboard for Android. This will allow you access to better auto correction and access to Google Search right from the keyboard.
Download Gboard free from Google Play and then follow the prompts to install and switch to it that the app walks you through.
Change Your LG G6 Theme
The LG G6 theme is something you can customize to match your phone color, tastes and even to make the phone easier to read with a high contrast theme.
Go to Settings and tap on the Display tab. Then tap on Theme and choose a new theme from the default options. You can also tap on the download button in the upper right corner to search for more LG G6 themes.
Change Your Hotspot Password
The default LG G6 hotspot password id hard to remember and actually not that secure. It's a very good idea to change it to something more secure and easier to share with family and friends.
Go to Settings and tap on the Networks tab. Tap on Tethering and then on the three dots next to Mobile Hotspot to change the hotspot name and password.
Change Your Default Browser to Chrome
The LG G6 comes with FireFox pre-installed on AT&T and it may be different on other networks as well. Firefox isn't a bad browser, but it isn't as good if you use Chrome on your computer.
Download Chrome from the Google Play Store and then tap to open it. When you do this, it will ask you to make the app the default browser for your LG G6.
Turn on WiFi Calling
The LG G6 supports WiFi calling, which allows you to place calls on WiFi when there is not a good cell phone signal. This uses your minutes, but with unlimited that doesn't matter much. Unless you are on a very restricted home WiFi network, this is an option most users should turn on.
Go to Settings and then the Networks tab. Toggle WiFi calling on. You will need to go through a short setup screen after the phone verifies that your account supports this. You may need to call and change account options to set this up, especially if you have switched your Sim card between multiple phones.
Set Up Ringtone ID
The LG G6 includes a cool Ringtone ID feature that automatically assigns specific ringtones to your contacts. You can set this up for your favorites only, contacts only, or all calls.
Go to Settings then the Sounds tab. Tap on Ringtone ID and turn it on. Then choose who to compose ringtones for. The phone automatically selects tones and you will start to hear them for each caller so you know who is calling without the need to manually set up a bunch of custom ringtones.
Customize the LG G6 Home Buttons
You can now set up custom LG G6 home buttons so that your home button row includes buttons in the order you want and includes buttons you use most often.
Go to Settings and then the Display tab. Tap on Home Touch Buttons and then on Button Combination. You can drag to re-arrange the existing buttons and you can add a Notification slide down, screenshot option or Qslide feature.
Change LG G6 App Scaling
The LG G6 display offers a new 18:9 resolution that some apps can take advantage of to show more information on the screen.
You can go to Settings and the Display tab. Now, tap on App Scaling and then on an app name. You can change the app resolution to Standard, Full Screen or Compatibility.
If you choose Full Screen (18:9) then you may not see all app content, so you may not want to make all of your apps Full Screen at this point.
Turn On the LG G6 Always On Display
The LG G6 includes an Always On Display option that can show you some notifications and a clock on the screen at all times.
Go to Settings and the Display tab. Then tap on Always On Display. You can turn this on from this screen and then customize the information that this shows. You can also set a daily timeout so it is not on all night.
Set Up LG G6 Smart Settings
The LG G6 includes a Smart Settings feature that can turn some items on or off based on your location or on activities like Bluetooth connections or headphones being plugged in.
Go to Settings and then the General tab. Tap on Smart Settings and then tap on one of the options on the screen. You can set options to change when you are at home, when you are away from home or when you plug in headphones or connect a Bluetooth device.
Once you tap on the smart setting choice, you can turn it on and set up the location and each of the options.
Set Up LG G6 Tap & Pay for Mobile Payments
The LG G6 supports NFC payments with Android Pay. This allows you to make mobile payments by tapping your phone to a credit card terminal.
Go to Settings and then the General tab. Now, tap on Tap & pay. Make sure Android Pay is the default. You can then go to the Android Pay app, which you may need to download from Google Play. Follow the setup options and go through the setup to add or verify card details.
Once this is setup, you can wake up your phone next to a credit card terminal, tap it on the payment symbol and then follow any on-screen instructions.
Knock to Wake LG G6
You can set up to LG G6 to wake up when you knock on it. This is on by default, so you just need to know how to use it.
Simply double tap on the LG G6 screen to wake it up. You can now see your notifications and then unlock the phone to access them all.
LG G6 Camera Tips
The LG G6 camera system offers a lot of options that can help you take better photos and even take better Instagram photos.
In the normal camera app, you can swipe down to switch from the front camera to the rear camera and back.
You can also use your fingers to pinch to zoom and quickly go from the wide angle to the normal camera without the jump that happens if you tap the icons at the top of the screen.
Tap on Mode to find new photo options including Panorama, 360 panorama, food, popout, Slo-Mo, timelapse, and Snap.
It's possible to turn on Cheese Shutter, which allows you to take a photo when someone says Cheese, Smile, Whiskey, Kimchi or LG. In the camera app, tap on the settings icon then toggle Cheese Shutter on.
Tap on the three circles in the options area to add live filters to your photos or videos. This allows you to see what the photo looks like with the filter on, instead of adding it later.
Open the Square Camera app to use the tall screen to take a square photo up top and see the photo you just took on the bottom half of the screen. This means you can take a photo for Instagram while also seeing if the photo you just took is what you wanted.
Use Google Assistant
The LG G6 comes with Google Assistant, an upgraded voice control, and personal assistant that you can use much like you may have used Google Now or Siri.
Press and hold the home button to launch Google Assistant, or say Ok Google.
You can then ask many different commands that allow you to look up information and to control your phone.
You can also tap in the search box on the LG G6 home screen to access Google Assistant, which will allow you to search and it will show you relevant stories and info.
Auto Backup Your LG G6 Photos
Don't forget to use this step to keep your LG G6 photos backed up and available on all of your devices. If you lose your phone or break it, having your LG G6 photos backed up will keep your memories safe.
Open the Google Photos app, tap on the three bars in the upper left. Then tap on Settings and on Back up & sync.
Make sure Back up & sync is on and then check the quality and the folders you are backing up.
20 Best LG G6 Cases
Spigen Rugged Armor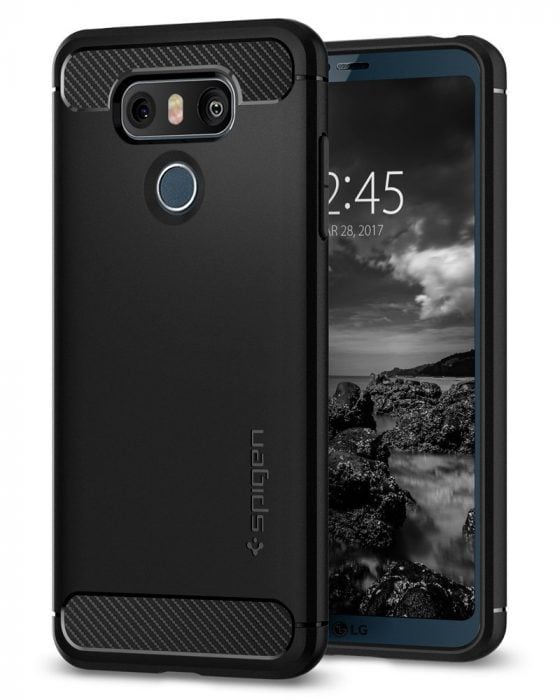 Spigen is a brand that needs no introduction as they offer cases for every phone released. One of my favorites is the Spigen Rugged Armor. It has a sleek design, two-tone finish with a textured grip on the top and bottom, and fits like a glove.
The company makes a wide assortment of cases, so we recommend choosing one that's right for you. They also come in a slew of colors, sizes, and with varying levels of protection.
With the Spigen Rugged Armor, you'll have a case that isn't too thick, but not too thin. They've added a resilient shock absorbing material to the inside edges for added drop protection. Additionally, the outside has a neat carbon fiber finish and glossy accents. This is one of Spigen's most popular cases.

As an Amazon Associate I earn from qualifying purchases.