MacBook Air Retina Release Possible For Holidays
With Intel at the ready, we could see a MacBook Air Retina release in time for the busy holiday shopping season. The long rumored MacBook Air Retina would combine a high-resolution screen like that found in the MacBook Pro Retina in the more portable and lightweight frame of a MacBook Air.
Apple announced a new MacBook Air this summer with a $100 price drop, but it was a minor update that did not include a Retina display.
This week Intel announced a new 14 nanometer package that the company claims will, "usher in a wave of innovation in new form factors, experiences and systems that are thinner and run silent and cool."
The most interesting part of this announcement is the timing for products that will use the new Intel processor. According to Intel, "The first systems based on the Intel® Core™ M processor will be on shelves for the holiday selling season," which means it is possible the MacBook Air Retina release could come in October or November ahead of a busy holiday shopping season.
Tim Cook continues to tell investors about an array of exciting products coming this year and with Intel ready it is likely that Apple will be one of the first companies in line to use the new chip, and the MacBook Air Retina is a good fit.
A report in late June outlined the chance for a MacBook Air Retina release later this year, with production for the new 12-inch Macbook Air Retina to start sometime in July, August or September.
In April, analyst Ming-Chi Kuo shared a timeline for new Apple products that includes a slimmer fan-free MacBook Air with a higher resolution display that is essentially the MacBook Air Retina.
Another report outlines the MacBook Air Retina specs for the display, including a 2,304 x, 1,440 resolution. That report from October 2013, may be correct with the resolution. NPD DisplaySearch correctly predicted the iPad 3 Retina display months ahead of the announcement, which gives this resolution rumor more backing.
In January Daniel Matte shares a possible MacBook Air Retina resolution on Forward Progress, using observations on the other Retina products that Apple sells. Matte suggests Apple will sell an 11.9-inch Macbook Air Retina with a 2,732 x 1,536 resolution. Matte explains his reasoning and how Apple may pull it off,
"It turns out that an ~11.9" Retina MacBook Air with a 2732 x 1536 resolution happens to have the exact same pixel density as the 9.7" 2048 x 1536 Retina iPads: ~264 PPI. It would make sense for Apple to take advantage of the same display technology it has been utilizing for the 9.7" iPads by cutting their panels to this larger size. I suspect a new 11.9" Air would be a redesign of the 11.6" model with smaller screen bezels."
It looks like Apple plans a busy fall with an iPhone 6 release in September and an event in October for the iPad Air 2 and iPad mini 3. We could also see the iWatch at this October event, and unless Apple plans to make a MacBook Air Retina release a major surprise or deems it worthy of its own event we could see it in October as well.
While Apple does not typically share the stage with the iPhone, the iPad events are more likely to include new hardware. This could also be where we see the official OS X Yosemite release, if Apple does not detail that in September.
Top 7 Apple Products for 2014: iPhone 6, iPad Air 2 & More
iPhone 6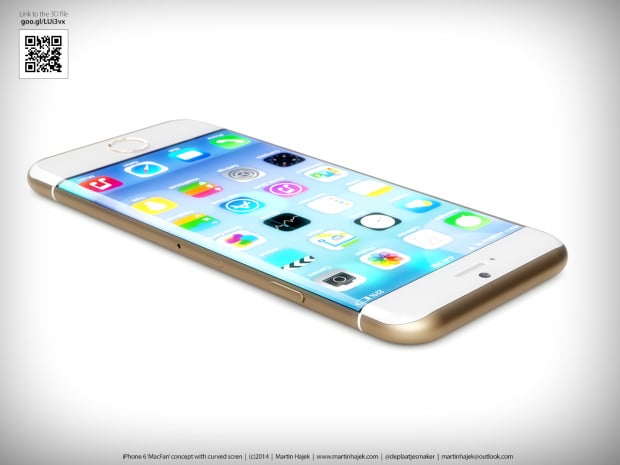 Demand for the iPhone 6 is the highest in years according to a recent survey, thanks to consumer interest in a new design and a larger screen.
iPhone 6 rumors started back in 2012, exploded in 2013 and as we move within six months of a rumored iPhone 6 release the rumors are starting to align and show a better picture of what consumers can expect from the most anticipated Apple product of 2014.

Two Models with Bigger Screens

iPhone 6 rumors, reports and analyst notes all point to an iPhone with a larger screen and many of the reports suggest Apple is planning to release two iPhone 6 models in 2014.

General consensus is Apple plans to offer an iPhone 6 with a 4.7-inch display and a higher resolution than the iPhone 5s. That is a screen size jump of .7-inch and would put the iPhone in line with top Android phones like the HTC One M8 and the Galaxy S5. Rumors do not agree on a resolution for this display, but do expect that it will be higher than the 1136 x 640 resolution on the iPhone 5s.

Another iPhone 6 model with a 5.5-inch or 5.7-inch display is also rumored for 2014, but many sources agree that it will arrive after the 4.7-inch model. This screen would be closer in size to the Galaxy Note 3 and the rumored Galaxy Note 4. This concept above from Martin Hajek includes a curved display, but don't expect that on a new device.

Possible iPhone 6 Features & Specs

Rumors suggest Apple is planning a thinner iPhone 6 that will be between 6mm and 7mm thick, a drop form 7.6mm on the iPhone 5s. We could also see more metal in the design and a power button on the right hand side with new style volume buttons on the left.

Expect an Apple A8 processor that delivers a small speed boost, but also delivers better battery life thanks to a improved efficiency. Ming-Chi Kuo believes we will see 1GB of RAM and an 8MP camera that may include some type of image stabilization.

For more check out our iPhone 6 Rumor Roundup.