Madden 16: 5 New Details Gamers Need to Know
The new Madden 16 gameplay trailer from E3 highlights new Madden 16 features that will come to the Xbox One and PS4 in 2015.
Madden took a backseat to FIFA 16 at E3 2015, but we finally get a better look at the important new Madden 16 features that will change the gameplay this year and offer a reason to upgrade for many gamers.
EA finally took the covers off of what will set Madden 16 apart from Madden 15 that is now free with an EA Access subscription, and gamers can enjoy a major upgrade to offense and defense when it comes to passing, catching and defending against the pass.
While the Madden 16 gameplay trailer from E3 2015 focuses on Odell Beckahm Jr., the Madden 16 cover athlete, the new Madden is about more than just pulling off insane catches.
EA wants to take the training mode from Madden 15 and bring it into the actual game so that you know how to play better without spending hours in training. Part of this new training will show you different options to choose and buttons to press while you play regular Madden 16 games. Ideally, these tips will make you a better player in the game anytime you play.
We also get a new look at the Madden 16 Draft Champions mode that mixes Fantasy Football and Madden Ultimate Team to deliver fast paced fun for Fantasy Football addicts.
The Madden 16 release date arrives on August 25th for PS4, Xbox One, PS3 and Xbox 360, but not all features will make it into the versions on the older console. EA confirmed an early Madden 16 release date on Xbox One for EA Access members and we already know of one amazing Madden 16 deal.
Here's what you need to know about the new Madden 16 features, gameplay and other details announced at E3 2015.
Madden 16: 5 New Details Gamers Need to Know
Madden 16 Gameplay Trailer at E3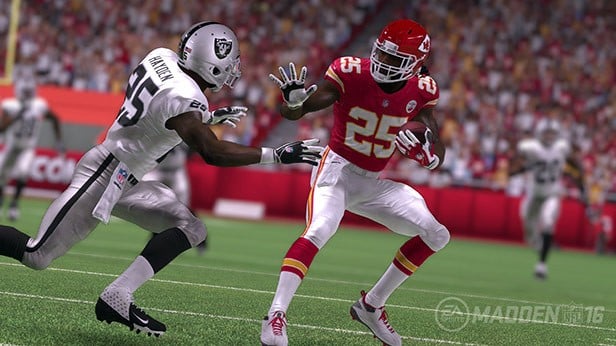 The Madden 16 gameplay trailer from E3 2015 uses in-game footage, but sticks to showing off the replay-like cinematic in-game engine style of gameplay that leaves many gamers wanting more.
The Packers vs Giants game shown in the Madden 16 E3 trailer delivers a look at some of the new gameplay, but the biggest highlight is the new Air Supremacy that includes more spectacular catches.
Without a full game to watch just yet, there is plenty of missing Madden 16 gameplay that we want to see. Very often we will see this come in the next day or two as EA shows off the new Madden to journalists and lets us play an early version of the game.

As an Amazon Associate I earn from qualifying purchases.