Madden 16 Release Date: 10 Things Buyers Need to Know
EA's Madden 16 release date is so close we can taste the digital pigskin and feel the bone-crunching tackles. This is what you can expect on the Madden 16 release date and what buyers need to know about getting the best deals and other tips to make the most of your release.
In just a few days the new Madden release date arrives on multiple platforms and there is an option to play Madden 16 early on Xbox One — but there is no longer an option to play on Xbox 360 or PS3.
There is no need to pre-order Madden 16 to pick it up on release day, unless you want a special edition, but if you do pre-order you'll get special bonus items to outfit your Madden Ultimate Team. There are also a few deals that can help you save $10 or more when you pre-order Madden.
[contextly_sidebar id="gesgmtkm6qDZshcEqnv5KAjOzslbgbPj"]
This guide will walk you through what you need to know about the Madden 16 release date, what's new in Madden 16, the best teams and highest ranked Madden 16 players.
Madden 16 Release Date
The Madden 16 release date is August 25th on disk and digital. While there are reasons to pre-order Madden 16 you will be able to walk into any store that sells video games and buy the new Madden on release day.
If you pre-order Madden 16 you get free Madden Ultimate Team packages and if you buy it at GameStop you also get a $15 Live Nation voucher.
You can pre-order Madden 16 online at Amazon, Best Buy or GameStop and can choose in-store pickup from the latter two companies.
Play Madden 16 Early
Last year EA still allowed users on Xbox 360 and PS3 to play the new Madden early, but this is no longer an option.
If you own an Xbox One you can play Madden 16 early with EA Access. This is a subscription service that includes early access to trials of new EA games like Madden 16 and FIFA 16 as well as a vault of a dozen older EA games.
All these games are the full version. The Madden 16 trial is limited to 10 hours, but the older games like Titanfall and Battlefield come with no limits.
If you don't have a Xbox One, you can walk into a GameStop and play the game early at any location.
Madden 16 Deluxe Edition
EA offers two versions of Madden 16 at $59.99 and $69.99. The normal version of Madden 16 is $59.99 and includes some pre-order bonuses but no real extra content.
The Madden 16 Deluxe Edition is the new version of the Ultimate Edition that is $10 more and it includes $50 in added value. If you play Madden Ultimate Team, this is the version you want to buy.
For the $10 increase in price you get;
36 Madden Ultimate Team Pro Packs
Playmaker Pack
This includes three packs a week after the first week to help you build a better team. You need to log in each week to get the full value. Here's a closer look at if the Madden 16 Deluxe Edition is worth buying.
Madden 16 Deals
There are plenty of Madden 16 deals around that allow you to upgrade to Madden 16 for as low as $8 if you have a trade-in and a Gamers Club Unlocked membership. If you don't want to buy from Best Buy, you can still save at least $10 on the game from popular retailers.
The Best Buy Madden 16 deal for regular users drops the total price of Madden 16 to $19.99 if you trade in Madden 15 on Xbox One or PS4 or $24.99 if you trade in a Xbox 360 or PS3 version.
Madden 16 Deal for All
Madden 16 $59.99
Madden 15 Trade In – $20 Credit
Madden 15 Trade In Coupon – $10 Coupon
Madden 16 Pre-Order Bonus – $10 Rewards
Total Price of Madden 16 Deal $19.99
Madden 16 Deal for Gamers Club Unlocked Members
Madden 16 $59.99
Madden 15 Trade In Coupon – $10 Coupon
Gamer's Club Unlocked  – $10
Madden 15 Trade In – $22 Credit
Madden 16 Pre-Order Bonus – $10 Rewards
Total Price of Madden 16 Deal $7.99
If you do this same deal with a Gamers Club Unlocked Membership the price you pay after all discounts drops to $7.99. The Deluxe Edition is $29.99 or $15.99 in those same scenarios. Even without a trade-in, you can get a $10 reward certificate when you pre-order.
https://www.youtube.com/watch?v=3eVF9uBbuqc
An Amazon Madden 16 deal offers almost $10 off the game for Amazon Prime Members. When you add Madden 16 to your cart on Amazon you'll see Prime Savings that drop the price to $49.99 for the regular version.
The Microsoft Store online offers a $10 Xbox gift card digital code within 10 days of the release date.
Midnight Madden 16 Release Date Events
If you want to play Madden 16 right away, there are two major retailers opening up late to sell Madden 16 as soon as legally possible.
Most GameStop stores are open at 12:01 AM Eastern and a good number of Best Buy locations will open up for the Madden 16 release date. If you are in another time zone, you can buy Madden 16 as soon as midnight Eastern arrives.
Eastern Time – 12:01 AM on 8/25
Central Time – 11:01 PM on 8/24
Mountain Time – 10:01 PM on 8/24
Pacific Time – 9:01 PM on 8/24
Check to see if GameStop store near you are open for this event and to see if a Best Buy store is open for you.
No Madden 16 Demo
@WordSmith317 No demo this year. But if you have an XBox One you can get it 5 days early on #EAAccess

— EA SPORTS Madden NFL (@EAMaddenNFL) August 12, 2015
One major annoyance to gamers is that there is no Madden 16 demo. For the second year in a row EA does not offer a way to play a limited version of the game. The only way to play Madden 16 early is to go to a GameStop or to play on EA Access on Xbox One.
Madden 16 Digital Downloads
You can choose to buy Madden 16 digitally for Xbox One, PS4, Xbox 360 and PS3 at the same price as a disk. This includes an option to pre-load, or download the game early, so you can play right at midnight.
The digital version of the game is available now on all platforms and will allow users to play at 12:01 AM Eastern and at the same corresponding time in other timezones.
If you buy the Xbox One Madden 16 Bundle it includes a digital copy of the game.
Madden 16 Gameplay Videos
After playing through Madden 16 on the Xbox One we recorded a collection of Madden 16 gameplay videos that highlight many of the new Madden 16 features.
If you want to see full games of Madden 16 or highlights of the new Madden 16 modes like Draft Champions watch the video below and our round up of must see Madden 16 gameplay videos.
Best Madden 16 Teams and Players
As you prepare to play Madden 16 you can take a look at the best Madden 16 players and the best Madden 16 teams to pick who you will use to beat friends an online opponents.
Of course there is a good chance you will stick with your favorite NFL team, but that's something you may want to change up in the game after major changes in ratings.
Keep in mind that there are separate ratings for players in Madden Ultimate Team based on the cards you collect and earn.
Madden 16 vs Madden 15: What's New
Is it worth upgrading from Madden 15 to Madden 16? After playing through the early access option on Xbox One, we identified 10 changes that deliver a better experience and in make the upgrade worthwhile. Check out these new features and options in the slides below.
Madden 16 vs Madden 15: 10 Key Differences
Madden 16 Catch Upgrades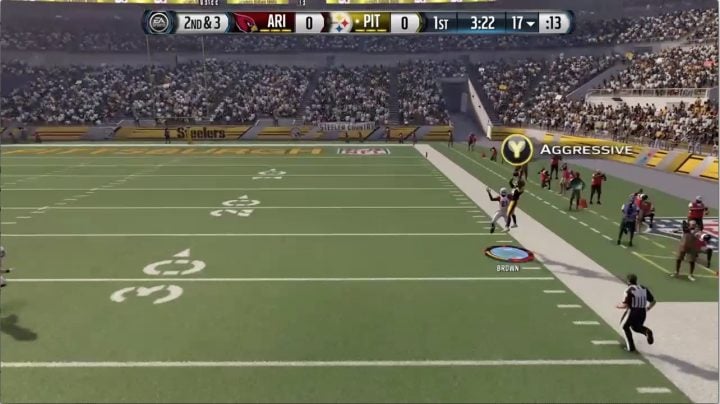 In Madden 15 catching the ball is a one choice option that either happens or doesn't -- and if you are lucky when you catch it you can still pick up some yards. The receiver doesn't play very differently from one situation to another.
In Madden 16 you can choose to catch the ball with an Aggressive Catch, a Run After Catch or a Possession Catch. This allows you to pick the right catch for the situation.
If it's a long bomb where you need to go high, you can control the receiver and go up to grab that ball for a spectacular to watch catch. Unfortunately if you are near the sideline you might end up out-of-bounds and the odds are good you won't pick up any more yards if you use this in the middle of the field.
The RAC option positions the receiver to add to the yards by catching with a focus on picking up more yards. This is perfect when throwing to a receiver that needs to pick up three or more yards after the catch to get the first down.
Other times you just need to make a catch so that you can get the first down or keep the clock running. The Possession catch option delivers a catch that you are more likely to hold on to, but you might not get any added yards and if there is a lot of pressure you may miss out.
You can control all of these after the throw and it actually works really well.