Midnight Black Ops 3 Release Date: 5 Things to Know
The Call of Duty: Black Ops 3 release date is a just over a month away and we are finally getting confirmation of midnight Black Ops 3 release date events that gamers can go to to get the new Call of Duty game as soon as possible.
So far there is only one confirmed midnight Call of Duty: Black Ops 3 release date event, but there are a lot of locations you can go to if you want to be among the first regular gamers to play Black Ops 3.
If you already pre-ordered Black Ops 3 to get into the beta, you shouldn't necessarily cancel and switch stores just yet.
The Call of Duty: Black Ops 3 release date is November 6th, which is an oddity in itself. This is a Friday release, so the midnight Black Ops 3 release events are actually taking place on Thursday and on early Friday morning. Most games come out on a Tuesday.
Expect to see a variety of special events for the game, possibly include a Double XP weekend to kick off the release and make it easier to level up faster in the game. Users can unlock additional players and weapons by leveling up, so if you want a better experience there is an incentive to use these special events to unlock upgrades.
Here's a quick look at the important details surrounding the Black Ops 3 midnight release events.
Midnight Black Ops 3 Release Date Events
At this point Best Buy confirmed that they will host a Call of Duty: Black Ops 3 midnight release date event at many locations. The company confirmed that select stores will open on Thursday and Friday to sell the new Call of Duty game.
Not Every Store Is Open
Before you make plans to go to your local Best Buy for the midnight Black Ops 3 release date event, you should use this tool to see if your store is going to be open.
Most of the participating locations are in larger cities, and not every store is open. If you pre-ordered the game for in store pickup, you may need to switch to a different Best Buy.
Not All Events Are at Midnight
The last time you stood in line for a new game a midnight release might actually take place at midnight, but that isn't always the case anymore.
Shoppers in the Eastern time zone will need to wait for 12:01 AM on November 6th, but other users can buy the game at the second the clock hits 12:01 AM Eastern.
This means Best Buy locations in Pacific, Mountain and Central can play at the following times;
9:01 p.m. PT
10:01 p.m. MT
11:01 p.m. CT
These are on Thursday, not on Friday November 6th.
Expect More Black Ops 3 Release Events
The odds are very good that other stores will announce midnight Call of Duty: Black Ops 3 release date events in the coming month.
GameStop typically announces these events much closer to the release date for the game and the great news is that typically more GameStop locations host events.
In smaller Best Buy markets where the store doesn't stay open, we typically still see at least one GameStop open for the event.
Midnight Digital Call of Duty: Black Ops 3 Release
If you want to be one of the first to play, but you cannot go to an event in person, or simply want to play as soon as the game comes out without driving home, you can buy Call of Duty: Black Ops 3 digitally and start playing at 12:01 AM Eastern.
When you buy the digital Black Ops 3 release for Xbox One or PS4 you can download the game before the release date so that you can start playing as soon as the clock hits 12:01 AM Eastern on November 6th.
Black Ops 3 vs Advanced Warfare: 10 Key Differences
Black Ops 3 Specialists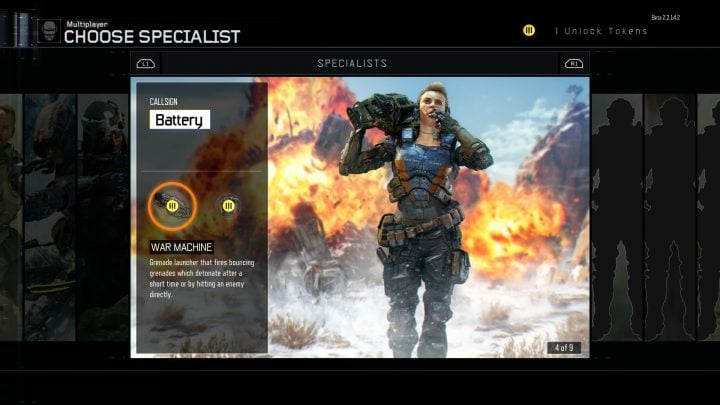 One of the biggest differences between Black Ops 3 and Advanced Warfare is the addition of Specialists in Black Ops 3.
In Advanced Warfare, you choose a stock character. The person you select doesn't impact how you play the game though. You look like the person and that's it. There are no advantages or disadvantages to Advanced Warfare's characters.
This is not the case in Black Ops 3. In Black Ops 3, you select from a set group of characters called Specialists. Each Specialist comes with their own personality and more importantly, their own set of unique weapons and perks. As a reminder, here are a few of the Black Ops 3 specialists:
Battery: Battery operates ahead of the front lines. Her War Machine fires salvos of bouncing grenades, while her Kinetic Armor can deflect enemy bullets when active… though she remains vulnerable to headshots and non-bullet damage.
Ruin: A reckless infantry soldier who prefers to surprise his enemies. He rushes into battle with his Overdrive ability, and can deliver a devastating shockwave with his Gravity Spikes.
Outrider: A hunter-tracker who stalks her prey from afar before moving in for the kill. Use her Vision Pulse ability to reveal the location of nearby enemies or her Sparrow compound bow with its deadly explosive bolts.
Prophet: Prefers to disrupt opponents' tactics before moving in for the kill. His Tempest is a charge-shot weapon that delivers chain electricity to all nearby enemies. He can confuse enemies with his Glitch ability, which flashes him back to a previous position.
Seraph: Known for extreme focus and discipline in combat. Her high-caliber Annihilator revolver fires powerful rounds with increased bullet penetration taking out enemies with one shot. She's also able to earn Scorestreaks more quickly using her Combat Focus ability, which triggers a brief bonus multiplier.
Nomad: Prefers to turn the environment against his enemies. Case in point: His H.I.V.E. weapon, which deploys trap pods filled with deadly nano-drones. When near death, Nomad can recover using his Rejack ability.
Coming from Advanced Warfare, this new setup will take a bit of an adjustment and you'll need to unlock and play with different specialists and different weapons/perks before settling on one that you like. For instance, Battery and her Kinetic Armor are great for taking points in Domination.
There will be nine specialists available in Black Ops 3 though only six were available in the Black Ops 3 beta on Xbox One, PS4, and PC.

This article may contain affiliate links. Click here for more details.