Minecraft Marketplace: 5 Things to Know Before You Shop
Minecraft is a gamer's creative paradise. We already knew that Mojang and its partner studios planned to enhance this reputation a bit with new blocks for creating and Llamas in an upcoming upgrade. Today we're learning more about the other things launching around the time of the Minecraft Discovery Update. Minecraft Marketplace will make it easier for everyone to discover new projects and make money from selling things that they've created themselves.
Mojang describes Minecraft Marketplace as a way to find new creations and put money in the pockets of your favorite Minecraft creators in a recent blog post. That's exactly what it is too, though things will seem a bit confusing for anyone that's grown used to App Stores or how in-game content in Minecraft works today.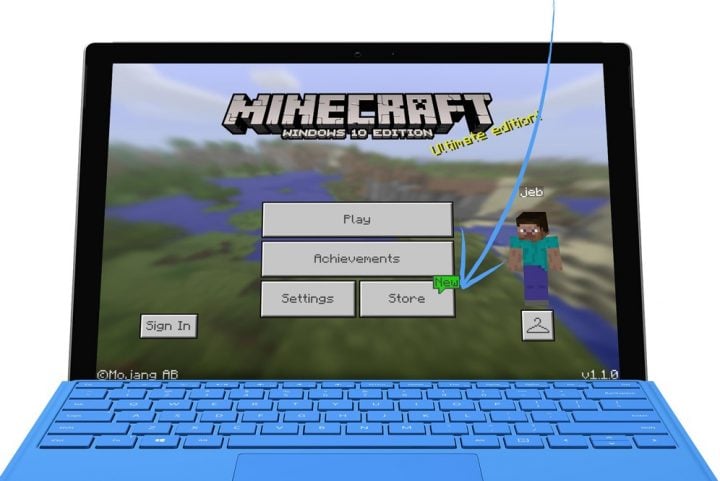 Read: Minecraft Discovery Update Release Date & Details
Here are 5 things that you need to know before you shop in the Minecraft Marketplace through the different editions of Minecraft.
What is Minecraft Marketplace?
Since its debut, Minecraft has thrived on the creativity of its users. Plenty of people enjoy building houses and barriers to keep away Creepers at nightfall, but it's the Sandbox Mode that draws gamers of all ages in. Together players have created mockups of the Enterprise-D from Star Trek: The Next Generation. They've designed game modes within the sandbox experience to give their multiplayer experience some variety.
At a high-level, Minecraft Marketplace isn't that much different from the app store on a smartphone. It allows Minecraft creators to package up the things they make and sell them to other people easily. Forget downloading save files, Minecraft Marketplace will handle all that itself. The Minecraft Marketplace will appear as a button on the same screen that showcases the game's different modes.
What Are Minecraft Coins?
So how will gamers pay for things in Minecraft Marketplace? That's what separates this new store from how skins have worked in the past. Mojang has come up with its own currency for the online service. Minecraft Coins will be available in $1.99, $4.99 and $9.99 packs, according to a screenshot provided by Mojang with the Minecraft Marketplace announcement. $1.99 gets Minecraft lovers 320 Minecraft Coins in the iTunes App Store, Google Play Store and Windows Store.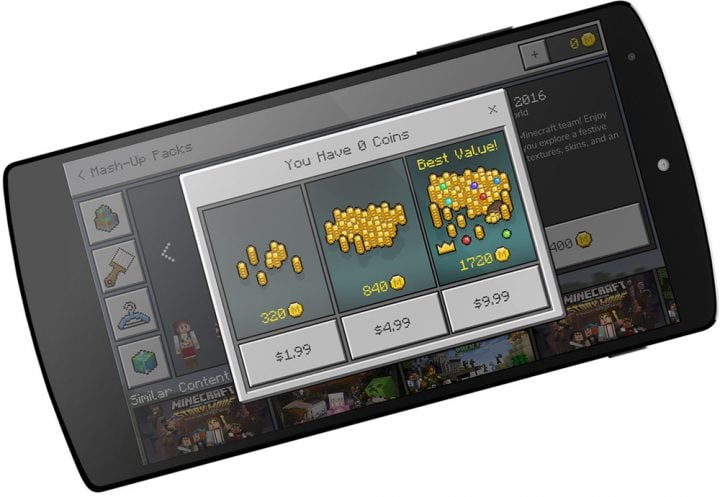 Read: Minecraft Windows 10 Edition: What You Need to Know
Entire Minecraft worlds will sell for as little as 960 Minecraft Coins. We know that much from a screenshot provided by Mojang. That's around $6 in real-world currency. Some free-to-play games offer ways to earn currency without spending real-world money, but Minecraft won't, it seems. That's probably because games that offer ways to earn in-game currency are free. Minecraft isn't free on any platform.
What Parents Need to Know about Minecraft Marketplace
Mojang says that it's introducing the Minecraft Marketplace to give users a safer place to download everyone else's creations. The move makes sense for gamers of all ages, but it's specifically friendly for younger gamers. Now they have a way to get the latest popular creations without resorting to downloading files and learning how to add them to the version of Minecraft on PC and Mac. Because Minecraft Marketplace will be curated, unsightly creations and anything not appropriate should be caught before it ever makes it to their device.
Parents should be able to stop their kids from purchasing Minecraft Coins for the Minecraft Marketplace by blocking them from using in-app and in-game purchases.
Read: How to Turn Off In-App Purchases on the iPhone
Minecraft Marketplace is set to debut on just two of the most popular versions of the game, Minecraft Pocket Edition for iPhone and Minecraft Pocket Edition for Android. Minecraft Windows 10 Edition will get the feature too. Parents won't have to purchase the same items for every version of the game that their kids use. If it's one of these three, purchases will apply to them all.
What Can I Buy on Minecraft Marketplace?
Entire worlds will be available as downloads through the Minecraft Marketplace. Additionally, skins, texture packs and mini-games will be downloadable too. These are all things that gamers could download over the internet before. However, doing so could have put their PC at risk of getting infected by a virus or malware. Mojang says users can still download stuff from the internet on versions of Minecraft that support it.
Read: iPhone, Android & Xbox Minecraft Mods: What to Know
Noxcrew, BlockWorks, Qqertyuiop The Pie, Blockception, Sphax, Eneija Silverleaf, Imagiverse, Polymaps and Razzleberry Fox will have their stuff in Minecraft Marketplace. Anyone can sell things in the store provided they have a business, Mojang says. An Xbox Live account will be required for purchases to sync between devices. Don't worry, Xbox Live accounts are free for anyone that wants one.
Minecraft Marketplace Release Date
We know that Mojang plans to include Minecraft Marketplace in the Minecraft Discovery Update. That's the same upgrade for Pocket Edition and Windows that it detailed a few weeks ago. Gamers can expect the new feature to roll out in phases.
A beta for Minecraft Pocket Edition on Android will arrive in "mid-April." That beta will have Minecraft Coins but gamers won't be able to purchase anything from the community creators until later in the Spring.
Read: Where to Download Minecraft
Unfortunately, it's unclear if or when Minecraft Marketplace will arrive for video game consoles. We know for sure that it won't be on the Xbox One or PS4 in the near future, Mojang didn't include those platforms in its announcement of the new feature.
Good luck with your next Minecraft creations and the new Minecraft Marketplace.

As an Amazon Associate I earn from qualifying purchases.