Mophie Galaxy S7 Juice Pack Review
The Mophie Galaxy S7 Juice Pack is a Galaxy S7 battery case that protects your S7, adds battery life and keeps support for wireless charging.
If you find yourself running out of power on the Galaxy S7 while you are running around, the Mophie Galaxy S7 Juice Pack may be the best Galaxy S7 accessory for your life.
At $99 the Galaxy S7 Mophie case is not cheap, but unlike most of the competition you can charge both the case and the phone wirelessly. You can use the wireless chargers you already have, or you can use this with the Mophie Charge Force wireless charging accessories.
After using the Mophie Galaxy S7 Juice Pack for a month, it's a go to accessory and one that busy owners should consider.
The Samsung Galaxy S7 battery life is good, and it lasts through most days for us, but a case like this is one that allows you to go the extra mile on busy days and especially when traveling.
Yes, Quick Charging removes some of the need for a case like this, but when you can't get to an outlet this is the Galaxy S7 case you'll want on your phone.
Mophie includes a 2,950mAh battery in the Mophie Galaxy S7 Juice Pack, which in our real world testing offers about 50% longer battery life between charges. In perfect scenarios this could deliver 60% more battery life.
This roughly equates to an extra 11 hours of talk time, but the real important numbers are browsing and video playback. If you rely on your Galaxy S7 to watch videos on the go or browse the web on a trip, you can get about 4 more hours of surfing and up to 7 hours of extra video playback.
A MicroUSB port on the bottom allows pass through connectivity so you can connect to your computer like there was no case in between. When you plug-in, the phone charges before the case so your phone always has the most power.
If you set the Mophie Galaxy S7 Juice Pack on a wireless charger the phone will also charge first and then the case — but the key thing is that both charge wirelessly so you don't have to give up on using your wireless chargers.
The case does offer decent protection from drops and shock. The back of the case is a soft matte finish, but it's not slippery to hold. There is a lip at the bottom of the case so that it can plug in. An opening directs the sound out the bottom so you don't lose out on the speaker. Slim headphone plugs will fit in, but for others you may need to use the included headphone extender.
The Mophie Galaxy S7 Juice Pack is $99 from Mophie, Amazon and other retailers. It comes with a two-year warranty, but it does not include a wireless charger at this price. You can use it with existing Qi wireless chargers or with Charge Force chargers. The Galaxy S7 battery case is available in black and gold.
20 Best Samsung Galaxy S7 Cases
Galaxy S7 S-View Flip Cover (Clear)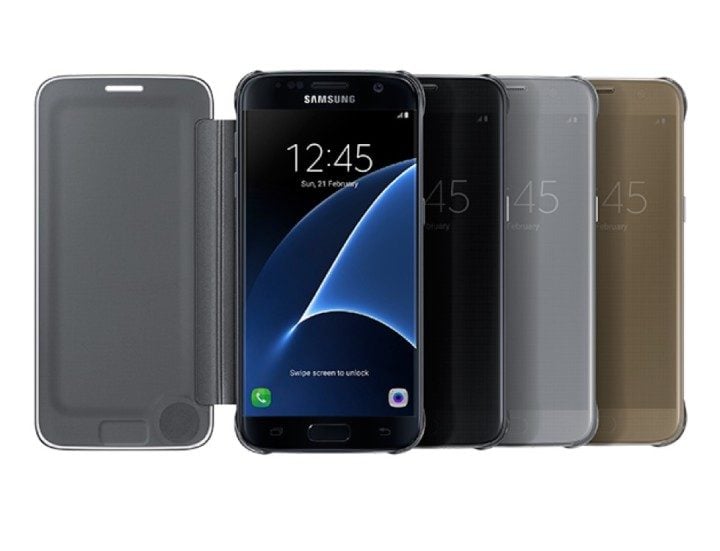 First up is a fan-favorite, the official Samsung S-View flip case. For the S7 Samsung actually has three different S-View Flip cover cases. There's the traditional flip cover with a window like previous years, then a completely clear one and an LED flip case. Our favorite is the clear case. This offers a full view of the entire screen, not just the small cutout like previous years.
This case gives you quick access to information on the screen, even when the case is shut. It's at-a-glance information, and it's one of Samsung's most popular cases. You can even answer a call or take a photo without opening the front. This one also has a new notification bar (while the case is closed) allowing users access to more than just missed calls or texts.
Buy it Now for $59.99 in three colors

As an Amazon Associate I earn from qualifying purchases.