New Dell XPS 15 2-in-1 Packs Power and Good Looks
Powerful and slim, the new Dell XPS 15 2-in-1 packs an 8th generation Intel Core processor into an impossibly thin and light notebook that morphs into a tablet in seconds. Dell is calling it the most powerful Windows 2-in-1 ever made.
The company announced the XPS 15 2-in-1 at the Consumer Electronics Show in Las Vegas, Nevada. This new laptop joins Dell's less powerful, but still stunning XPS 13 2-in-1. Like that PC, the XPS 15 2-in-1 uses Dell's InfinityEdge technology to make the display appear as if it's floating in front of you. Special hinges let the display fold backward for a completely flat touch experience.
Dell will launch the new XPS 15 2-in-1 sometime this spring, and configurations will start at $1299.99.
The company can call this laptop the most powerful Windows 2-in-1 ever made because buyers can configure it with up to a 4.1GHz quad-core Intel Core i-8705G processor and RX Vega M GL graphics. Also, the machine holds up to 32GB of RAM and a 1TB solid-state drive. All that hardware is in an aluminum and carbon fiber chassis that's just 0.35-inches thick at its thinnest point. The laptop weighs 4.3-pounds.
At the center of this solid video experience is a 15.6-inch UltraSharp 4K Ultra HD display. Thanks to Adobe RGB support, the XPS 15 2-in-1 is perfect for creatives who need the images and videos they produce to look the same in the real world as they do on their display.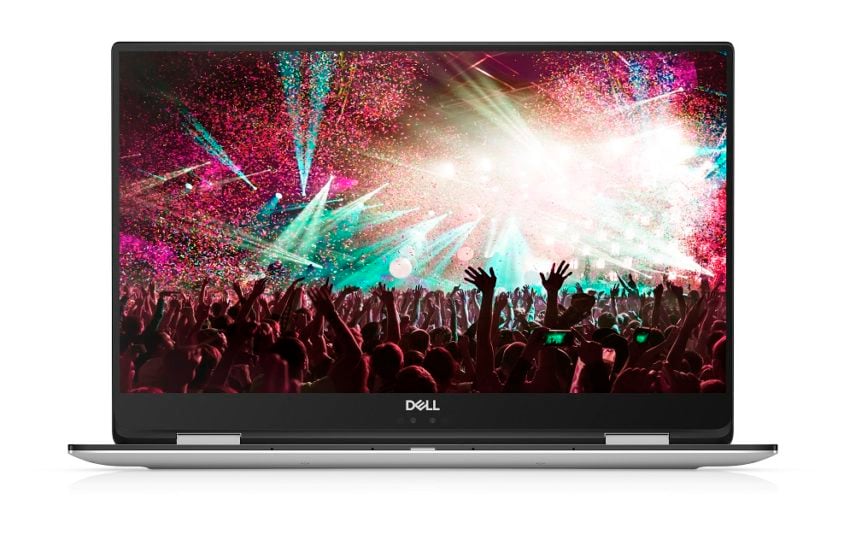 Buyers can swap out this display for an HD InfinityEdge display if they don't need a screen that is four times as sharp as a standard high-definition display. Besides supporting touch, both displays work with the Dell Active Pen to detect 4,096 different levels of pressure and tilting as users write and draw. A Windows Hello camera below the display signs users into Windows 10 without them typing in their password.
The laptop connects to accessories and other devices using a standard set of ports. It has 2 Thunderbolt 3 ports, 2 USB Type-C ports, a MicroSD card reader and a headset jack. A gyroscope inside the laptop tells Windows how to orient its display in tablet mode.
Even with all the technology it has, the Dell XPS 15 2-in-1 lasts 15 hours away from its charger.
5 Best Dell XPS 13 Alternatives in 2018
HP Spectre Laptop - $1,299.99
Like Dell, HP has bet big on design and craftsmanship in the last few years. You only need to look at the HP Spectre Laptop to realize those efforts are paying off. This new laptop is beautiful. It's also powerful enough to get you through whatever you have planned for your day.
The HP Spectre Laptop is .40 inches thin. HP claims it's the thinnest touch laptop ever made. Though, at 2.45 pounds, it's not the lightest notebook ever made. The device comes in two equally stunning colors. There's an ash silver model with copper edges and a ceramic white model that has gold edges that glisten in the sunlight. Its 13.3-inch 4K display has touch and almost no bezel on two sizes.
Inside, there's everything a modern Ultrabook needs. It uses new Intel 8th Generation Core i5 or Core i7 processors to last up to 11 hours on a single charge. You can charge the laptop back to half in just 30 minutes, making the longer battery life of other laptops moot. You can add up to 16GB of RAM and every model comes with one Thunderbolt 3 port for very fast data transfers between it and your phone. There also two USB 3.0 Type-C ports and a headset jack on the back edge of the notebook. A wide-angle Windows Hello camera lets you sign into the HP Spectre Laptop by just looking at it.
HP will begin selling the HP Spectre Laptop sometime this year for $1,299.99. Potential buyers can sign up for notifications about the laptop at HP.com now. If you're looking for just a really solid laptop that has touch, this is the PC for you.